GALLERY
USS Blue Ridge rescues 5 stranded fishermen
by
Erik Slavin
March 26, 2015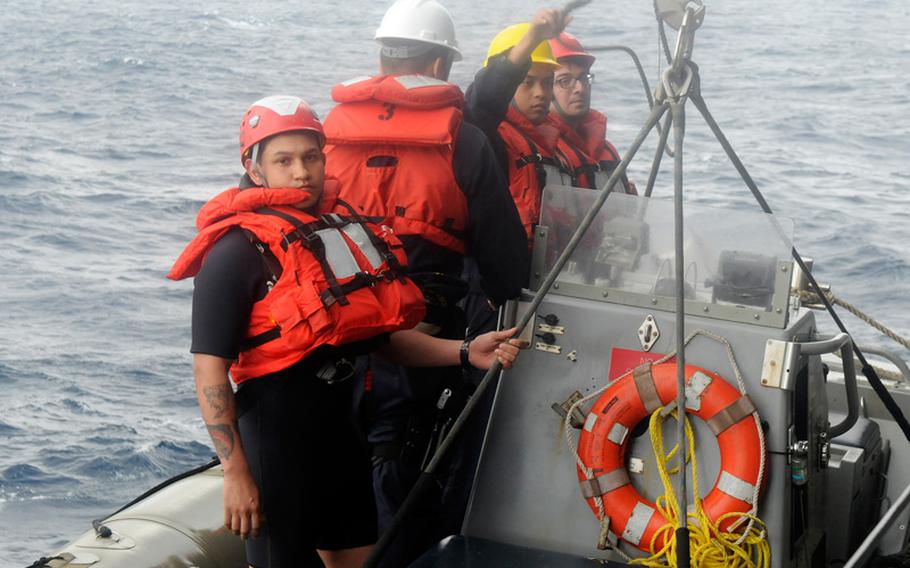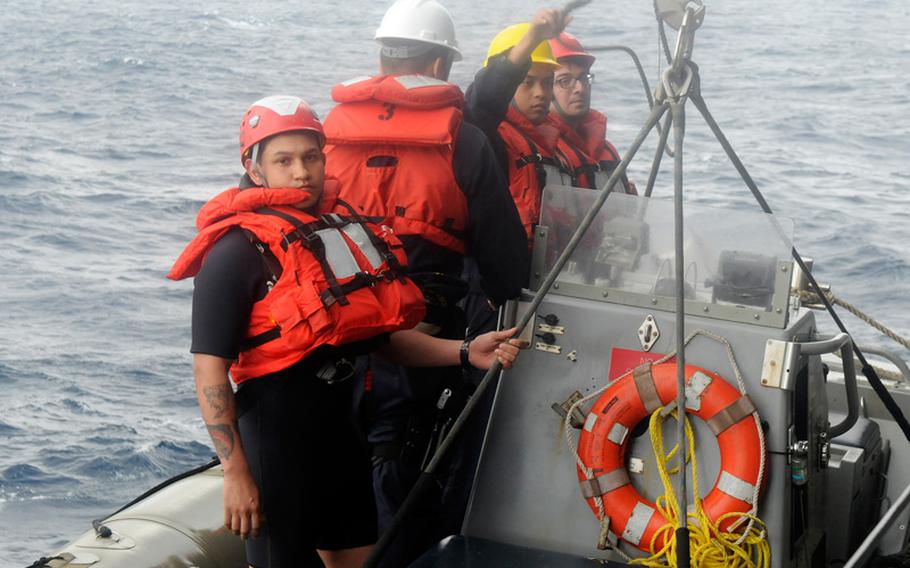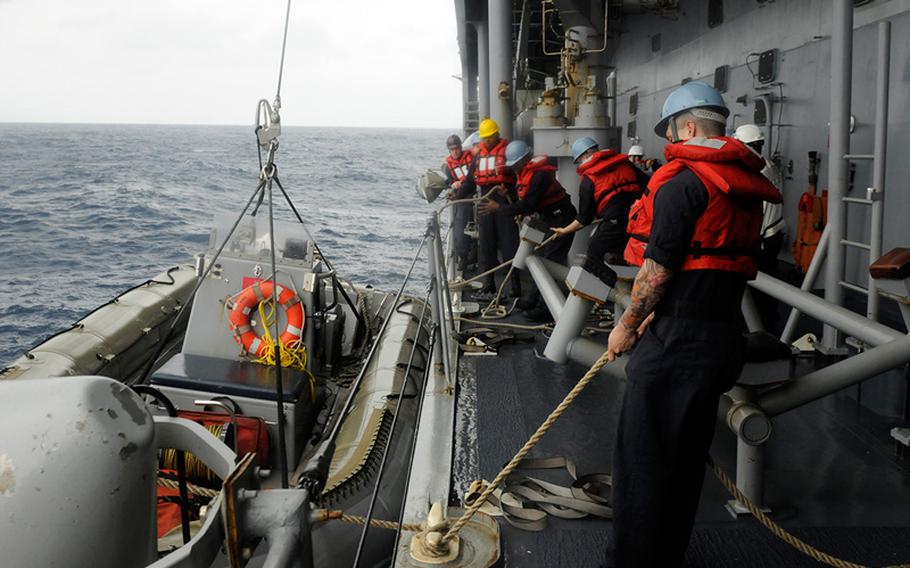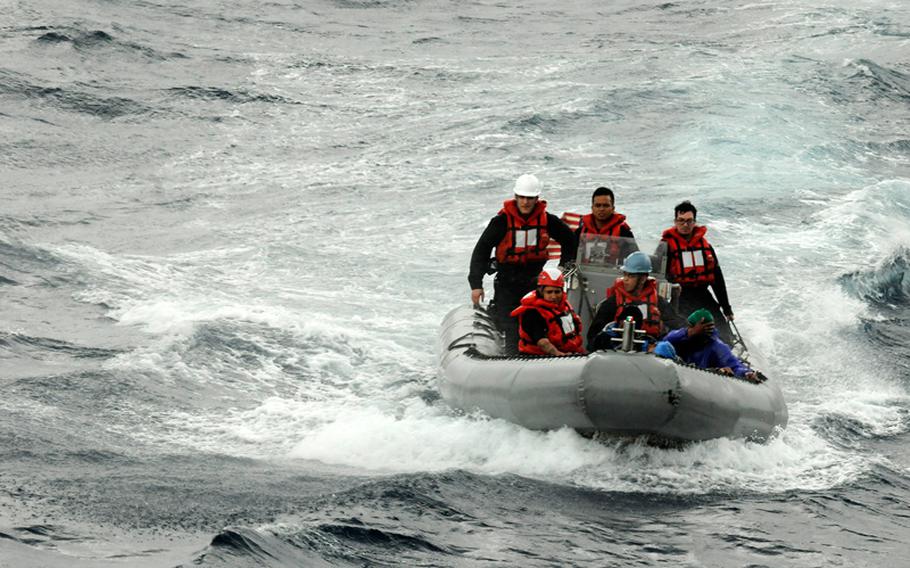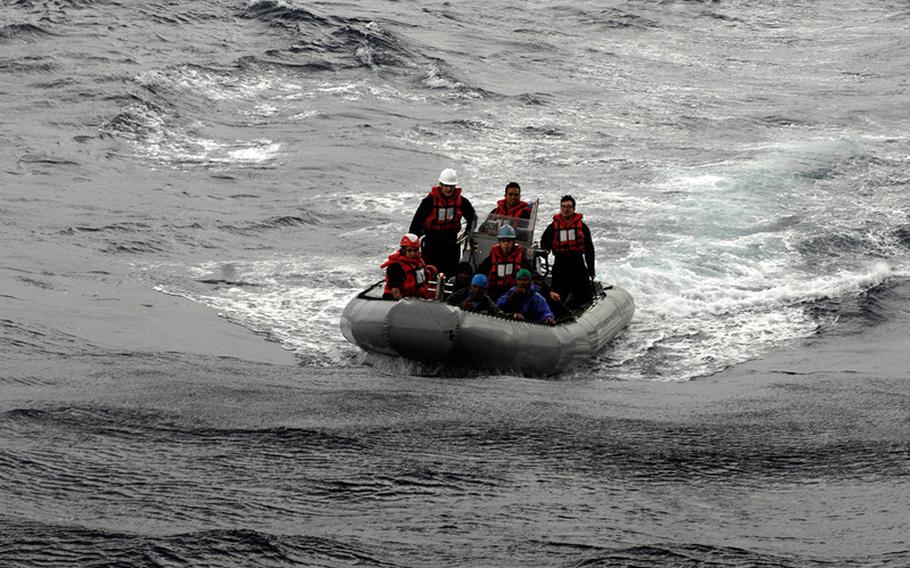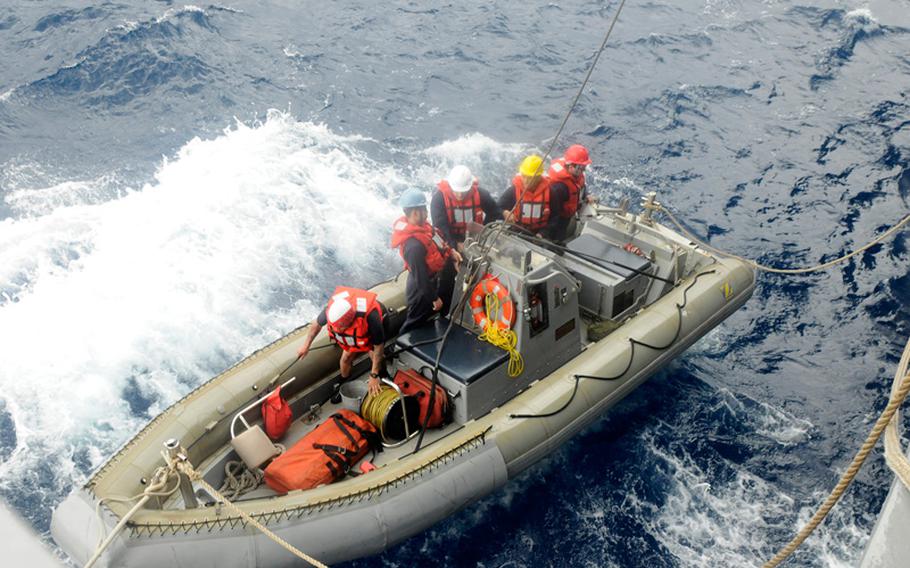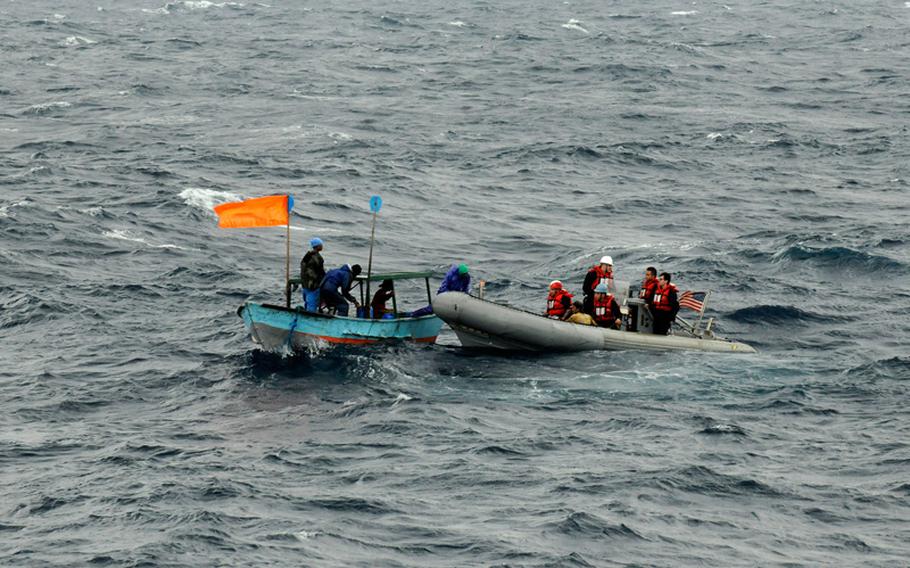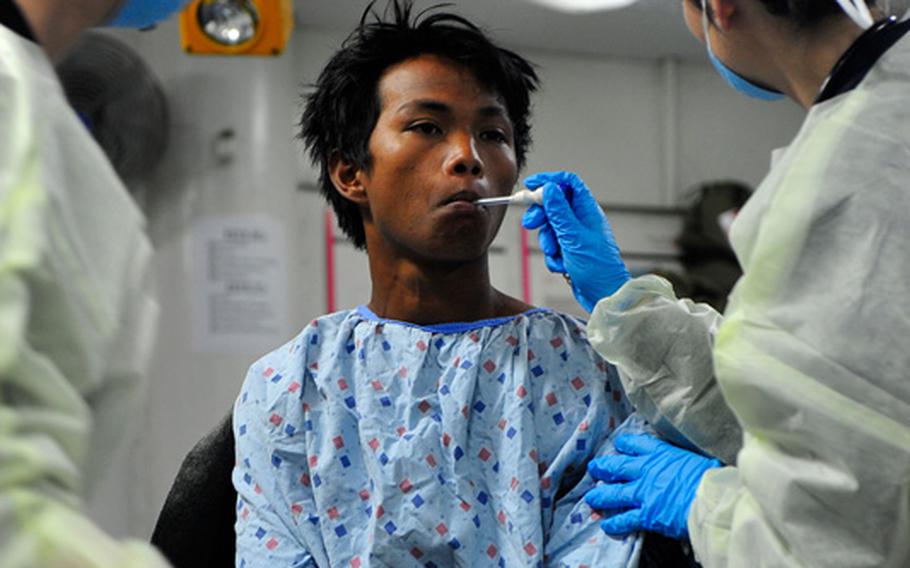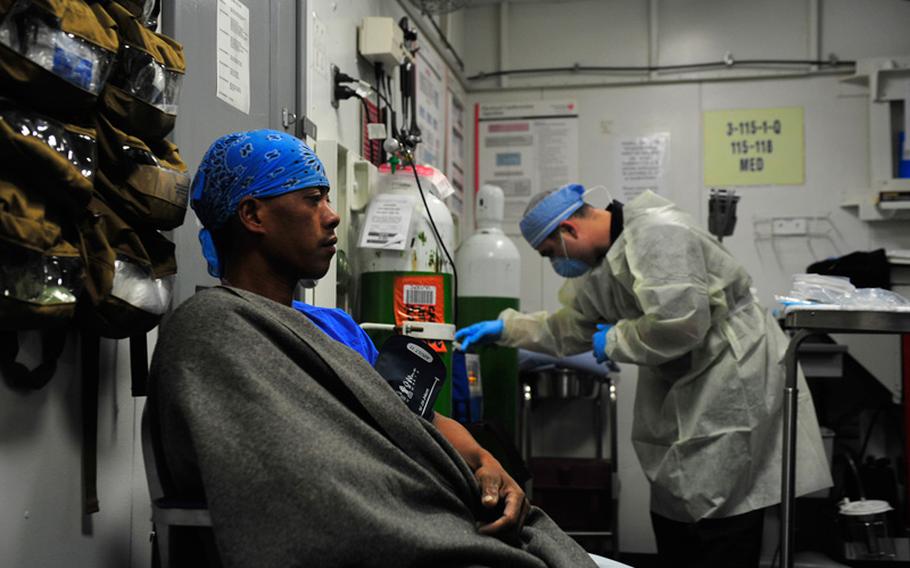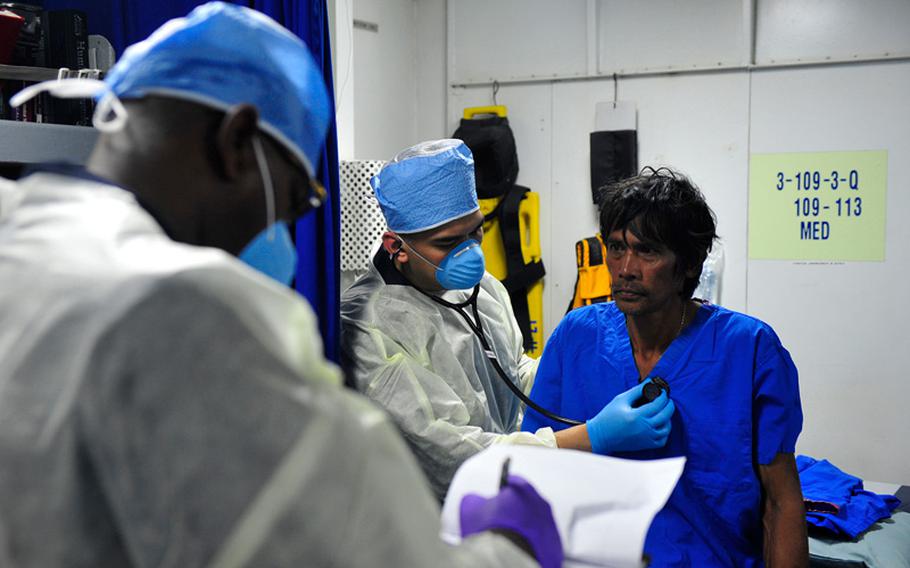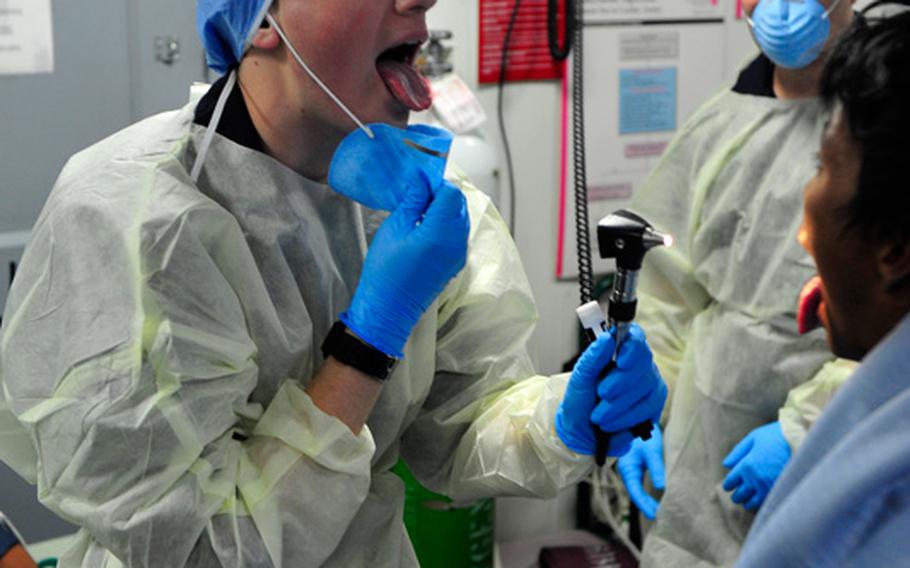 YOKOSUKA NAVAL BASE, Japan — Sailors aboard the USS Blue Ridge saved a Philippine fishing crew that had been adrift for days with no food and little water, crewmembers said Thursday.
The Japan-based 7th Fleet flagship was sailing in international waters near Taiwan's southern coast on Wednesday afternoon when it encountered 8- to 10-foot waves and roughly 45 mph winds.
As the ship plowed its way through the seas, a bridge watchstander noticed a speck out in the water, commander Capt. Kyle Higgins told Stars and Stripes by phone.
Blue Ridge turned around, and crewmembers caught a glimpse of an orange flag — a recognized international symbol for distress — bounding between the swells.
As they looked closer, they saw a man waving a white T-shirt, while someone signaled with a flashlight.
Blue Ridge closed the distance and launched its rigid-hulled inflatable boat, or RHIB, to meet the adrift fishing boat. Blue Ridge hadn't attempted any boat rescues recently, but it had practiced man-overboard rescues, which called for many of the same procedures.
"We practice this with regularity, with all the bridge teams," Higgins said.
The sailors arrived at the fishing boat and found five Philippine nationals, none of whom spoke English. Fortunately, the Navy boat's coxswain spoke Tagalog, allowing the crew to quickly assess the situation.
The fishing boat suffered a mechanical breakdown and got swept away from the crew's fishing grounds, about 30 to 40 miles from the nearest shore. The men had been adrift for three days.
"They ran out of food first, and they were on the ragged edge of running out of water, so they were very grateful that we came by and picked them up," Higgins said.
After security checks, the five men were transferred to a ship medical ward.
"The sun had beaten down on them," said Petty Officer 3rd Class Joseph Branch, a hospitalman-corpsman. "They had dehydration, fatigue and exhaustion, but no other major things to attend to."
The fishermen received food and fresh sets of basic clothing. They will remain aboard the ship until Blue Ridge's next scheduled port visit, Higgins said.
slavin.erik@stripes.com Twitter: @eslavin_stripes