USS Blue Ridge makes port call on Okinawa after breaking days-at-sea record
by
Caitlin Doornbos
May 26, 2020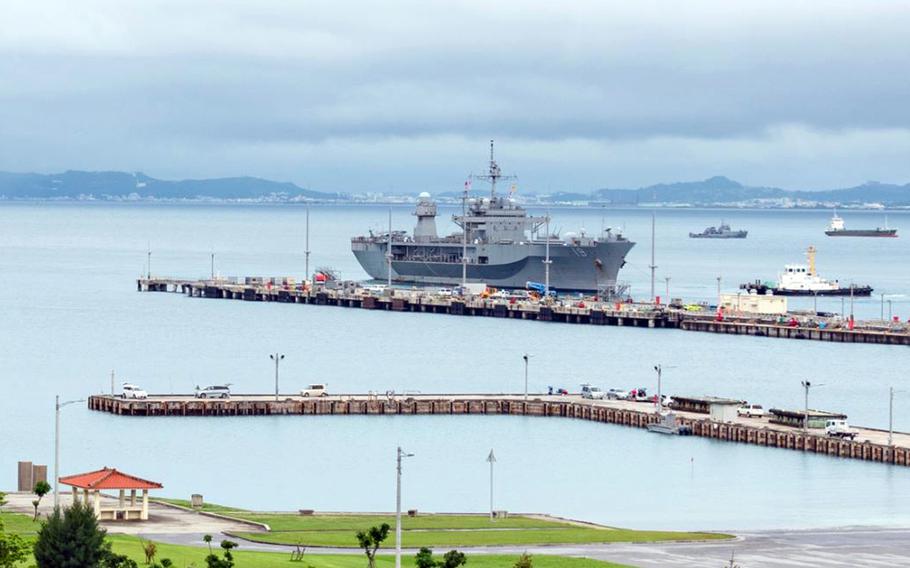 YOKOSUKA NAVAL BASE, Japan — Sailors aboard the amphibious command ship USS Blue Ridge — at sea more than two months to avoid the coronavirus — finally went ashore for liberty in Okinawa over the weekend, according to the Navy.
The 7th Fleet's flagship moored at White Beach Naval Facility on Sunday, capping off its new record of 70 consecutive days at sea, according to a Navy statement issued that day. The previous record of 64 days was set nearly a half-century ago during the Vietnam War; the Blue Ridge passed that mark on May 17.
The Blue Ridge is the Navy's oldest operational warship and 2020 marks its 50th year in service. The 223-year-old USS Constitution is the Navy's oldest ship, but it does not deploy.
Sailors are allowed a "Safe Haven" liberty to come off the ship but prevent their exposure to the coronavirus, according to the Navy statement. The crewmembers can only access "specific designated areas on the pier and neighboring beach," the statement said.
"It is important to realize that the Blue Ridge has maintained a COVID-free bubble since the outbreak," Blue Ridge commander Capt. Craig Sicola said in the statement. COVID-19 is the respiratory disease caused by the coronavirus.
"We are taking extreme caution to retain this bubble by not allowing any human interaction with personnel outside the bubble and maintaining strict disinfecting procedures for items and equipment on the pier," he added.
The goal is to boost morale and benefit quality-of-life without exposing the crew to the virus that has sidelined other ships in the region, according to the Navy. The USS Theodore Roosevelt spent about two months in Guam after a coronavirus outbreak ultimately infected about a fourth of the aircraft carrier's crew.
"It is not lost on me how difficult a longer than normal deployment can be on top of the stress of the COVID pandemic on my Sailors and their families," Sicola said in the statement. "These types of port calls are absolutely required to restore our mental readiness, stay healthy, and enable us to fight another day."
Several recreational activities have been arranged for sailors in their designated liberty area, including wireless internet and sporting events, including softball, soccer and volleyball. Sailors can also swim in the ocean and lounge at the beach.
Sailors also could order personal items from the Navy Exchange to be delivered pierside during the limited liberty, according to the statement. The items are fully disinfected before they are brought aboard.
"Providing pierside delivery was an excellent way to help Sailors get the items they need to keep them running their best during deployment," the Blue Ridge's disbursing officer, Lt. j.g Raymond Kosak, said in the statement.
doornbos.caitlin@stripes.com Twitter: @CaitlinDoornbos
---
---
---