US warship sails close to Chinese man-made island in South China Sea
---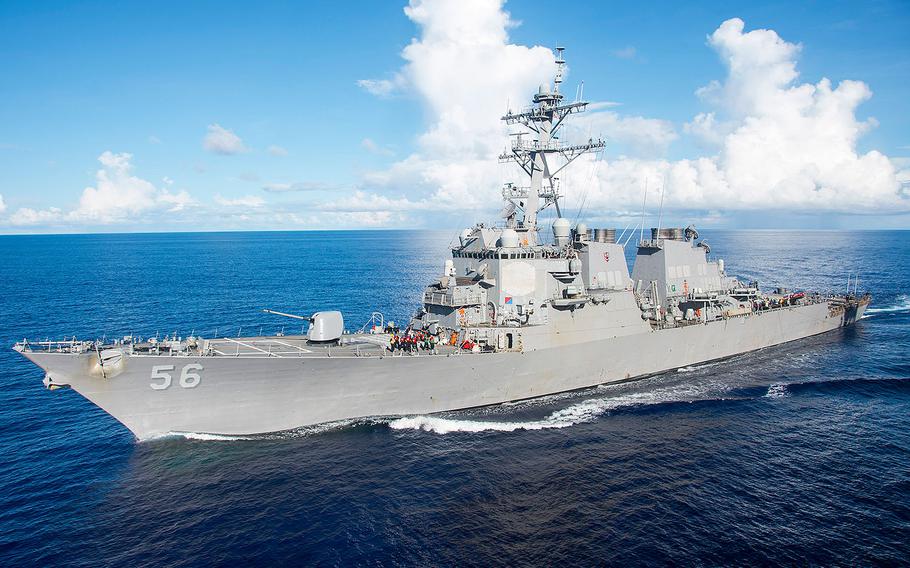 WASHINGTON — A U.S. destroyer sailed near a Chinese man-made island in the disputed South China Sea in a challenge to the country's vast territorial claims in international waters, a Navy official said Thursday.
The USS John S. McCain conducted the routine freedom-of-navigation operation, sailing within about 6 nautical miles of Mischief Reef, an artificially built-up land mass in the Spratly Islands, the official said on condition of anonymity.
It was the third time this year that a U.S. warship cruised within 12 nautical miles of a China-claimed land mass, showing the Americans do not recognize Chinese claims on the islands. China claims nearly all of the South China Sea, but several other nations including Malaysia, Taiwan, the Philippines and Vietnam also claim territory in the waters. The United States does not back the claims of any nation on the disputed territory.
Marine Lt. Col. Christopher B. Logan, a Pentagon spokesman, declined to confirm the operation but said the United States would continue to conduct regular freedom-of-navigation sails.
"U.S. forces operate in the Asia-Pacific region on a daily basis, including in the South China Sea," Logan said. "All operations are conducted in accordance with international law and demonstrate that the United States will fly, sail, and operate wherever international law allows."
Mischief Reef is one of several man-made islands in the South China Sea where China has placed military assets and runways. The Chinese are building two radar and communications facilities on the island that already houses missile storage and an underground storage facility, according to the Asia Maritime Transparency Initiative, a website created by the Washington, D.C., think tank Center for Strategic and International Studies to monitor seaborne activity in the Pacific region.
The McCain was challenged multiple times by Chinese military assets as it sailed, the official said. All of those interactions were deemed "safe and professional."
The official did not say whether the Chinese demanded the ship leave the area, as they have done during similar operations in the past.
The U.S. Navy alerted the Philippine military of the planned operation Thursday ahead of time but Philippine forces did not take part, The Associated Press reported, citing an unnamed Philippine official.
dickstein.corey@stripes.com Twitter: @CDicksteinDC
---
---
---
---