US troops urged to prepare as powerful Typhoon Hagibis takes aim at Tokyo
---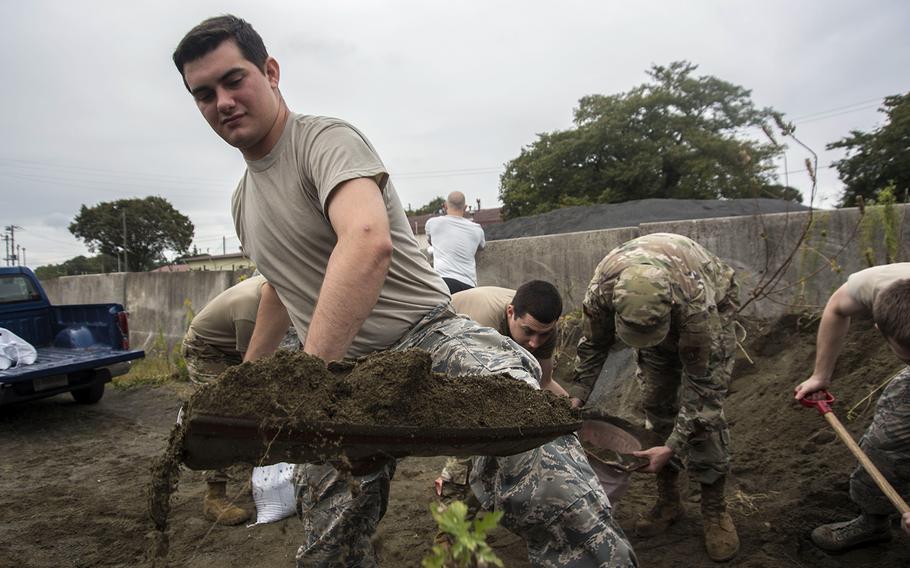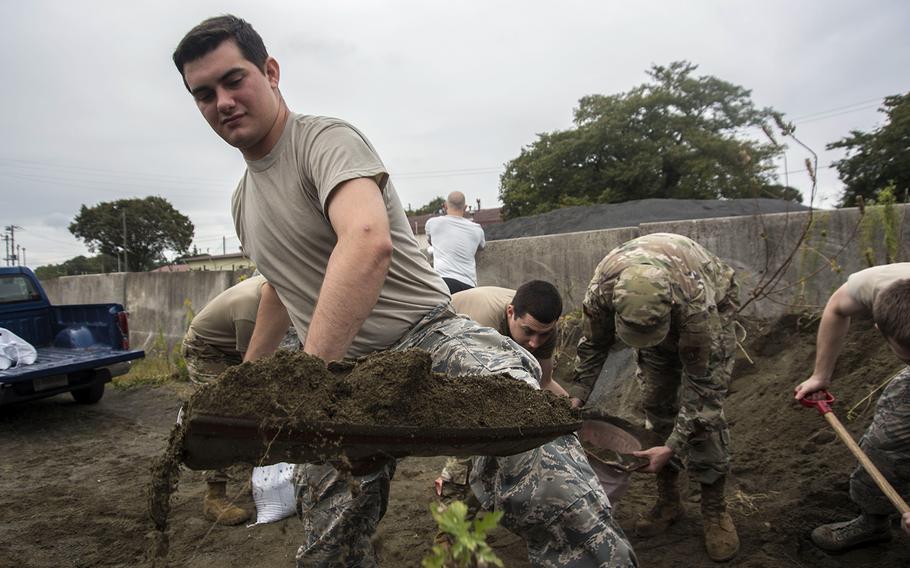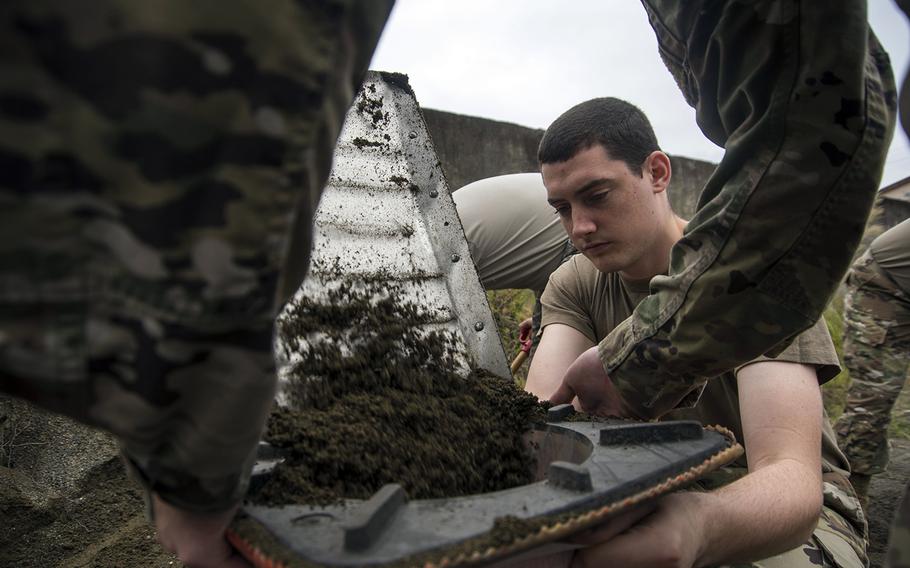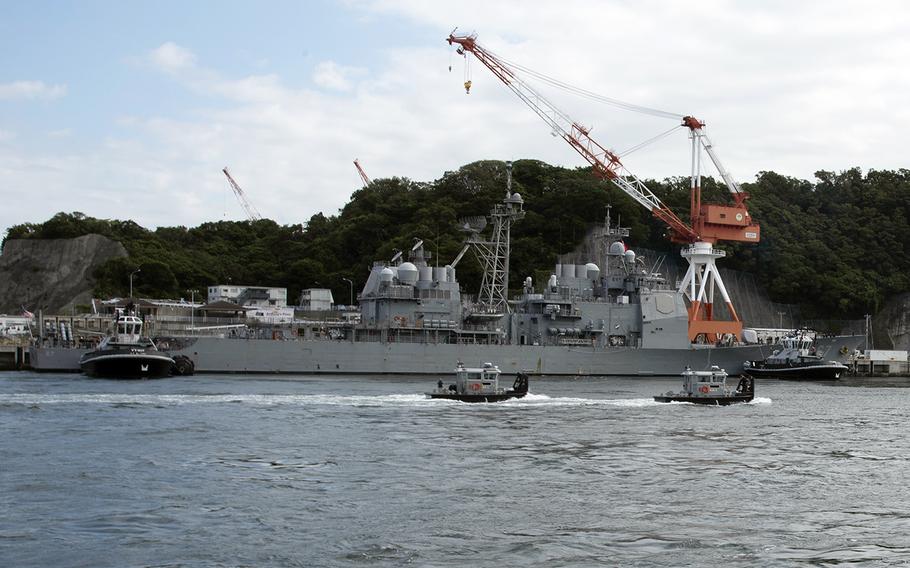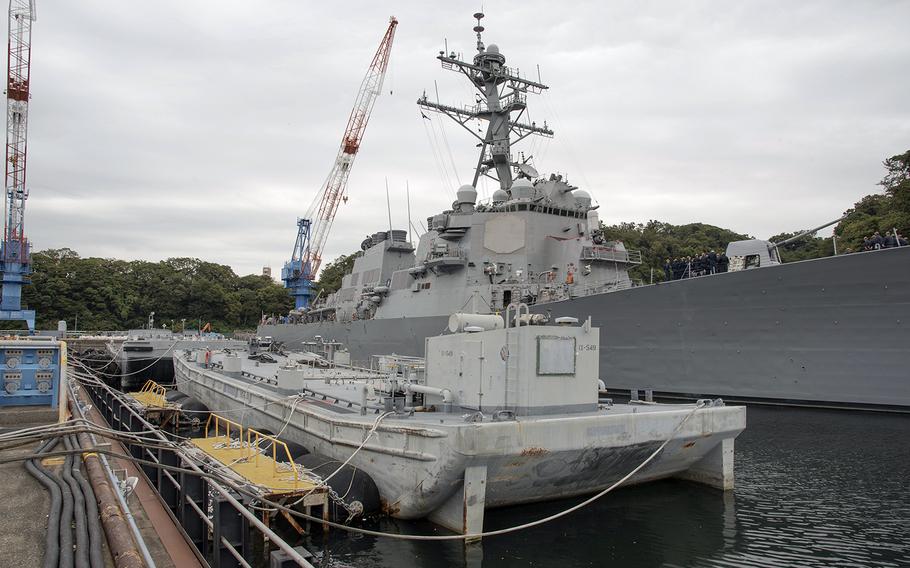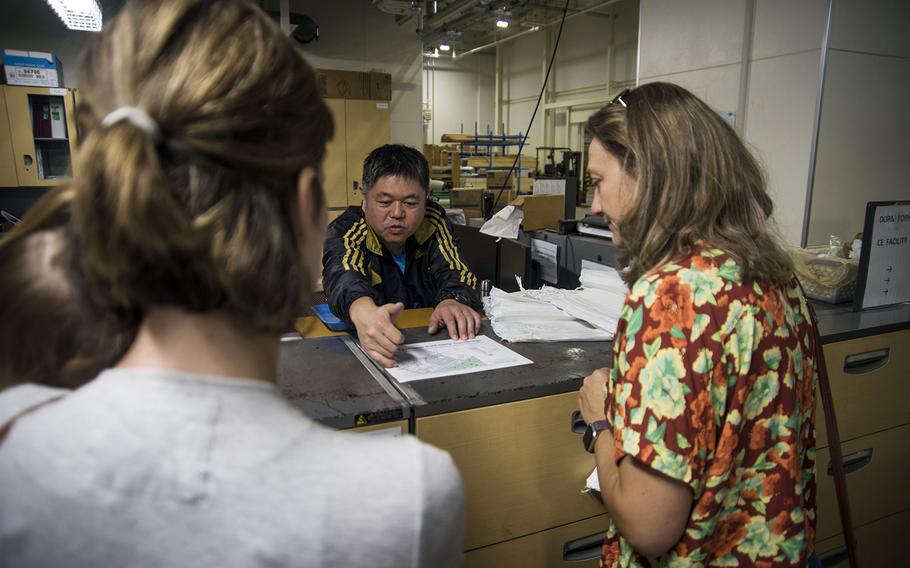 YOKOSUKA NAVAL BASE, Japan — Typhoon Hagibis, downgraded from super typhoon but still described by Japanese forecasters as large and "extremely strong," is charging toward eastern Japan, where U.S. military bases around Tokyo prepared for strong wind and heavy rains.
Metropolitan Tokyo expects 16-24 inches of rain between 6 a.m. Saturday and 6 a.m. Sunday, along with winds of 89 mph, gusting to 134 mph on Sunday, according to the Japan Meteorological Agency.
The agency also warned of landslides and flooding, as well as possible tornadoes. High tides and heavy rain were forecast along the coast beginning Friday.
Hagibis is twice the size of Typhoon Faxai, which struck the Tokyo area a month ago, said Air Force Capt. Mitchell Westlund, commander of the 374th Operations Support Squadron's weather flight at Yokota Air Base in western Tokyo
Three people died and 40 were injured in Faxai, officials said at the time. In Chiba prefecture, east of Tokyo, Faxai mowed down power poles and blew away roofs. Recovery there has been slow, and some residents were without power until late September.
For the most part, U.S. bases experienced moderate damage and no reported deaths or injuries from the September typhoon.
On Friday, authorities urged U.S. military personnel and their families at bases on the Kanto Plain, where Tokyo is located, to stock up, tie down and sit tight over the weekend. Check-out lines were long at commissaries and exchanges Friday and staples such as bread, milk and bottled water were going fast.
At Yokosuka, which is in Hagibis' crosshairs, officials are "preparing for this storm with the belief that one of this strength has not been seen in Yokosuka for several years," base commander Capt. Rich Jarrett said in an all-hands email Friday.
On Thursday, Department of Defense Education Activity Pacific East Schools canceled all weekend events, according to a statement by Community Superintendent Gregg Mowen.
Officials "will do our best to reschedule these sporting events and other activities" after the storm passes, he said.
At bases in the metro area — including Yokosuka, Yokota, Camp Zama, Camp Fuji and Naval Air Facility Atsugi — servicemembers and their families prepared for a weekend on lockdown.
Everywhere, residents of base housing were advised to secure their lawn furniture, toys, Halloween decorations, garbage cans, doghouses, trampolines — anything that might become a projectile.
Yokosuka Naval BaseHagibis on Friday appeared headed almost directly for Yokosuka, where Faxai in September tore down trees, flooded streets and fractured the sea wall at the naval base.
Guided-missile destroyers USS Mustin and USS Barry left the base earlier this week to avoid the storm, according to 7th Fleet spokesman Lt. Joe Keiley. Many other ships were already at sea, including the aircraft carrier USS Ronald Reagan.
Ships undergoing maintenance, including guided-missile destroyers USS John S. McCain, USS Benfold and USS Curtis Wilbur, guided-missile cruiser USS Shiloh and command ship USS Blue Ridge remained at Yokosuka.
"The remaining vessels in port have taken all necessary precautions to ensure the safety of the ships and the crew," Keiley said.
At the Navy Exchange, registers beeped constantly as cashiers rang up last-minute purchases Friday.
"We had just arrived last time right before the previous typhoon and didn't know what to expect so didn't prepare much at all," said Navy spouse Karen Richards. "This time around we know what to expect and made sure to get extra water and perishables in case of a power outage."
Most shelves were stocked, but key items were in short supply. The base commissary was picked clean of bottled water Thursday evening.
"I live off base and luckily it wasn't too bad last time, but the storm caused so much traffic to get to base that I had to make sure I was stocked so it's not as pressing to sit in traffic if not necessary," Navy spouse Christine Garcia said as she filled her shopping cart.
All base-sponsored recreational trips and youth sports this weekend at Yokosuka are canceled, according to the base Facebook page.
The base exchange, mini-marts, food courts and commissary will be closed Saturday. The Liberty Center and Fleet Rec — except the food court — are to remain open.
The base galley will serve breakfast Saturday but close at 9 a.m. Lunch and dinner meal boxes can be picked up during breakfast hours Saturday, and the galley will reopen at 6 a.m. Sunday, according to the base Facebook page.
All Saturday and Sunday airport shuttles from Yokosuka are cancelled, according to the base Facebook page Friday.
Yokosuka security will not be ticketing in parking garages on base through Monday evening so residents can park their cars there to avoid damaging winds. Several cars parked near the coastline on base were damaged during Faxai.
Camp ZamaAt Camp Zama, home of U.S. Army Japan in Kanagawa prefecture, residents were urged Friday to secure their outdoor belongings, U.S. Army Garrison Japan spokeswoman Gwendolyn Smalls said in an email Thursday.
Battery-operated or power-dependent devices, such as medical equipment, should be fully charged or users should have a back-up plan for those items, she said.
Updates on the typhoon, the facility and road closures will be issued on the Command Channel, American Forces Network radio and television and the U.S. Army Garrison Japan Facebook page, Smalls said. She advised camp residents to stay inside until the "all clear" is given after the typhoon.
"This allows recovery crews to assess damage, remove downed trees, clear roads and make sure there is nothing impacting life, health and safety," she said.
U.S. Army Garrison Japan commander Col. Thomas Matelski in a statement urged the community to help pass the word about the typhoon on social media and by calling friends or even knocking on a neighbor's door in.
"Have a plan, stay connected, stay informed and stay safe!" he said.
Yokota Air BaseAt Yokota, home of U.S. Forces Japan and 5th Air Force in western Tokyo, authorities issued similar warnings Friday and informed residents of sandbag supply points in case they experienced flooding. Tape crisscrossed windows at the headquarters of the 374th Engineer Squadron to stop glass shards from flying around should the windows shatter during the storm, said squadron commander Lt. Col. Bradly Bucholz.
"We're doing all this work ahead of time because we want to keep people safe," he said.
The base has been stockpiling supplies such as concrete and plywood to help it recover from any typhoon damage, he added.
The 374th Airlift Squadron dispersed its C-130J cargo planes to other bases in the Pacific, but some smaller aircraft stayed behind inside hangars in case they're needed during recovery efforts, officials said.
Base emergency personnel are on standby to respond quickly to rescue people from flooded areas, Bucholz said.
The base on Friday canceled all Saturday shuttles to Narita and Haneda airports and the New Sanno Hotel in Tokyo, according to a post on the base Facebook page.
The noon Saturday Patriot Express flight to Seattle from Yokota was rescheduled to noon Sunday, according to a post on the Yokota Passenger Terminal Facebook page. Passengers should check the social media site for updates on flight schedules.
Outdoor Recreation and other base-sponsored trips scheduled for Saturday have been canceled or rescheduled, the base said.
The base dining facility will be closed Saturday, but MREs are available until midnight for personnel with meal cards.
Camp Fuji and MisawaMarines at the Combined Arms Training Center Camp Fuji were placing Meals, Ready to Eat and securing water trailers at the barracks Friday ahead of the storm, Marine Corps Installation Pacific spokesman Maj. Andrew Aranda said in an email Friday.
Officials also curtailed weekend liberty allowances and made sweeps of the installation to ensure loose items were secured, he told Stars and Stripes.
Camp Fuji will send updates through its social media accounts and website through the weekend, Aranda said.
The Misawa Air Base Facebook page Friday said that weekend school activities are canceled, except the scheduled American College Testing.
"Waves offshore along the eastern coast have the potential to reach 25 feet," Capt. Lauren Linscott, a spokeswoman for Misawa's 35th Fighter Wing, said in an email Friday. "We will be asking residents to secure their yard furniture, kid's toys, etc. and discouraging folks from heading to the coastline this weekend, too."
Air, rail cancellationsAll Nippon Airways canceled all Saturday flights to and from Haneda and Narita international airports, according to an ANA spokeswoman. As of Friday morning, ANA had canceled 491 domestic flights and 56 international flights on Friday and Saturday, she said.
Japan Airlines canceled 520 domestic flights and 93 international flights from Friday through Sunday, a JAL spokesman said Friday morning.
The airlines said they will refund or change flights for affected travelers. The airlines advised travelers to check their websites for more information on cancellations.
Japan Railways East, which operates most area commuter trains, on Friday announced it would gradually curtail service starting at 9 a.m. Saturday until at least noon Sunday.
The Yokosuka and Sagami lines — convenient to the naval base and Sagami General Depot — will stop at 10 a.m. Saturday.
The Chuo and Ome lines, which connect stations near Yokota with central Tokyo, will end service at noon. Service on the Yamanote line that loops around central Tokyo stops at 1 p.m.
The Odakyu line, which serves Camp Zama, will stop operating at 3 p.m.
The Shuto expressway, a network of toll roads servicing the metropolitan area, is expected to shutter from noon until 4 p.m. Saturday, according to Japanese broadcaster NHK.
Stars and Stripes reporters Hana Kusumoto, Christian Lopez and Seth Robson contributed to this report.
---
---
---
---