US troops, civilians splurge at the Camp Humphreys exchange after winning $10,000 shopping sprees
by
Matthew Keeler
September 24, 2020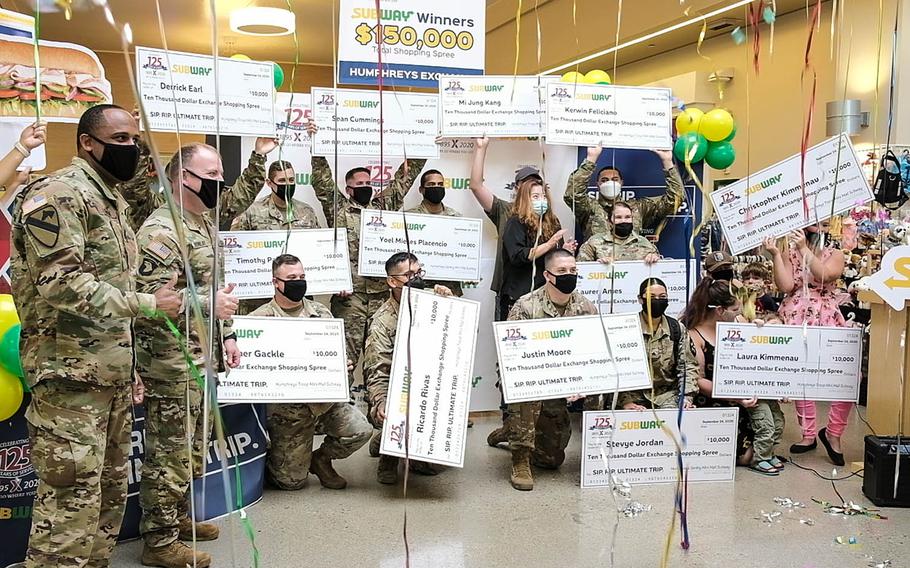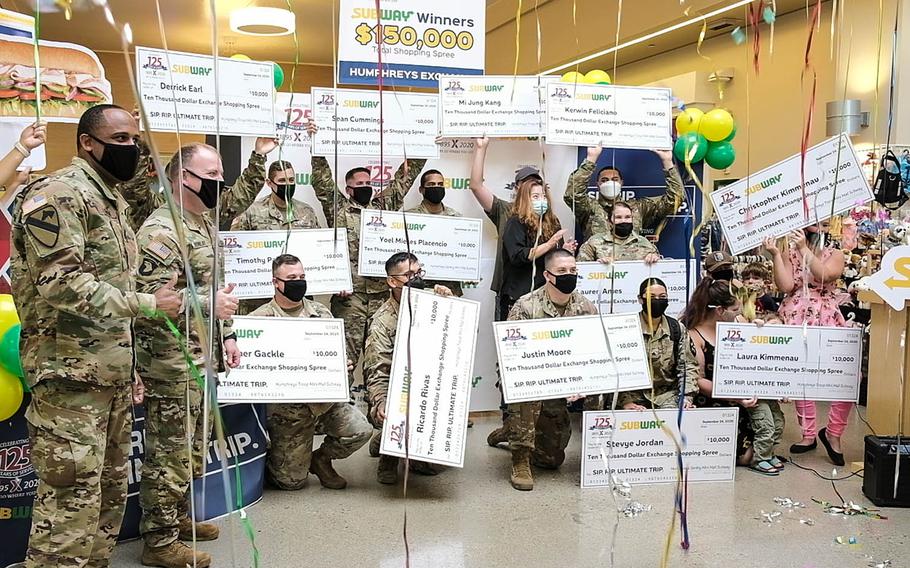 CAMP HUMPHREYS, South Korea — Fifteen troops and civilians affiliated with U.S. Forces Korea filled their shopping carts at the post exchange Thursday after each won a $10,000 shopping spree.
The prizes were part of a $2 million Sip. Rip. Ultimate Trip sweepstakes sponsored by Subway that began on July 1 to honor the 125th anniversary of the Army and Air Force Exchange Service, which runs exchanges and other stores on military bases worldwide.
Army Sgt. Justin Moore, assigned to the 2nd Infantry Division, stopped to eat on Aug. 12 at a Subway before picking up a friend on the way to a basketball game. He peeled a game piece off his 30-ounce drink that came with his order and made a game-changing discovery.
"I decided to eat, and I just happened to get lucky," Moore said. "First thing that happened when I read it was, I just yelled out 'no way' and everybody looked at me funny."
Moore said the winnings would allow him and his wife, Leona, to buy things they didn't necessarily need, but have wanted, and get items for their children that will make their lives better.
U.S. service members, family members and others authorized to use the exchange are eligible to participate in the contest on bases in the United States, Germany, Italy, Kosovo, South Korea, Japan, Puerto Rico, Honduras and Kwajalein.
In a stroke of enormous luck, one family walked away with two winning tickets, on the same day, at the same Subway location, totaling $20,000.
Spc. Chris Kimmenau and his wife, Laura, struggled to figure out how to spend their winnings, even with multiple children.
"We have been going through our list since we won in August and I told our neighbors Christmas is on us this year," Laura Kimmenau said. "We don't need electronics, so we are looking at furniture, but we also have to make sure we are not overweight when we leave Korea."
Laura first picked out a kitchen mixer she had wanted, an iPad for her 5-year-old, and Chris secured a home theater projector along with a gaming computer.
The casual event didn't affect normal operations at the exchange. The winners were permitted to shop at their pace, some requesting to return at a later time with their families.
Sixteen people won in South Korea after pulling the lucky game pieces from Subway cups, said Staff Sgt. Mark Kauffman, an AAFES public affairs officer. One of those winners already did his shopping.
In all, only 33 of the 100 exchange shopping sprees have been won worldwide. Other prizes included family vacations, gift cards and free meals at the world's largest fast-food chain.
The sweepstakes will continue through Oct. 31 and can be redeemed no later than Dec. 31, according to the sweepstakes website.
keeler.matthew@stripes.com Twitter: @MattKeeler1231