US, South Korea set timetable for military cost-sharing pact
by
Erik Slavin slavin.erik@stripes.com
July 5, 2013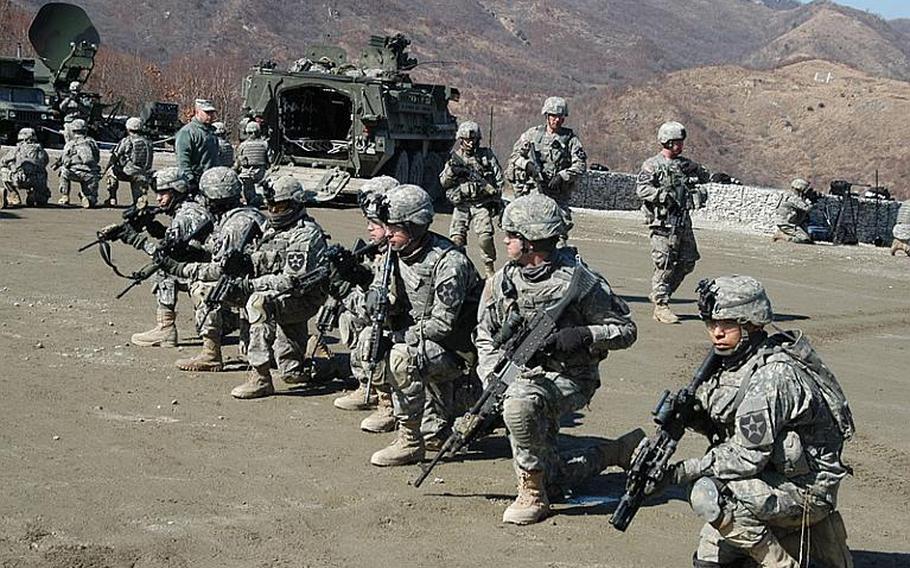 U.S. and South Korean officials will negotiate how much each country will pay for American military support on the Korean peninsula during a second round of talks later this month.
Negotiations over a renewal of the cost-sharing agreement are planned to conclude in October after six or seven rounds, three South Korean foreign ministry officers told Stars and Stripes on Friday on condition of anonymity.
The first meeting was held in Washington on Tuesday. Although officials declined to provide details, Washington was expected to ask for more than the roughly $800 million Seoul has paid annually since the last agreement was signed in January 2009.
A Senate Armed Services Committee in April reported that U.S. spending was expected to outpace South Korea's contributions by $330 million.
On Thursday, South Korean broadcaster KBS reported that South Korea will balk at U.S. requests for significantly higher spending.
Before the current special measures act was adopted, then-U.S. Ambassador Alexander Vershbow and U.S. Forces Korea commander Gen. B.B. Bell each called for South Korea to share costs on a 50-50 basis. In the end, Seoul agreed in 2009 to a 35 billion won increase, or $30 million at today's exchange rates. However, Seoul's payments have increased by about $40 million more since then, due to a clause in the agreement tying payments to annual inflation.
The payments support costs for approximately 28,500 U.S. servicemembers stationed in South Korea, as well as thousands of family members and federal civilian workers.
Japan, which supports about 38,000 U.S. servicemembers and 43,000 dependents and civilians, spends about $2 billion annually on U.S. military support, per a five-year agreement signed in 2011. Japan has regularly reduced the amount it has paid since 1999, when it spent $3.17 billion.
Yoo Kyong Chang contributed to this report from Seoul.
Twitter: @eslavin_stripes