US, South Korea fail to seal defense cost-sharing deal, officials say
by
Yoo Kyong Chang Kim Gamel
April 3, 2020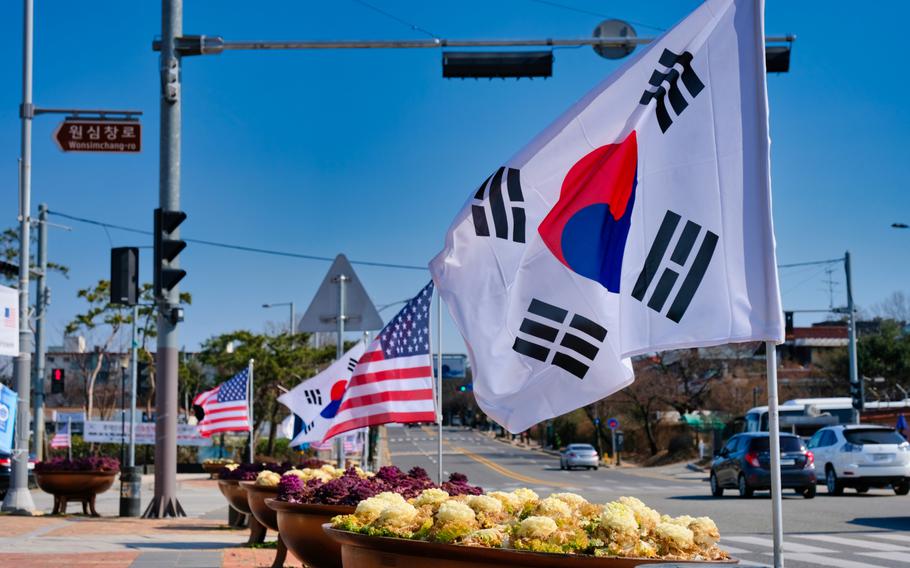 SEOUL, South Korea — The United States and South Korea failed to reach a defense cost-sharing deal this week but will keep trying, officials said after thousands of South Korean employees at U.S. military bases went on unpaid leave because funds ran out.
Their statements dashed hopes that a last-minute agreement could be reached. The chief South Korean negotiator said earlier this week that the two sides were close as he pleaded with the military not to go through with the unprecedented furlough.
"South Korea and the U.S. have yet to reach a defense cost-sharing agreement despite continuous consultations between high-level authorities," South Korea's Foreign Ministry said Thursday in a statement.
"They'll continue discussions in an effort to conclude negotiations as soon as possible," it added.
U.S. Forces Korea, which commands some 28,500 service members on the divided peninsula, on Wednesday furloughed about 4,500 South Korean employees, about half the local national workforce, due to the lack of a Special Measures Agreement.
The military was able to keep the other half at work because those employees were deemed essential to maintain "life, health safety and minimum readiness."
The furlough has raised concerns about military readiness and delivery of services, which already have been disrupted by heavy restrictions on bases to prevent the coronavirus' spread.
USFK had been making up the difference with programmed funds, but those ran out on March 31.
Defense Secretary Mark Esper and Secretary of State Mike Pompeo went to the White House on Tuesday to try to prevent the furlough, NBC News reported.
The previous Special Measures Agreement expired Dec. 31 as the longtime allies deadlocked over U.S. demands that South Korea sharply increase the amount it pays to offset the costs for stationing American troops in the country.
President Donald Trump had demanded a fivefold increase to about $5 billion per year, although U.S. negotiators have said they reduced that demand to an unannounced amount.
Seoul, meanwhile, is believed to have offered to go as high as 10% more but wants to maintain the framework of the agreement, which covers most of the South Korean workers' salaries as well as other logistical and construction costs.
South Korean officials blamed the American side, saying they had offered compromises including a way to isolate the labor issue while continuing to negotiate on other items.
On the eve of the furlough, chief South Korean negotiator Jeong Eun-bo said the two sides just needed more time.
"South Korea and the U.S. are in the last stages for sealing a deal and have continued to hold close discussions even after the seventh round of talks in mid-March," he told reporters on Tuesday evening.
The Yonhap News Agency also reported Wednesday that a deal appeared to be imminent as the clock ran out for about half the local workforce of USFK.
Efforts to conclude a deal also are complicated by the upcoming April 15 parliamentary elections in South Korea, since any agreement will need to be ratified by the National Assembly.
Gen. Robert Abrams, the USFK commander, called it "heartbreaking" to have to furlough so many people. He said he had secured approval to keep more people due to complications from the coronavirus pandemic.
U.S. service members also will fill some of the vacated positions, he told Stars and Stripes on Friday during an interview. He wouldn't say how many and acknowledged the troops would have a learning curve in their new roles.
"On the life, health, safety and minimum readiness we'll be OK in the short-term," he said. "I'll be watching closely the impact on readiness and our ability to deliver services at an acceptable level."
gamel.kim@stripes.com Twitter: @kimgamel