US-South Korea close to deal, negotiator says, on eve of USFK furloughs
By
Yoo Kyong Chang Kim Gamel
March 31, 2020
---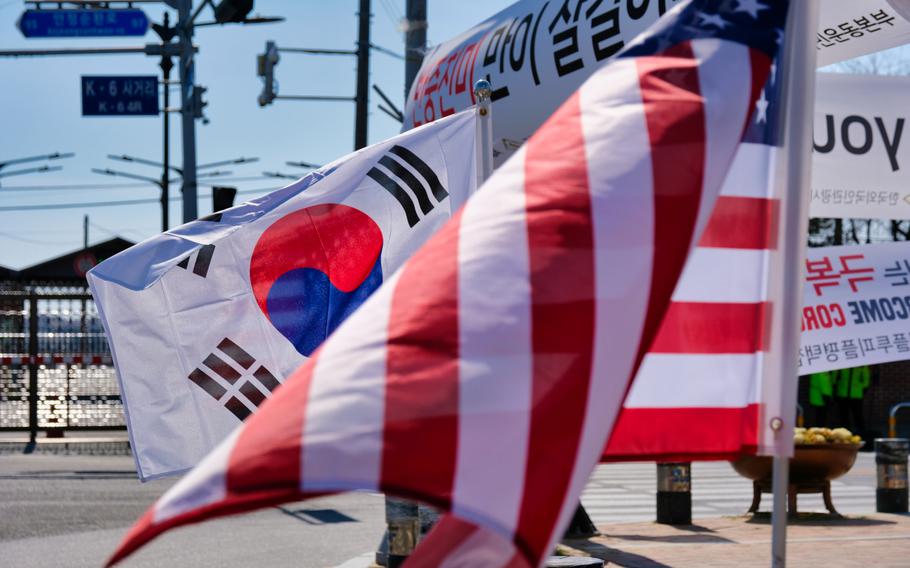 SEOUL, South Korea — U.S. and South Korea are close to reaching a defense cost-sharing deal, a negotiator said Tuesday in Seoul on the eve of American military plans to put half of its local work force on unpaid leave.
U.S. Forces Korea was able to keep about 4,500 South Korean employees determined to be essential for maintaining "life, health, safety and minimum readiness."
But the others will be furloughed beginning Wednesday after the two sides failed in seven rounds of talks to reach a new Special Measures Agreement to replace the one that expired at the end of the year.
Jeong Eun-bo, South Korea's lead negotiator, expressed regret that the United States was going forward with the furlough after the State Department rejected Seoul's proposal to reach a separate labor agreement.
"South Korea and the U.S. are in the last stages for sealing a deal and have continued to hold close discussions even after the seventh round of talks in mid-March," he told reporters on Tuesday evening.
"We call on the U.S. side to take measures to return the Korean USFK employees facing a furlough to their workplaces as soon as possible," he said.
USFK had been paying the salaries with programmed funds since the previous deal expired, but that money was due to run out on Tuesday. The Defense Department said it will continue additional funding to support "critical" logistics cost-sharing contracts and other key positions.
Gen. Robert Abrams, the USFK commander, told Stars and Stripes that he had secured approval to keep more people due to complications from the coronavirus pandemic.
U.S. service members also will fill in for some of the vacated positions, he said Friday during an interview. He wouldn't say how many and acknowledged the troops would have a learning curve in their new roles.
Abrams said it was "heartbreaking" to have to put so many people on unpaid leave.
"A lot of these people, they're the breadwinner for their family and their extended family. It's just really hard, and it's an unfortunate situation," he said Friday in an interview at his office on Camp Humphreys.
The "litmus test" will be if the furlough is still on when a Pentagon order barring moves to prevent coronavirus spread is lifted, creating a backlog of people trying to move on and off the peninsula, Abrams said.
"I was able to go back to the department and in light of COVID-19 to secure some additional authorizations so we've included that," Abrams said.
"On the life, health, safety and minimum readiness we'll be OK in the short-term," he said. "I'll be watching closely the impact on readiness and our ability to deliver services at an acceptable level."
The issue doesn't affect non-appropriated fund organizations such as on-base restaurants, exchange stores, bowling alleys and other community activities that receive money from other sources.
Military officials also have said previously that the mitigating measures would ensure "limited to no observable reactions" for the hospital on Camp Humphreys and other medical facilities, law enforcement, commissaries, schools and post offices.
However, people could expect increased wait times, modified hours and other delays in bus services, non-emergency maintenance work orders, installation access IDs and other administrative needs.
The South has helped support U.S. troops under the Special Measures Agreement since 1991, with most of the funds used for more than 9,000 South Korean employees, logistical support and construction projects.
President Donald Trump's administration has demanded that Seoul sharply increase its contribution for offsetting the cost of some 28,500 troops stationed on the peninsula because of the threat from North Korea.
gamel.kim@stripes.com Twitter: @kimgamel
---
---
---
---