US, South Korea activate 1st-ever combined division
by
Ashley Rowland
June 3, 2015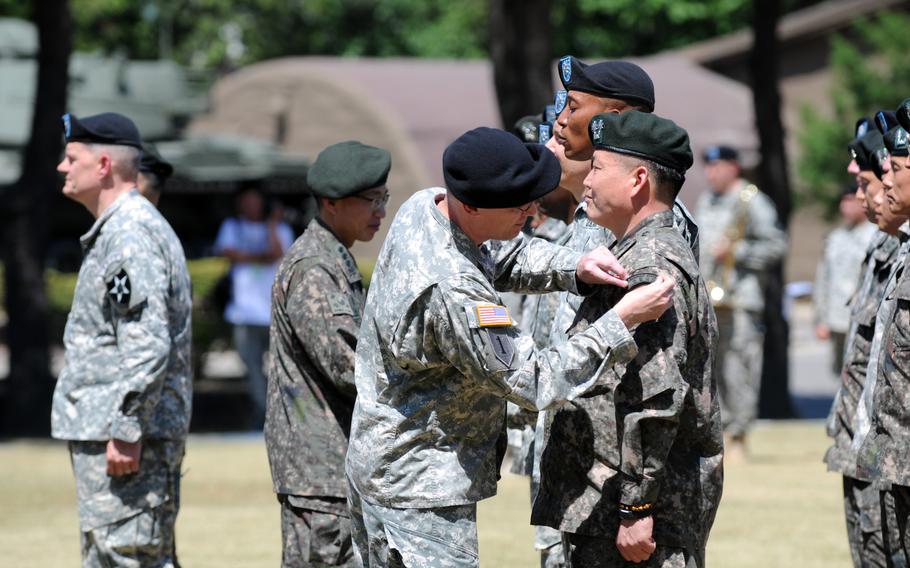 SEOUL, South Korea — The U.S. and South Korea activated their first-ever combined division Wednesday in what military officials hailed as a milestone for the two allies.
"This ceremony reflects much more than just a change to our official title and a new insignia on our uniforms," 2nd Infantry Division commander Maj. Gen. Theodore Martin said during an activation ceremony at Uijeongbu's Camp Red Cloud.
"It serves as a signal to the world, and to our potential adversaries in particular, that we have made the transformation that is necessary to succeed on the battlefield. We now have the best that both armies in the alliance have to offer — all in one division, under one flag, fighting united in effort and purpose."
"There is no stronger force on the battlefield than ROK and U.S. soldiers, with bayonets fixed, prepared to defend this great country and show the unbeatable spirit and power of the ROK-US alliance," he said, using the acronym for the South's formal name, Republic of Korea.
The combined division falls under the 8th Army and includes 2ID forces and South Korea's 16th Brigade. It is headed by the 2ID commander with a South Korean one-star general acting as deputy commander.
Eighth Army commander Lt. Gen. Bernard Champoux said the combined division will "contribute greatly to the defense of Korea while bringing our two nations even closer together."
"Working closely together will better allow us to share common doctrine and procedures and will greatly enhance the overall interoperability between our two great armed forces," he said.
Should hostilities break out, one of the combined division's key tasks would be securing North Korean weapons of mass destruction.
The combined division and its headquarters will initially be located at Camp Red Cloud until forces move to Pyeongtaek, home to Camp Humphreys, as part of the larger consolidation and relocation of U.S. forces on the peninsula.
Officials have said the combined division, which tested itself for the first time during the Key Resolve exercise in February, will improve the allies' fighting capabilities and create more opportunities for joint training.
rowland.ashley@stripes.com Twitter: @Rowland_Stripes