US soldiers with premature twins are evacuated from South Korean city hit hard by coronavirus
---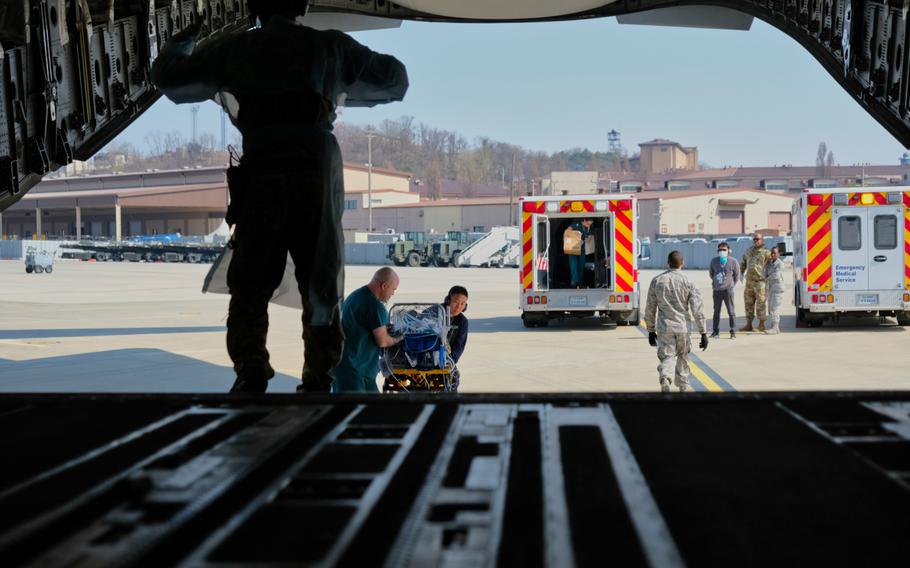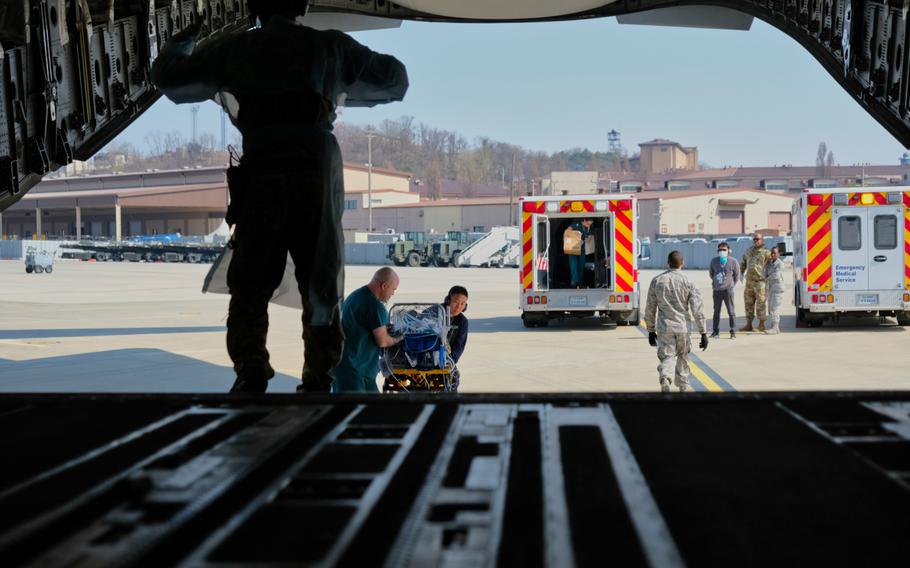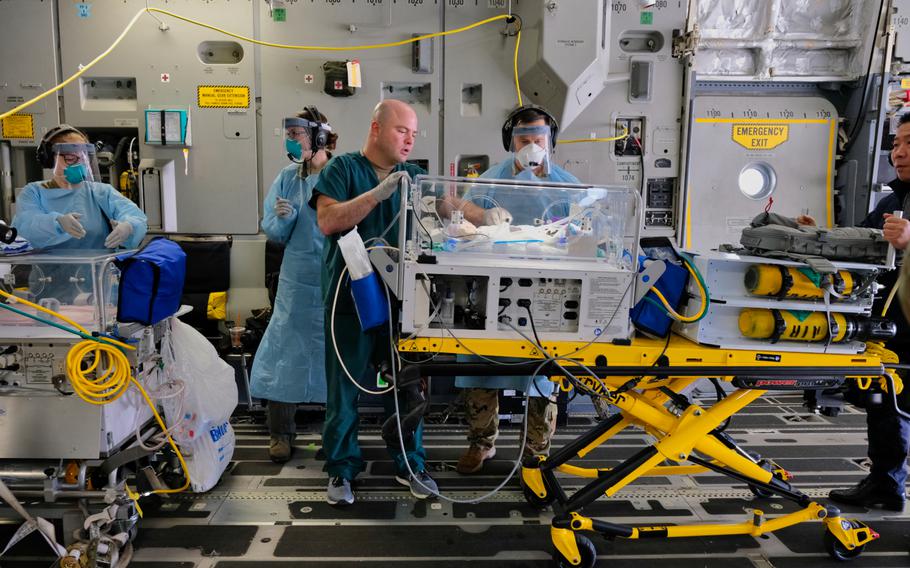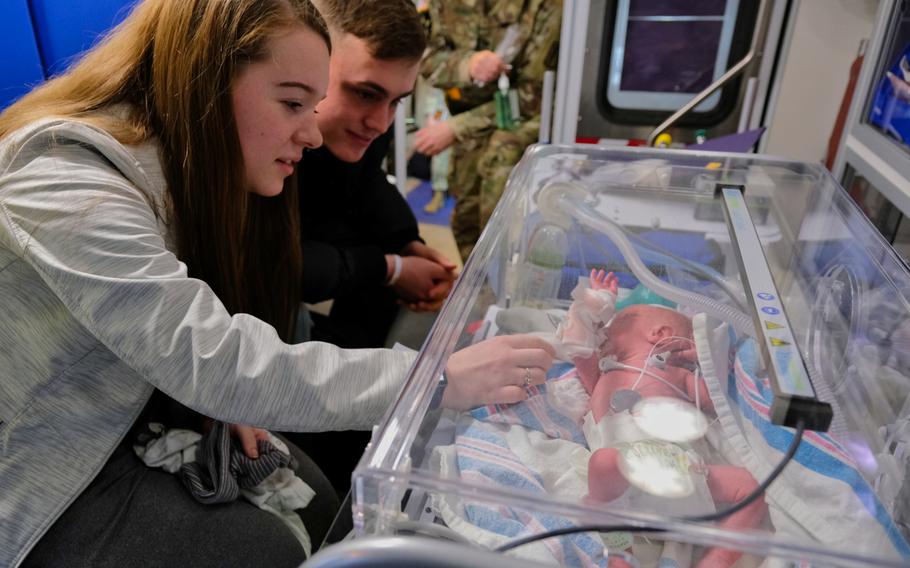 Stars and Stripes is making stories on the coronavirus pandemic available free of charge. See other free reports here. Sign up for our daily coronavirus newsletter here. Please support our journalism with a subscription.
OSAN AIR BASE, South Korea — A dual military family living at the epicenter of the coronavirus outbreak in South Korea has been medically evacuated to the United States after their twin boys were born 10 weeks premature.
Newlyweds Spc. Cody McFall, 21, and Pfc. Cheyenne Evans, 20, both military police with the 188th Military Police Company at Camp Walker, along with their sons Parker and Laine, flew out of Osan Air Base on Monday afternoon. A C-17 Globemaster III equipped with a neonatal intensive care unit is getting them to Maryland's Walter Reed National Military Medical Center, where the boys will receive care hard to come by in Korea.
The twins each weighed less than 2 ½ pounds when they were born last month at Daegu's Yeungnam University Medical Center, McFall said.
South Korea had relatively few coronavirus cases until an outbreak that began in mid-February in Daegu, a city of 2.5 million about 150 miles southeast of Seoul. Nearly 70% of the country's 9,661 cases so far have been in the city that surrounds Camp Walker.
"At first we had regular visitation hours, but once [the coronavirus] hit Daegu, the NICUs went on lockdown," McFall said. "We only got to see them maybe seven times since they were born February 17th. A month and a half almost and we barely got to see them — definitely couldn't touch them."
While Camp Humphreys' new $275 million Brian D. Allgood Army Community Hospital does have a labor and delivery floor and can handle full-tern newborns, it doesn't have a NICU, said Col. Joseph Hudak, deputy commander for clinical services at the hospital.
"These infants are going to need seven or eight different pediatric subspecialties, none of which we have," he said Monday. "They are available in Korea, but they are more challenging to coordinate."
Before the family members could be flown to Walter Reed, the military had to ensure that none had been infected with the new coronavirus, formally known as COVID-19.
"These infants have been in the ICU since they were born so their exposure to COVID-19 is essentially zero," Hudak said. "As far as the parents, they have been in quarantine for about three weeks and we have also tested them and their infants to make sure that they do not have COVID-19. We finished that test over the weekend before this mission was given its final green light."
The Air Force's 18th Aeromedical Evacuation Squadron out of Kadena Air Base, Okinawa, and Hawaii's Air National Guard 154th Wing from Hickam Air Force Base lifted off for the approximately 18-hour trip to Joint Base Andrews, Md.
"The capabilities of that NICU on the aircraft are exactly the same as any NICU in the States that is in a fixed facility," said Maj. Phillip Strawbridge, chief of medical staff for Osan's 51st Medical Group. "We just put it in the air in the back of a C-17."
"The C-17 is a robust platform for doing air medical evacuations, especially for critically ill people," Strawbridge added. "It has the power built in, it's got oxygen and medical gas built in, so we don't have to bring a lot of equipment on there."
Evans said she and her husband — who were compassionately reassigned to the military police detachment at Fort Meade, 25 miles from Walter Reed — will be monitored twice a day for coronavirus symptoms and will be required to wear face masks and sanitized scrubs inside Walter Reed's NICU.
"We can see the boys as much as we want to now," McFall said. "That's a blessing to me."
---
---
---
---