US soldier who went AWOL is found on crowded street in Seoul
---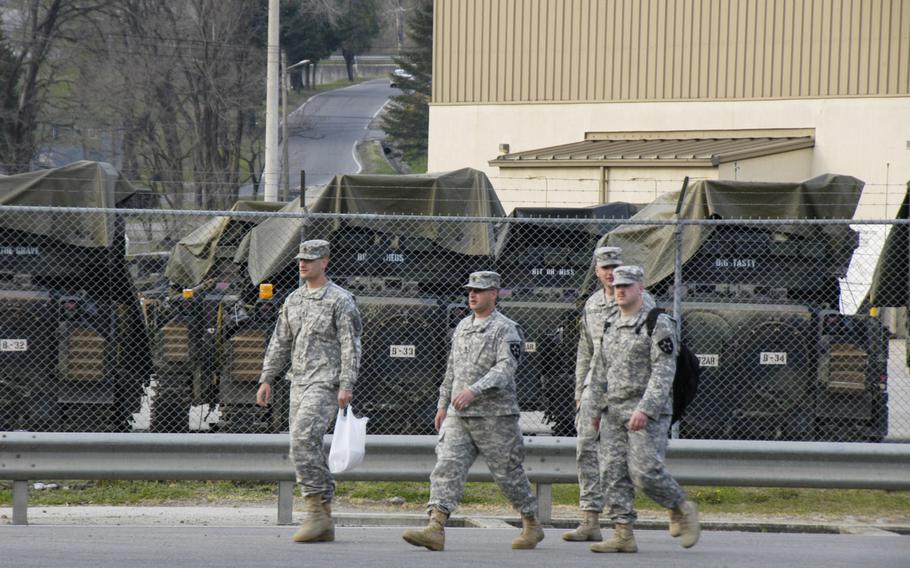 SEOUL, South Korea — A U.S.-Korean patrol found an American soldier Thursday on a crowded street in Seoul, days after he disappeared from his base near the North Korean border, a military spokesman said.
The 2nd Infantry Division soldier went absent without leave from Camp Casey this weekend while facing a court-martial. He is now back in custody on a U.S. installation in Korea and will face trial, Lt. Col. Richard Hyde told Stars and Stripes.
Hyde did not specify the charges other than to say they involved a violation of the Uniform Code of Military Justice.
The joint police patrol found the soldier while he was walking on a street Thursday evening in Hongdae, a popular university area in the South Korean capital, the 2nd ID spokesman said.
A South Korean police officer in Dongducheon said earlier that the soldier, who is in his 20s, left the nearby base, which is about 40 miles north of Seoul, on Saturday morning.
He was wearing civilian clothes and not carrying weapons or military equipment, said the police officer, who spoke on condition of anonymity because he was not authorized to release the information.
The military did not identify the soldier.
Hyde said the search had largely focused on Hongdae, but it still took several days to find the soldier because the military decided not to alert the public.
"It's because this was an AWOL soldier. He was not presumed dangerous," Hyde said. "He was laying low."
The spokesman praised the joint effort, saying the Korean national police worked closely with U.S. military police in the search and in sharing intelligence about the case, including closed-circuit TV footage and other information.
About 28,500 U.S. soldiers are stationed in South Korea, which remains technically at war with the North after the 1950-53 conflict ended with a truce instead of a peace treaty.
Stars and Stripes staffer Yoo Kyong Chang contributed to this report.
gamel.kim@stripes.com Twitter: @kimgamel
---
---
---
---