US shows commitment to Pacific-Asia region as B-2s deploy to Guam
---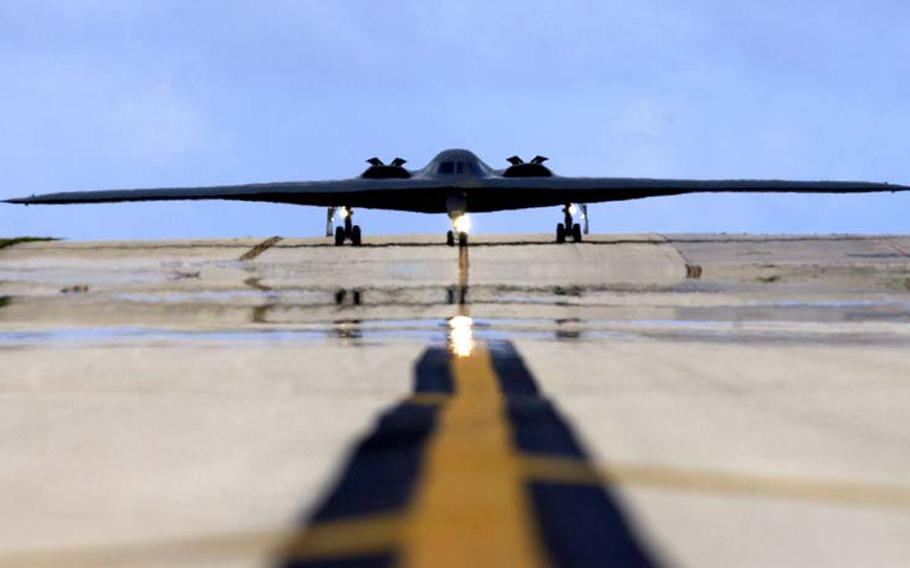 Three U.S.-based B-2 bombers will fly training missions out of Andersen Air Force Base, Guam, this month, according to Pacific Air Forces.
The bombers deployed to Guam on Wednesday, along with 220 airmen from Whiteman Air Force Base, Mo., PACAF said in a news release.
"This training deployment demonstrates continuing U.S. commitment to regular, global strategic bomber operations throughout the Asia-Pacific region," the news release said.
The Air Force Global Strike command routinely deploys bombers to Guam as a deterrent to potential adversaries, the news release said.
In other Guam news: Sailors rescue swimmers
Sailors from Helicopter Sea Combat Squadron 25 have rescued two distressed swimmers off the coast of Guam's Gun Beach.
Coast Guard Sector Guam called in the helos just after 1:30 p.m. Tuesday as part of a search-and-rescue effort.
Less than an hour later, Navy aircrewmen aboard a MH-60S Knight Hawk pulled one of the swimmers from the water and transported her to U.S. Naval Hospital Guam. Rescuers from Guam Fire and Rescue used a personal water craft to save the man, who received treatment on shore.
"The rapid response to the swimmer in distress was only possible due to the dedicated training by our pilots, aircrew and maintenance professionals here on the island of Guam and the [Commonwealth of Northern Marianas Islands]" HSC-25 executive officer Cmdr. Stephen Merritt said in a Navy news release.
---
---
---
---