US set to kick off first-ever maritime exercise with ASEAN members in South China Sea
by
Wyatt Olson
August 30, 2019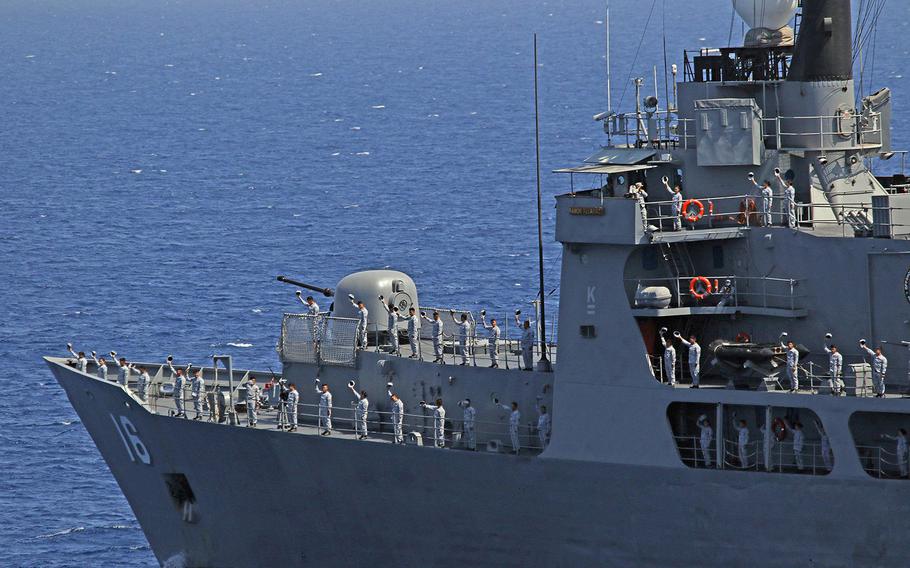 Inaugural joint maritime drills between the United States and a group of Southeast Asian nations are scheduled to kick off Tuesday in the contested waters of the South China Sea.
The five-day exercise is intended to "build capacity in maritime domain awareness, information sharing, and sea interdiction," according to a statement issued by the U.S. Embassy in Bangkok.
The exercise comes about a year after members of the Association of Southeast Asian Nations, or ASEAN, held their first official maritime exercise with China. ASEAN's 10 member nations are Brunei, Cambodia, Indonesia, Laos, Malaysia, Myanmar, Philippines, Singapore, Thailand and Vietnam.
The weeklong China-ASEAN exercise featured helicopter cross-deck landings and a search-and-rescue operation, although only Singapore, Brunei, Philippines, Thailand and Vietnam sent ships. Four other nations sent observers.
ASEAN's back-to-back exercises with China and the U.S. are part of a balancing act for the group. Its members are often at loggerheads over how best to respond to China's growing economic clout and naval might.
Some ASEAN members, such as Philippines, Vietnam and Indonesia, are locked in disputes with China over territorial claims in the South China Sea.
On the other hand, Cambodia is moving ahead with construction of a deep-water naval base for China's navy, Voice of America reported this week.
The ASEAN-U.S. Maritime Exercise will be co-hosted by Thailand and the U.S., the U.S. embassy said.
A spokesman for the U.S. Navy's 7th Fleet in Japan told Stars and Stripes on Thursday that information about the exercise was not yet being released.
The Bangkok Post reported Aug. 24 that Thai Patrol Squadron commander Rear Adm Somphong Nakthong was slated to lead the exercise's combined task force.
The newspaper, citing an unnamed source in the Thai Ministry of Defense, said U.S. Navy Capt. Matthew Jerbi, commodore of the Japan-based Destroyer Squadron 7, would serve as deputy commander of the task force.
The newspaper said the exercise would involve at least eight ships, including aircraft, and that the exercise would begin at Thailand's Sattahip naval base and extend to the southern tip of Vietnam.
Regional media have reported that the Philippine's navy is sending the patrol ship BRP Ramon Alcaraz.
Myanmar will also participate, despite sanctions the U.S. has placed on some of that nation's officials for their role in the deadly crackdown on Rohingya Muslims. Myanmar media reported the country will send a guided-missile frigate to the exercise.
olson.wyatt@stripes.com Twitter: @WyattWOlson