US, S. Korea agree to suspend war games during summit with North
by
Kim Gamel
April 26, 2018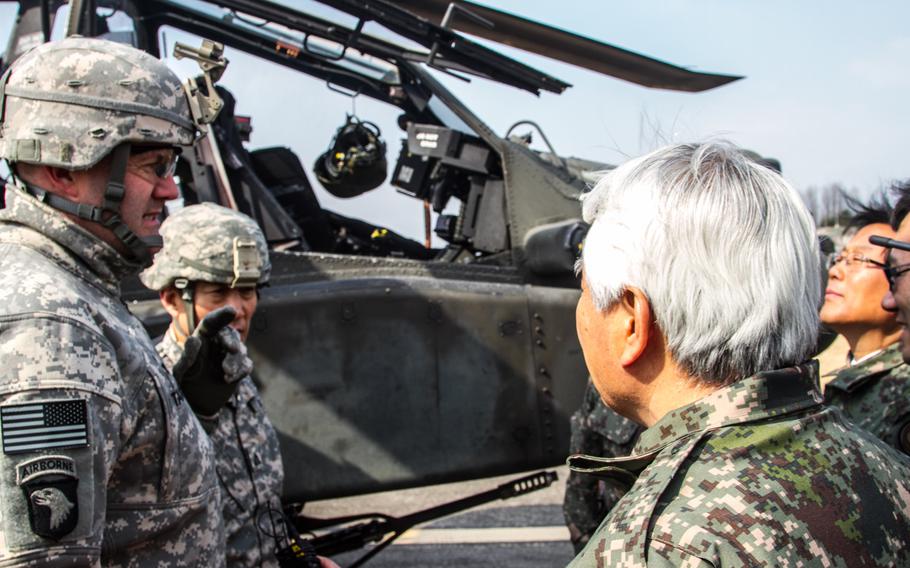 SEOUL, South Korea — The United States and South Korea will suspend joint war games Friday to help ensure a successful summit between President Moon Jae-in and North Korean leader Kim Jong Un, military officials said.
The talks will lay the groundwork for a subsequent summit between Kim and President Donald Trump. No date or venue has been set for the first-ever U.S.-North Korean summit, although Trump has said it will be in May or early June.
"The military will exert all efforts to ensure stable support for the inter-Korean summit," the U.S.-led Combined Forces Command and South Korea's military said in a joint statement.
Thursday's decision was the latest in a series of adjustments to the annual springtime drills as diplomatic efforts aimed at resolving the crisis over the North's nuclear weapons program gained momentum.
The allies agreed earlier this year to delay the start of the exercises until after the Winter Olympics to help the South persuade the North to join the games and begin talks.
They resumed the field exercise dubbed Foal Eagle on April 1 and a computer-simulated, command-post exercise known as Key Resolve Monday.
Military officials said the two-week Key Resolve would be suspended Friday during the historic summit and would resume Monday, as previously scheduled.
The statement stressed the decision was based "on a common assessment that the objectives and desired outcomes" of the first week of Key Resolve "have been achieved."
The statement didn't mention Foal Eagle, which South Korea's military said would last only four weeks this year, half the duration of last year.
U.S. Forces Korea spokesman Col. Chad Carroll said Foal Eagle will continue into May.
But the Yonhap News Agency quoted a military official as saying the two sides have effectively wrapped up the training Thursday and "most of the programs in the Foal Eagle exercise will finish today."
Joint military exercises between Seoul and Washington usually infuriate Pyongyang, which considers them a rehearsal for an invasion despite the allies' insistence they're defensive in nature.
The North often responds with missile tests and fiery rhetoric.
Kim suggested to visiting South Korean envoys that he would not object to the springtime drills, and North Korea's state-run media has been largely silent on the subject.
Seoul and Washington also have kept the games more low profile than usual, dialing back their messaging and not deploying supersonic bombers and other strategic assets.
The U.S. has about 28,500 servicemembers based in the South, which remains technically at war with the North after their 1950-53 conflict ended in an armistice instead of a peace treaty.
gamel.kim@stripes.com Twitter: @kimgamel