US Navy ship stops in Myanmar for first time since WWII
by
Tyler Hlavac
March 21, 2017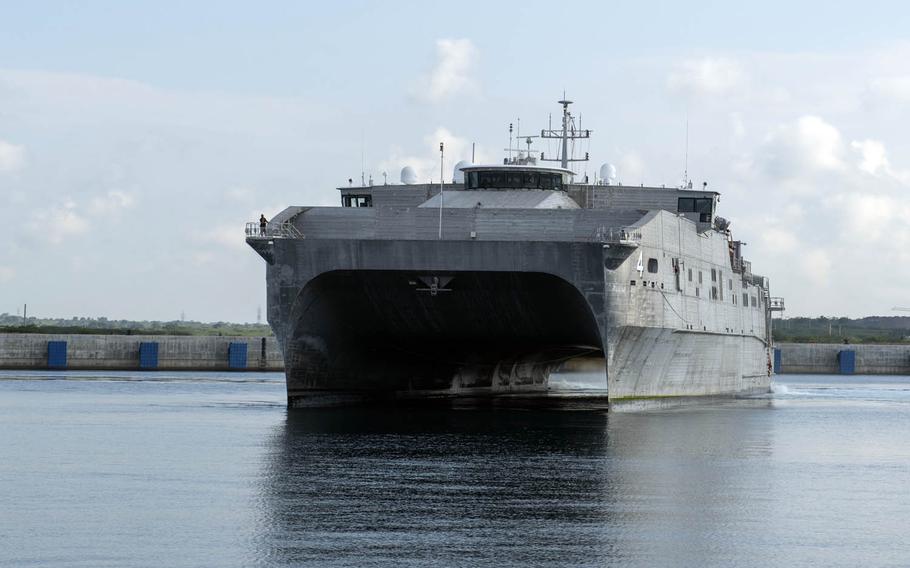 A port call to Myanmar this week by the USNS Fall River marks the first time a Navy ship has visited the Southeast Asian nation since World War II.
The expeditionary fast transport vessel arrived in Yangon, the country's largest city and former capital on Tuesday.
Marines, sailors, soldiers and civilian crewmembers arrived from Sri Lanka and will be in Myanmar nearly a week before heading to Malaysia, where they will resume the annual Pacific Partnership humanitarian assistance and disaster-relief planning mission.
Relations between the U.S. and Myanmar, formerly known as Burma, have warmed in recent years as the country emerges from decades of military rule.
A low point in relations came in May 2008, after Cyclone Nargis killed an estimated 100,000 people in Myanmar.
Officials allowed in limited U.S. military flights carrying aid, but refused to allow in warships loaded with relief supplies and helicopters to deliver them, according to media reports at the time. After multiple requests for entry over the course of several weeks, the U.S. eventually ordered the ships to depart, with supplies undelivered.
Myanmar held free elections in 2015, and the Obama administration lifted sanctions last October. However, activists still accuse the government of human-rights abuses against ethnic minorities such as the Rohingya, a Muslim-minority group in the majority Buddhist nation.
The Fall River's crew will tour Yangon, home to 7 million people, and engage with the Myanmar navy. The 7th Fleet band will also perform at the U.S. Embassy.
The ship is carrying roughly 200 troops and civilians, including personnel from the U.S., Australia, Japan, South Korea and the United Kingdom for the mission.
"We are honored to sail the USNS Fall River and the international Pacific Partnership mission of friendship and disaster preparedness into Yangon as guests of the people of Myanmar," said Rear Adm. Don Gabrielson, commander of Task Force 73, in a statement. "We thank the Myanmar government, people and Navy for hosting this historic visit and we look forward to building a lasting friendship with the people of Myanmar."