US Navy sails a vessel near contested South China Sea shoal for second time in a week
by
Caitlin Doornbos
May 20, 2019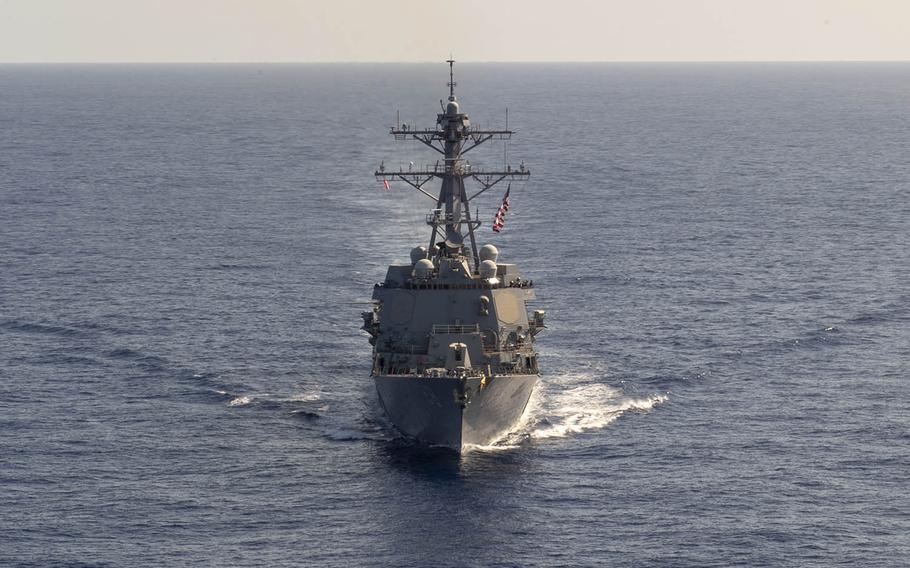 YOKOSUKA NAVAL BASE, Japan — For the second time in the past week, the United States has sent a ship into the vicinity of a South China Sea islet claimed by China, the Philippines and Taiwan.
The guided-missile destroyer USS Preble on Monday sailed within 12 nautical miles of Scarborough Shoal to "challenge excessive maritime claims and preserve access to the waterways as governed by international law," said 7th Fleet spokesman Lt. Joe Keiley.
The Navy last week sent a U.S. vessel to an exercise in the area near the contested shoal.
The Coast Guard cutter Bertholf and two Philippine coast guard vessels practiced search-and-rescue procedures May 14 near Scarborough Shoal, according to the Navy. Chinese coast guard vessels kept watch, according to Japanese broadcaster NHK.
Competing claims in April 2012 led to a standoff between naval and coast guard vessels from the Philippines — a U.S. ally — and China at Scarborough Shoal, which lies 120 nautical miles west of the Philippine island of Luzon, according to the Center for Strategic and International Studies Asia Maritime Transparency Initiative.
China "effectively controls" Scarborough Shoal as it has constantly kept its coast guard present at the feature since 2012, according to the transparency initiative.
Scarborough Shoal in the past was a popular spot for Philippine fishermen before the Chinese coast guard arrived. Since then, China has barred fishermen from entering the shoal, according to the center, a nonprofit policy research group based in Washington, D.C.
Monday's freedom-of-navigation operation came as China and the U.S. continue trade talks aimed at easing the escalating tariffs each country has imposed on the other, but Keiley said the operation was not geared toward any specific nation.
"All operations are designed in accordance with international law and demonstrate that the United States will fly, sail and operate wherever international law allows," he said. "… FONOPs are not about any one country, nor are they about making political statements."
Monday's operation was the fourth of its kind reported this year and the third to include the Preble since February.
In January, the USS McCampbell sailed near the Paracel Islands, whose claimants include China, Vietnam and Taiwan. In February, the Preble and the destroyer USS Spruance passed within 12 nautical miles of the Spratly Islands, which are claimed by China, the Philippines, Malaysia, Vietnam and Taiwan.
The Navy on May 6 conducted another freedom of navigation operation in the South China Sea, sending the Preble and destroyer USS Chung Hoon within 12 nautical miles of the Gaven and Johnson reefs in the Spratlys, Keiley said at the time.
The Paracel and Spratly islands offer rich fishing grounds and oil and gas deposits, according to the CIA World Factbook.
"We conduct routine and regular Freedom of Navigation Operations (FONOPS) as we have done in the past and will continue to in the future," Keiley said.
doornbos.caitlin@stripes.com Twitter: @CaitlinDoornbos