US Navy base reports damage to more than 20 structures days after typhoon pummels Japan
By
Seth Robson Caitlin Doornbos
October 15, 2019
---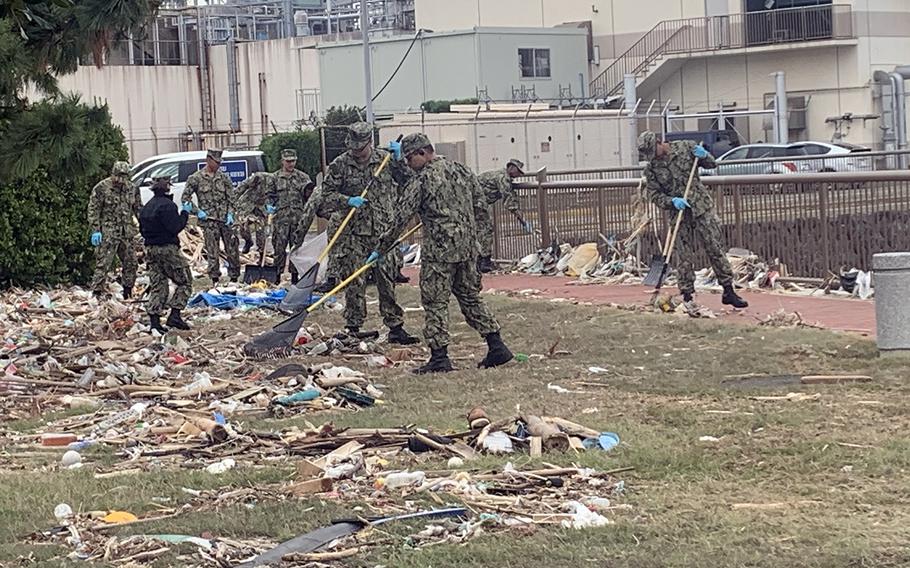 TOKYO — Naval Air Facility Atsugi appeared the worst hit by Typhoon Hagibis on Saturday of the U.S. military bases in and around Tokyo, according to official statements.
The base, 25 miles southwest of the city center, lay along the storm's path after the eye came ashore over the Izu peninsula on Saturday evening.
Atsugi suffered "structural or water damage to more than 20 structures," according to an official base Facebook post Monday. Roofs were torn off some buildings, trees were damaged, and debris was thrown around the base.
Still, the base's emergency management office credited "a relatively safe outcome" to "command, tenant and resident preparation," according to the post.
A request for comment on cleanup efforts went unanswered Tuesday, a holiday for U.S. military.
Meanwhile, the civilian death toll from Hagibis climbed to 66 on Tuesday as cleanup work continued across Japan's main island of Honshu, where a dozen rescues were underway, according to Japanese media.
By comparison, the U.S. military reported no deaths or injuries from the storm.
At Camp Zama, an Army base 40 miles southwest of Tokyo, damage was light.
"The U.S. Army Garrison Japan installations were very fortunate as they sustained only minimal typhoon damage," according to an email Tuesday from base spokeswoman Gwendolyn Smalls. "Damage included minor tearing to the protective netting that stretches along the Camp Zama Golf Course, a few downed trees, and minor storm drain blockage due to shrubbery debris."
Her email included a statement from U.S. Army Garrison Japan commander Col. Thomas R. Matelski.
"Our entire community did a wonderful job preparing for this typhoon, from securing outdoor belongings to having updated emergency kits," he said. "I want to personally thank them for taking the steps to stay connected, stay informed and stay safe."
At Yokota Air Base — the Tokyo home of U.S. Forces Japan and the 5th Air Force — the storm did little than keep its residents indoors for most of the day.
"Thanks to early preparation efforts made by our Civil Engineer Squadron and our Airmen and families, other than a few trees that were knocked down on base and at Tama Hills, there was no significant damage due to the storm," said 374th Airlift Wing spokeswoman Kaori Matsukasa.
Tama Hills is a recreation area about a half-hour drive from Yokota.
At Yokosuka Naval Base, 42 miles south of Tokyo, yellow barriers continued to block traffic on Tuesday along a length of First Avenue between the base athletic field and fire station.
About 20 sailors were raking debris nearby. The seawall in that area was heavily damaged by Typhoon Faxai in mid-September.
Fences bent and broken at Yokosuka by Hagibis were fixed or replaced by Tuesday morning. Most fallen branches had been cleared and debris collected along the base's eastern shoreline was swept into a large pile.
Base public affairs did not respond to questions about the extent of damage to base facilities Tuesday.
Camp Fuji, home of the Marine Corps' combined arms training center in mainland Japan, suffered "no significant impacts," according to Marine Corps Installations Pacific spokesman Maj. Andrew Aranda.
Prime Minister Shinzo Abe, speaking to a budget committee of the country's legislature Tuesday, said he intended to declare Hagibis a "severe natural disaster" to increase subsidies for reconstruction in affected areas, according to public broadcaster NHK.
The broadcast company reported 66 people had died, with 25 from Fukushima prefecture, the hardest hit area, in northeastern Honshu. Levees at 66 locations on 47 rivers had collapsed due to record-breaking rainfall during the typhoon.
doornbos.caitlin@stripes.com Twitter: @CaitlinDoornbos
robson.seth@stripes.com Twitter: @SethRobson1
---
---
---
---