Analysis
US, N. Korea hail 'historic' DMZ meeting as chance to reset nuclear talks but offer no clue how things will be different
By
Yoo Kyong Chang Kim Gamel chang.kyong@stripes.com gamel.kim@stripes.com
June 30, 2019
---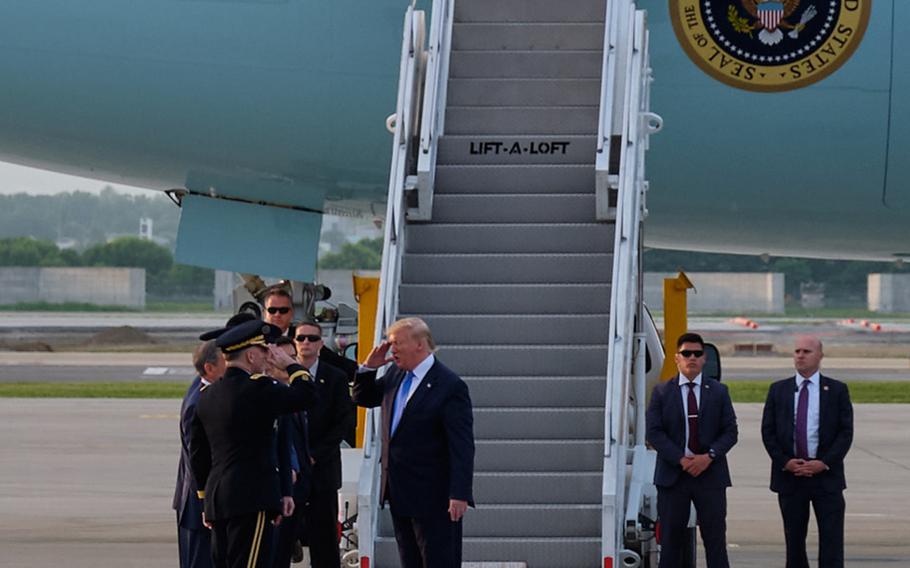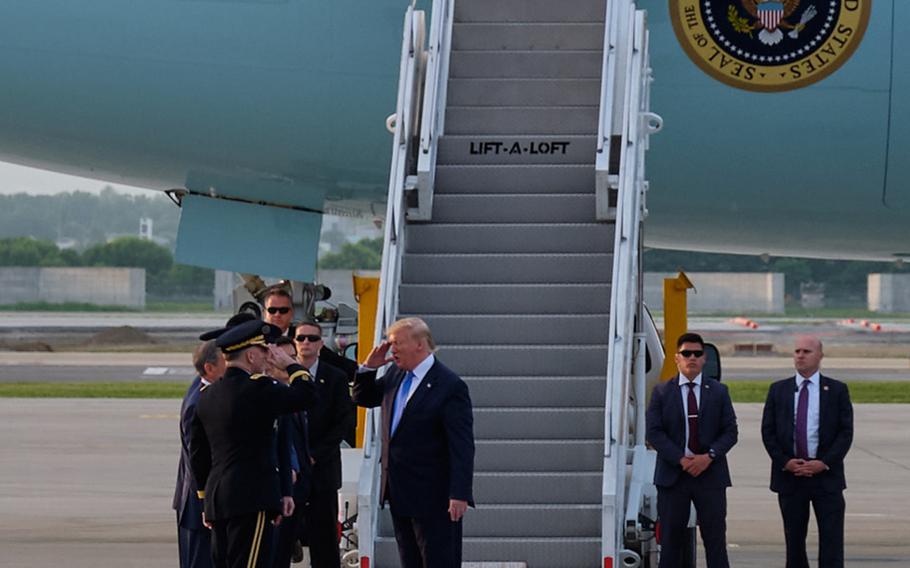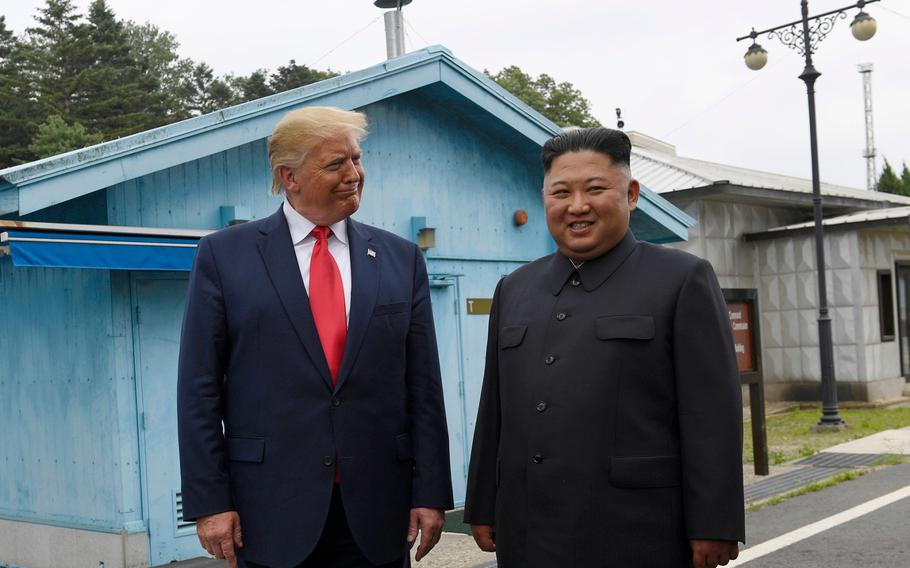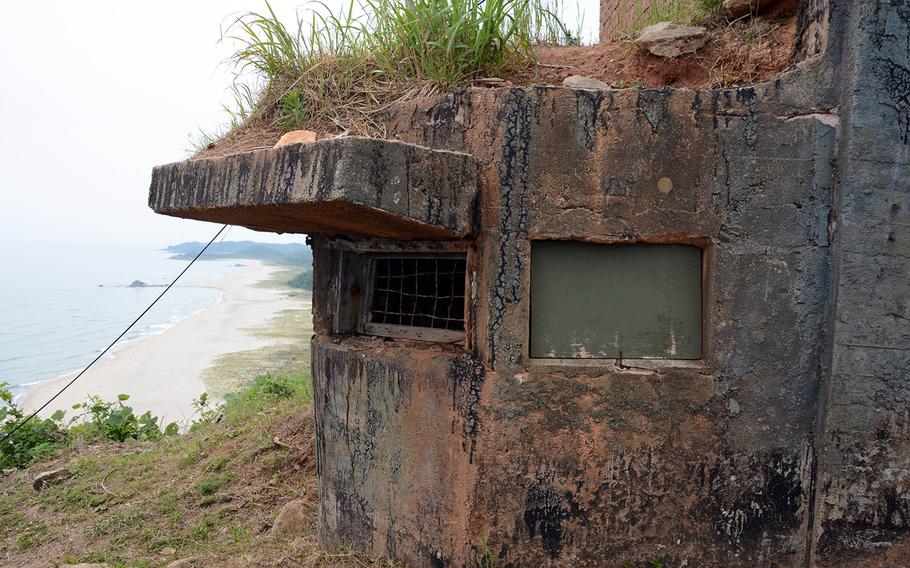 SEOUL, South Korea — North Korea and the United States hailed the historic impromptu meeting between Kim Jong Un and President Donald Trump this weekend at the Demilitarized Zone as a chance to reset troubled nuclear negotiations.
But neither side has given an indication of how things will be different this time, four months after their summit in Vietnam ended without agreement due to stark differences over North Korean demands for sanctions relief.
Secretary of State Mike Pompeo said a new round of talks would likely begin in mid-July and insisted that progress has been made.
"We've worked on this a lot so we're not at square one. We have a sense of their expectations and for a range of ways this might move forward," he told reporters after Sunday's meeting, but he did not elaborate.
'Historic and amazing'North Korea's state-run media called the meeting historic and amazing in a report on Monday that was accompanied by 35 photos showing Kim and Trump walking toward each other and grasping hands at the truce village of Panmunjom.
The two leaders agreed to "resume and push forward productive dialogues for making a new breakthrough in the denuclearization of the Korean Peninsula and in the bilateral relations," the Korean Central News Agency reported Monday.
Trump also said the meeting had paved the way for new negotiations but gave no hint of possible compromises, amid warnings the North has no intention of giving up its hard-won nuclear weapons, which it considers vital to regime security.
The two countries, which remain technically at war, agreed last June during their first summit in Singapore to work toward the complete denuclearization of the Korean Peninsula and to improve relations.
But talks have faltered over the details of how to do so, with the North seeking a reciprocal approach that includes relief from punishing economic sanctions. Washington has insisted the sanctions will remain in place until denuclearization is achieved.
The North Koreans offered at the Vietnam summit to give up their main nuclear fuel production site at Yongbyon in exchange for the lifting of most sanctions. The Trump administration rejected that proposal because it didn't include other known nuclear sites.
"We hope that yesterday's historic Panmunjom meeting … will serve as a turning point in efforts on denuclearization and the establishment of lasting peace on the Korean Peninsula," South Korea's Unification Ministry said Monday.
Trump became the first sitting U.S. president to step onto North Korean territory, nearly seven decades after the 1950-53 Korean War ended in an armistice instead of a peace treaty.
The surprise encounter occurred after Trump issued a Twitter invitation to Kim to shake hands at the truce village of Panmunjom, which straddles the heavily fortified border.
"In 66 years since the Armistice Agreement in 1953 there happened such an amazing event of the top leaders of [North Korea] and the U.S. exchanging historic handshakes at Panmunjom, a place that had been known as the symbol of division," KCNA said.
Meeting for the third time in just over a year, the two leaders chatted as Trump walked several feet on the North Korean side. He then escorted Kim to the South, where the North Korean leader also shook hands with President Moon Jae-in.
Trump and Kim held a 50-minute meeting in the so-called Freedom House.
It was the latest in a series of unprecedented and highly photogenic interactions involving the North that have defied its longtime reputation as the "Hermit Kingdom" due to the isolated nature of the family regime that has ruled the country since it was formed in 1948.
Kim and Moon have previously shaken hands and crossed the symbolic border in April 2018 during the first of three inter-Korean summits. The North Korean leader also has traveled to Beijing and received Chinese President Xi Jinping in Pyongyang.
Beyond the symbolismSupporters welcomed the latest U.S.-North Korean meeting as an important trust-building measure needed to pave the way for more substantive talks and to prevent a new outbreak of hostilities.
Critics fear such moments risk bestowing international legitimacy on an authoritarian regime known for widespread human rights abuses without obtaining firm commitments toward denuclearization.
"There is skepticism about overly symbolic approaches to North Korea. Since dialogue started last year, North Korea has not relinquished a single nuclear weapon or missile," South Korea's Korea JoongAng Daily newspaper wrote in an editorial. "To silence skeptics, the three leaders must make real progress."
Satellite images suggest the North – which is believed to already have 20-60 nuclear warheads – has continued to develop the program after a series of missile and nuclear tests in 2016 and 2017 indicated it had made strong advances and raised fear of war. The communist state also maintains millions of soldiers and massive artillery near the heavily fortified border that divides the peninsula, some 35 miles from Seoul.
Underscoring the concerns, the North Koreans conducted two short-range missile tests earlier this year, which stopped short of violating Kim's pledge to suspend the nuclear tests and intercontinental ballistic missile launches that most concern the Trump administration.
In his remarks to reporters, Pompeo said U.S. special envoy to North Korea Stephen Biegun would lead the American side when talks resume "sometime in July, probably in the next two or three weeks … at a place yet to be determined."
"The teams will gather, and they'll start working. They'll start exchanging ideas," Pompeo said.
"The president, by getting together with Chairman Kim today, broke through and was able to get us the opportunity to get back to the negotiating table, which I'm excited about," Pompeo said. "It's good for North Korea; it's good for America, good for the world."
KCNA quoted Kim as saying "that it was good personal relations with President Trump that made such a dramatic meeting possible at just one day's notice."
He also noted that "the relations would continue to produce good results unpredictable by others and work as a mysterious force overcoming manifold difficulties and obstacles in the future, too."
KCNA also noted that Kim had met and shaken hands with Moon, which will be welcome to the South Koreans who have been seeking to improve inter-Korean relations.
Seoul, a staunch U.S. ally, has begun several bilateral initiatives with the North but is limited in what it can do by the U.S.-led sanctions.
Stars and Stripes reporter Yoo Kyong Chang contributed to this report.
gamel.kim@stripes.com Twitter: @kimgamelchang.kyong@stripes.com
---
---
---
---