US military relaxes more coronavirus restrictions for troops on Okinawa
by
Aya Ichihashi Matthew M. Burke
June 4, 2020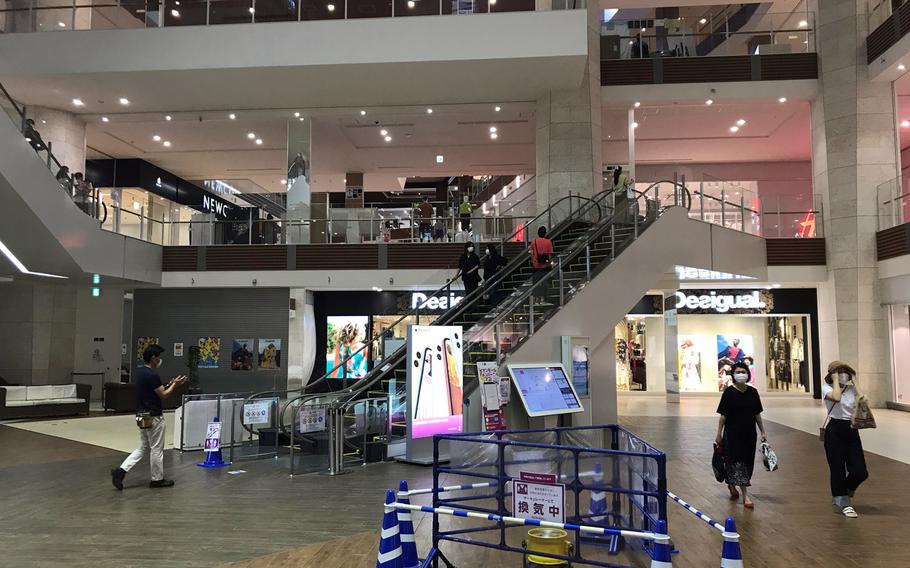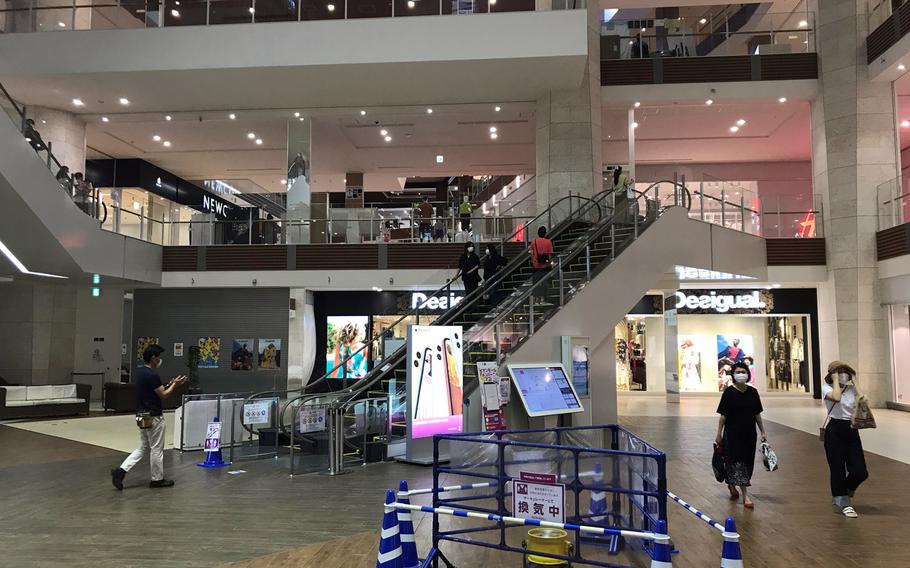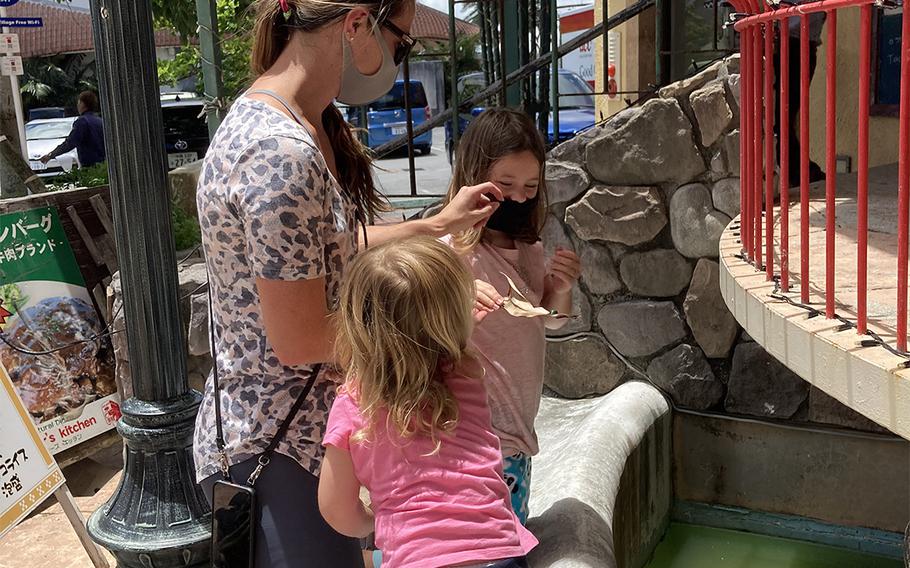 Stars and Stripes is making stories on the coronavirus pandemic available free of charge. See other free reports here. Sign up for our daily coronavirus newsletter here. Please support our journalism with a subscription.
CAMP FOSTER, Okinawa — Marine spouse Kristin Edick and her daughters Ellisyn and Logan were all smiles Thursday as they shopped for a new pair of shoes at the American Village retail complex on Okinawa.
The Marine Corps and Air Force on Wednesday and Thursday relaxed some coronavirus restrictions for service members and their families on the island, which as of Wednesday had 146 coronavirus cases and seven deaths. The last infection on Okinawa was reported April 30.
The Edick family, and others like them, are now able to dine at off-base restaurants, as long as they sit outdoors, and patronize off-base retail stores for nonessential goods and services. These freedoms, realized once again after nearly seven weeks under lockdown, were enough to lift the family's spirits, as they looked forward to a post-coronavirus reality.
Ellisyn, 7, and her sister Logan, 2, tried to catch a bug in a small pool of water while they patiently waited for the store to open.
"I needed to buy Ellisyn a new pair of Crocs and I had been waiting for it," Kristin Edick, 36, of Charlotte, N.C., said of the announcement easing restrictions. She saw the Facebook post on Wednesday night, she said, "so here we are."
Edick said she couldn't wait for the rest of the restrictions to eventually be lifted as well.
"We all did our part during the lockdown," she said. "We did so well. Now, I cannot wait to travel to the outer islands like Keramas. I also would love to visit Taiwan."
'A gradual return' Marine Forces Japan first announced the latest relaxation of restrictions with a statement Wednesday night. Air Force Brig. Gen. Joel Carey, 18th Wing commander at Kadena Air Base, followed suit Thursday morning.
"The move towards more lenient conditions reflects the effectiveness of preventive measures and a gradual return to routine training and operations," the Marine statement said.
The 18th Wing also gave the green light to off-base youth programs like swimming and piano lessons, according to a Facebook post Thursday. The wing also authorized base-sponsored trips, tours and educational classes "when available."
"Non-contact outdoor sports and activities such as volleyball, softball, baseball, etc. are authorized," the post said. "While these select sports are permitted, personnel in the stands and dug-outs must observe social distancing."
Base bars, clubs and lounges are also authorized, according to the wing. Health screenings will no longer be conducted on those entering the air base.
However, some restrictions remain in place: the use of mass transit, visiting off-base bars, barbers, hotels, nail salons and tattoo shops are still prohibited.
Base access remains limited to mission-essential personnel, according to a wing Facebook post.
Marine officials said the remaining restrictions comply with guidelines from the government of Japan, U.S. Centers for Disease Control and Prevention and U.S. Forces Japan and will be "continually reviewed."
"The fight against COVID-19 is not over," the 18th Wing said on Facebook. "We must remain vigilant and continue to practice social distancing and good hygiene as well as wear a face mask when social distancing isn't possible."
The wing instructed service members to focus on keeping a detailed contact log as they get out more and more. USFJ has declared a public health emergency until June 14.
Lifting spirits While military officials eased restrictions Wednesday night and Thursday morning, the message was taking some time to reach the force.
Popular service member hangouts like the Burger Bear outside Camp Foster's front gate, the Starbucks on Route 58 in front of Camp Lester and the massive Aeon Mall Okinawa Rycom in Kitanakagusuku were devoid of service members and their families.
Despite that, the news was well received by Marines and sailors aboard Camp Foster.
Marine Master Sgt. Toby Brown said he couldn't wait to visit the Japanese home improvement store Makeman.
"I think it's a good move forward in the right direction," he said as he exited the Camp Foster commissary with an armful of groceries Thursday. "I've got some stuff around the house I want to try and get done."
Marine Gunnery Sgt. Rebecca Culp said she couldn't wait to combine a day at the beach with eating at an off-base restaurant and socializing with friends.
"I think everyone's excited about it," she said as she rushed to get her lunch. "It's going to be helpful for the Marines to be able to get out in town and will definitely lift everyone's spirits."
Navy Petty Officer 1st Class Justin Hayes, a corpsman with the 3rd Medical Battalion, said he couldn't wait to patronize his favorite island eateries.
"I think it's awesome in the sense of being able to go to outside retail stores, i.e. the Daiso (a 100-yen store franchise), just the small things that matter," he said with a wide smile. "Hopefully the restrictions loosen up a little bit more, but I'll take what we can get."
Okinawa prefecture allowed most shuttered businesses to reopen May 14, as long as they follow social distancing and hygiene protocols. U.S. military officials on Okinawa eased some restrictions — like purchasing take-out food from off-base restaurants, attending off-base schools and child care and visiting beaches and public parks — on May 20.
burke.matt@stripes.com Twitter: @MatthewMBurke1
ichihashi.aya@stripes.com Twitter: @AyaIchihashi