US military maintains coronavirus restrictions as South Korea edges toward normalcy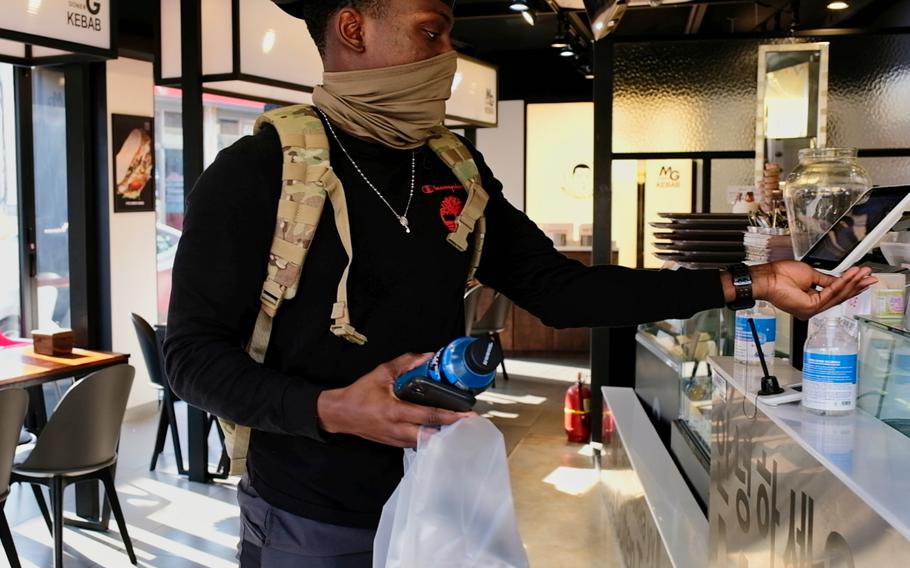 Stars and Stripes is making stories on the coronavirus pandemic available free of charge. See other free reports here. Sign up for our daily coronavirus newsletter here. Please support our journalism with a subscription.
CAMP HUMPHREYS, South Korea – Restaurants and bars are crowded, public transportation is buzzing and students are preparing to return to school starting next week as South Korea loosens anti-coronavirus restrictions after days of no local transmissions.
But U.S. Forces Korea says not yet for its community of 58,000 American troops, family members, contractors and other civilian employees who have been largely locked down on bases for more than two months because of the pandemic.
The South wrapped up an intensive social distancing campaign on Wednesday, announcing it would begin reestablishing a sense of normalcy with many facilities resuming routine operations.
USFK commander Gen. Robert Abrams said he will maintain restrictions under a designation known as Health Protection Condition Charlie on U.S. installations, while monitoring South Korea's progress.
The host country "has done an amazing job, and we are going to let them take the lead as they relax some of their social distancing measures," Abrams said in a statement posted on social media.
"We'll watch and see how these new measures play out over the next week or so, and then if the current conditions are maintained, we'll move forward with relaxing our preventative measures as well," he said.
USFK also held discussions with its South Korean counterparts on the need for local troops who require access to U.S. installations to abide by the same rules, U.S. and South Korean officials said.
South Korea reported four new infections on Thursday for a total of 10,810 cases, with 256 deaths, since the virus began spreading from China late last year. Three of those cases were imported from abroad.
The daily count has sharply declined since surpassing 500 in late February and early March amid an outbreak in the southeastern city of Daegu.
USFK, which has only reported 26 cases, including two soldiers, credits the strict anti-virus measures, which includes a ban on eating out at local restaurants and bars, for its low infection rate.
Barber shops and gyms reopened last month, but people must wear face masks inside facilities and long lines form at stores where people are required to stand at least six feet apart to prevent contamination.
Plexiglass divides diners at the food courts. On-base buses have resumed service, but taxis remained banned on the largest overseas U.S. base, Camp Humphreys, causing hardships for soldiers below a certain rank who aren't allowed to have cars.
Both allies stressed the need for a "new normal" even after restrictions are lifted, with health authorities encouraging people to continue washing their hands thoroughly and frequently and to maintain healthy distances from each other.
Abrams also has extended a public health emergency, which gives him expanded authority over civilians as well as troops, through May 23, although he could decide to end that earlier.
Some 28,500 U.S. service members are stationed in South Korea, which remains technically at war with the North after their 1950-53 conflict ended in an armistice instead of a peace treaty.
"We've got a mission to accomplish, and we've got to keep our force healthy," Abrams said.
Many in the community expressed growing impatience as life began to spring back outside the gates.
"Yeah the virus is pretty SQUASHED yet HERE WE ARE. Not moving forward at all," one commenter said during an online forum.
South Korea also plans to reopen schools in phases, starting with high schools next week, after months of online classes.
The Department of Defense Education Activity, or DODEA, said most of its schools will remain closed and students will continue virtual learning for the rest of the academic year, although it said those in South Korea may reopen in coming weeks due to the improved conditions. It's unclear when a decision will be made.
Pvt. Josten Pervez, 20, Titusville, Fla., cooks for her fellow soldiers in the barracks to earn money and ease the boredom, but she hopes things will go back to normal soon.
"I don't like all the restrictions," she said in an interview while waiting in line to enter the Post Exchange on Camp Humphreys. "It makes the morale really low in the soldier community because our release from work and our decompression happens on the weekend."
Pervez, who had a wagon to carry goods back to the barracks, said she's only in South Korea for a year and wants to enjoy the culture. But she's not angry about the extended restrictions.
"It is what it is. You just kind of take it with a grain of salt and hope that eventually it gets better," she said.
Stars and Stripes reporter Yoo Kyong Chang contributed to this report.
gamel.kim@stripes.com Twitter: @kimgamel
---
---
---