US military issues final furlough notices to nearly half its South Korean workforce, union says
By
Yoo Kyong Chang Kim Gamel
March 25, 2020
---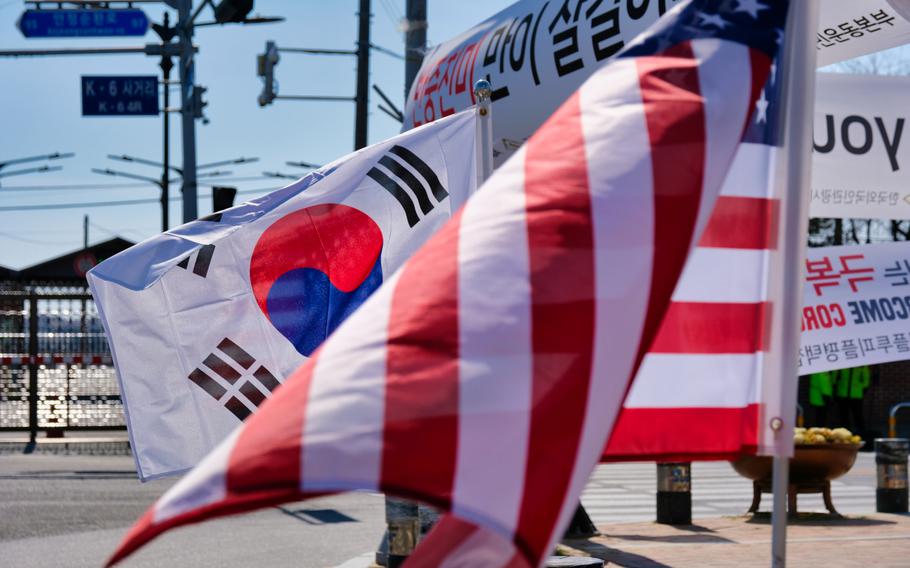 SEOUL, South Korea – The U.S. military will put nearly half its South Korean workforce on unpaid leave starting next week after the two countries failed to reach a new defense cost-sharing deal, the local union said Wednesday as final furlough notices went out.
The allies met in Los Angeles earlier this month but remained deadlocked over U.S. demands for a sharp increase in South Korea's contribution to offset the costs of stationing some 28,500 American troops on the divided peninsula.
South Korea's Foreign Ministry said plans for future meetings were on hold because of restricted travel due to the coronavirus pandemic, but negotiators would continue talks via phone calls and video conference calls.
The South has helped support U.S. troops under the so-called Special Measure Agreement since 1991, with most of the funds used for more than 9,000 South Korean employees, logistical support and construction projects.
The previous contract expired at the end of 2019, but the United States had been paying the salaries with programmed funds that will run out at the end of this month.
U.S. Forces Korea said it has completed its analysis to determine which local employees can be retained with additional Pentagon funds for critical operations related to "life, health, safety and readiness services."
"USFK began issuing furlough notification letters to (Korean National) employees who are subject to the furlough today. Unfortunately, due to the continued absence of an agreed upon SMA, USFK will be furloughing a portion of our KN employees next week," the public affairs office said in a statement.
It didn't provide numbers, but a representative of the USFK Korean Employees' Union Son Gio and another union official said about 4,000 members had received furlough notices.
The issue doesn't affect non-appropriated fund organizations such as on-base restaurants and exchange stores.
Military officials also have said the hospital on Camp Humphreys, other medical facilities, law enforcement, schools, commissaries and post office services will see little to no effect thanks to mitigating measures.
The union called for the rules to be revised as part of the negotiations to better guarantee their labor rights.
"The South Korean government should no longer allow the situation that laborers are held hostage whenever the South Korean-U.S. SMA negotiations are held," it said during a news conference in Seoul.
USFK officials have said the furloughed employees won't receive back pay and won't be allowed to work on a volunteer basis.
gamel.kim@stripes.com Twitter: @kimgamel
---
---
---
---