US military in Japan reports three new virus cases; Tokyo numbers remain below 200 on sweltering day
by
Joseph Ditzler
August 11, 2020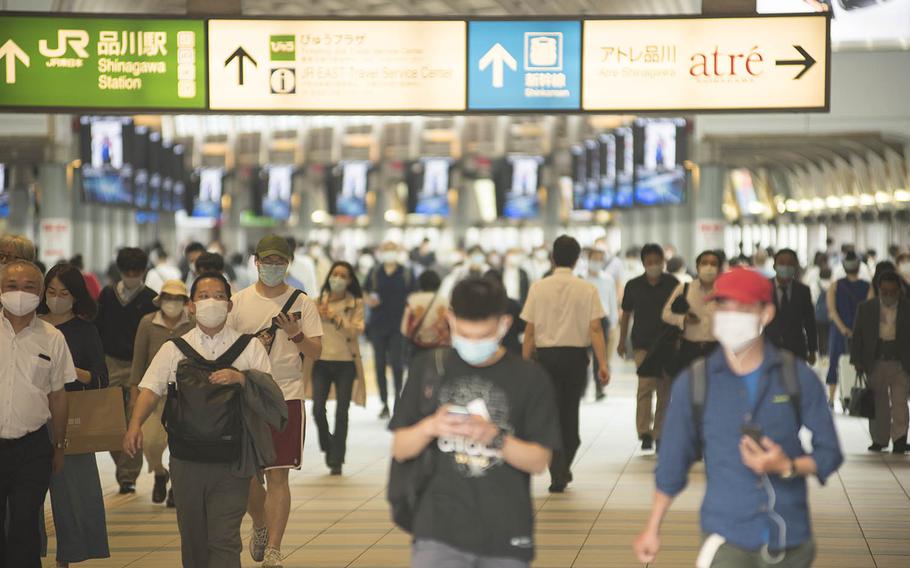 Stars and Stripes is making stories on the coronavirus pandemic available free of charge. See other free reports here. Sign up for our daily coronavirus newsletter here. Please support our journalism with a subscription.
TOKYO — Japan's capital city, gripped in furnace-like heat Tuesday, reported 188 new coronavirus cases, continuing a downward trend, while the U.S. military in Japan announced three at bases on Okinawa.
One new case was already isolated as a "close contact" of another person who was infected at Camp Courtney, according to a post on the Marine Corps Installations Pacific official Facebook page.
Kadena Air Base announced two new infections Monday evening. One was placed in quarantine after reporting symptoms and then tested positive for the virus, according to a post on its Facebook page. The second person tested positive after contact with another individual with the virus. Both are in isolation, the post said.
The U.S. military on Okinawa has reported 317 cases since March, 298 of them affiliated with the Marines. Although the military reports numbers of cases at installations, it does not specify whether they are service members, civilian employees or family members.
The city of Tokyo reported 188 new cases on Tuesday, according to public broadcaster NHK, which cited the Tokyo Metropolitan Government. It was the second day the city reported fewer than 200 new infections following a peak of 472 new cases on Aug. 1.
Tokyo on Tuesday sweltered along with much of the country. Temperatures in some parts of the metro area reached 100 degrees.
On Okinawa, the Ryukyu Shimpo newspaper, citing prefectural officials, reported 64 new cases among the local population on Tuesday, higher than Monday's 52 but lower than the pandemic one-day record there of 159 reported on Sunday.
The prefecture on Monday announced that two people had died due to the coronavirus. There have been 10 deaths among the local population since March.
At Camp Zama, southwest of Tokyo, U.S. Army Garrison Japan notified its personnel that a worker at an iPhone repair shop near a satellite facility, Sagamihara General Depot, had tested positive for the virus Monday.
The shop is on the second floor of CELEO Sagamihara in the Sagamihara Station complex adjacent the depot, according to a garrison Facebook post Tuesday. The infected employee's last shift was Aug. 5, and the store closed at 3 p.m. Monday for sanitization.
Anyone affiliated with U.S. Army Japan who visited that store between Aug. 3 and Aug. 5 "and interacted with a store employee for more than 10 minutes, please immediately contact your chain of command and restrict all movement until contacted by medical officials," according to the post.
ditzler.joseph@stripes.com Twitter: @JosephDitzler