US military goes virtual to stay in touch with foreign partners during pandemic
by
Seth Robson
August 26, 2020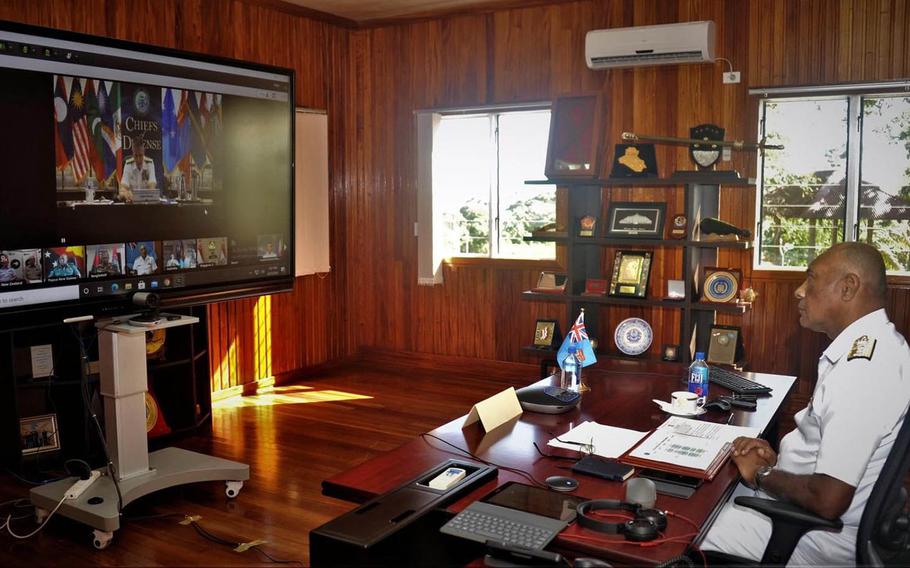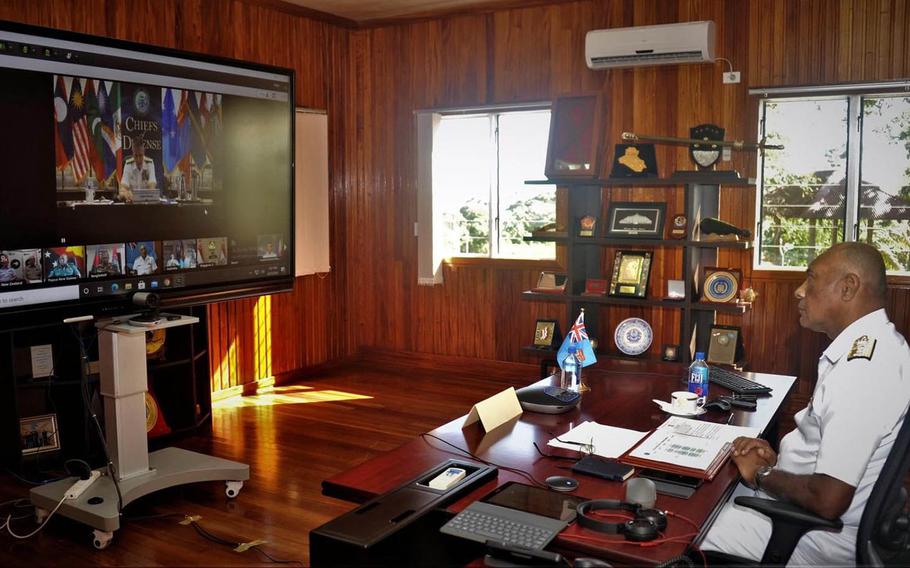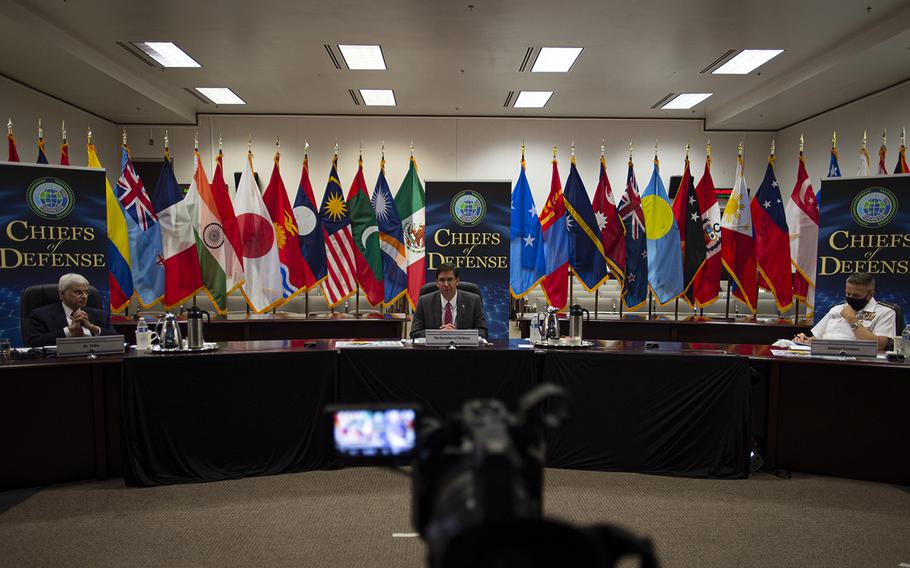 Stars and Stripes is making stories on the coronavirus pandemic available free of charge. See other free reports here. Sign up for our daily coronavirus newsletter here. Please support our journalism with a subscription.
Military leaders from 29 nations were supposed to be rubbing elbows this week at the annual Indo-Pacific Chiefs of Defense Conference in Fiji.
Instead, the top brass spent Monday and Tuesday, Hawaii time, huddled in front of screens watching speeches by heavy hitters such as Army Gen. Mark Milley, chairman of the Joint Chiefs of Staff; Secretary of Defense Mark Esper; Vice Adm. Jerome Adams, U.S. surgeon general; former Canadian Prime Minister Stephen Harper; and Qualcomm president Cristiano Amon.
Topics included the security implications of the coronavirus, multilateralism in the Indo-Pacific and 5G technology.
"Nothing beats the person-to-person thing, but doing it virtually … has shown people that the pandemic is causing us to adjust our behavior but it's not causing us to eliminate or stop our interactions," said Marine Maj. Gen. Stephen Sklenka, Indo-Pacific Command director of strategic planning and policy, who helped organize the event.
Virtual meetings have become standard practice for Indo-Pacific Command this year as the coronavirus has limited troop movement.
Exercises such as Balikatan in the Philippines have been canceled and other training efforts curtailed. For example, this month's Rim of the Pacific drills are limited to activities at sea off Hawaii while a six-month Marine Corps training rotation to Australia has fewer than half as many Marines as planned.
But engagements with foreign military leaders aren't being canceled outright, Sklenka said in a telephone interview Tuesday in Hawaii.
"We are going to do all of them virtually," he said.
Indo-Pacific Command chief Adm. Phil Davidson, for example, has had recent virtual engagements with counterparts in Japan, Australia, Mongolia, Thailand, South Korea and Malaysia, Sklenka said.
U.S. Army Pacific and Pacific Air Forces have held virtual conferences that would normally be done face-to-face, Army Maj. Randy Ready, an Indo-Pacific Command spokesman, said in an email Monday in Hawaii.
"Normal trips our leadership makes throughout the region have been put on hold, but we continue to do virtual bilateral engagements with our allies and partners to strengthen relationships and address regional security challenges," he said.
During the Chiefs of Defense Conference, Adobe Connect software is allowing leaders to hear speeches translated in their own languages while the faces of participants scroll past on screen, Sklenka said.
The conference, in its 22nd year, includes nations such as Indonesia, the Philippines, Vietnam, New Zealand and China, according to a list provided by the Indo-Pacific Command.
"All the other chiefs of defense are chiming in and participating," Sklenka said. "There is definitely a sense of collaboration and cordiality about it."
A Chinese lieutenant general involved in the conference has been as active as any of the other participants, Sklenka said. Indo-Pacific Command declined to provide the name of the Chinese participant, saying it's up to individual nations to release such information.
"Our interaction in the theater is about more than just trying to one-up [China], Sklenka said. "It helps us to have friends and connections out there. We would be doing this regardless of whether or not there was competition with [China]."
Continued engagement with allies and partners is critical as the military learns to operate during the pandemic, Davidson, leader of Indo-Pacific Command, said in a statement Monday from Hawaii.
"With the unprecedented challenges currently facing the Indo-Pacific, it is the strength of our partnerships and our collective capabilities that will enable us to successfully confront these challenges and continue to advance a Free and Open Indo-Pacific," he said.
Fiji, which is slated to host the event again next year, was retained as a co-host of the virtual conference. Fijian Prime Minister Frank Bainimarama, a former naval officer and commander of the Fijian military, gave a virtual speech during this year's event, Sklenka said.
The current commander of Fiji's military, Rear Adm. Viliame Naupoto, said in a statement issued Monday Hawaii-time that he had wanted to welcome the other military leaders to his country.
"Even though now virtual, the conference still offers this wonderful opportunity to discuss mutual security challenges, and with the [coronavirus] security implications high on everyone's agenda, the timing of this conference is perfect," he said.
robson.seth@stripes.com Twitter: @SethRobson1