US military gives more off-base freedom to Okinawa troops
by
Matthew M. Burke
June 16, 2020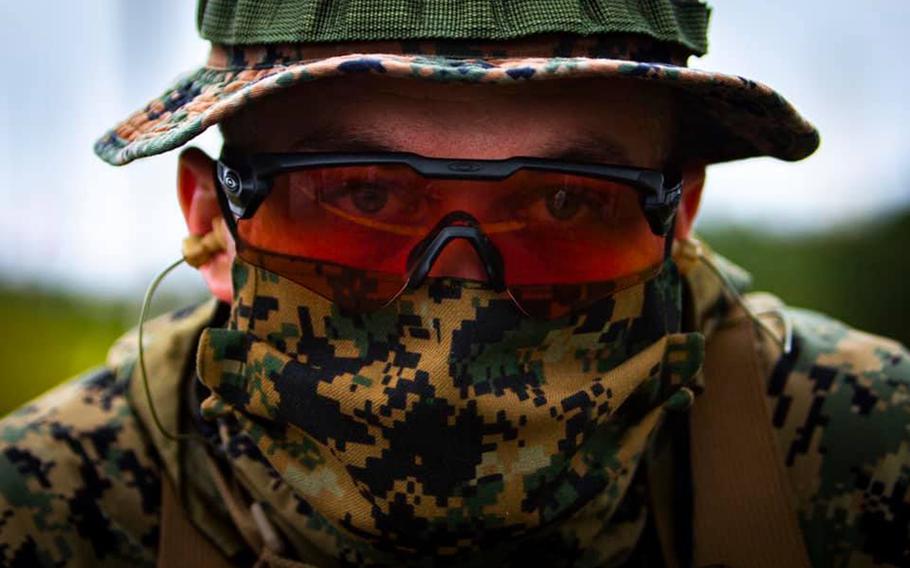 Stars and Stripes is making stories on the coronavirus pandemic available free of charge. See other free reports here. Sign up for our daily coronavirus newsletter here. Please support our journalism with a subscription.
CAMP FOSTER, Okinawa — Life is returning to something closer to pre-pandemic days with the loosening of some coronavirus restrictions on military families in Okinawa.
Starting noon Wednesday, dining at off-base restaurants; attending off-base religious services, working out at local gyms; and patronizing off-base beauty, tattoo and massage parlors and barbers, hair and nail salons will be permitted, according to statements Monday from Marine Forces Japan and the 18th Wing at Kadena Air Base. They'll also be free to check in at local hotels and resorts and schedule elective medical procedures.
Service members, Defense Department civilians, contractors and their families may also take part in recreational activities with no limit on group size, such as visiting museums and the Churaumi Aquarium. They may also use public transportation — like taxis — but no off-base buses or monorail.
There are catches: Everyone must maintain social distancing, wear masks where appropriate and continue good hygiene and safety practices, the statements said.
"Events and activities where social distancing is not possible or practiced will remain prohibited both on-base and off-base," the 18th Wing said in their statement on Facebook. The same holds true for Marines, their families and civilian employees on the island.
An overall public health emergency declared by U.S. Forces Japan on April 15 remains in effect until July 14. That means masks and other measures are still required of anyone at Kadena and the Marine installations, according to the coordinated statements.
Anyone who enters Kadena and "who refuses to obey these directives may face administrative action," according to the wing statement.
The success of preventive measures and the drop in the number of new coronavirus cases on Okinawa permit both commands to lower the health protection condition from Charlie to Bravo, according to a Marine statement on Facebook.
Health Protection Condition-Charlie, in effect since March 25, indicated a "substantial" risk to public health; Bravo indicates a "moderate" risk. USFJ lowered the overall health protection condition to Bravo on Friday, which permits individual commands to follow suit.
The relaxed restrictions were "synchronized across the U.S. military services on Okinawa."
At Kadena, non-mission-essential workers may again access the base, according to the wing. Non-mission-essential visitors may also enter the base with a valid visitor's pass, unless they have traveled internationally in the past 14 days and have not yet completed the mandatory quarantine period.
All personnel are still required to maintain an up-to-date contact tracing log, according to the wing.
Many places are still off-limits for all Marines, airmen and civilians: bars, night clubs, karaoke boxes, pachinko parlors and any establishments that allow adults only, the statements said. Wrestling, boxing, jiujitsu and other close-contact sports are also unauthorized, as are events with high-density crowds like flea markets, concerts and festivals.
"This is an important time to remain vigilant and take precautions to keep our community and our Okinawan neighbors safe," the Marine Forces Japan statement said.
Okinawa prefecture allowed most shuttered businesses to reopen May 14, as long as they follow social distancing and hygiene protocols. On May 20, U.S. military officials on Okinawa eased some restrictions, like purchasing takeout food from off-base restaurants, attending off-base schools and child care and visiting beaches and public parks.
The Marines and Air Force last reduced restrictions on June 4, allowing service members and their families to eat at off-base restaurants in outdoor seating only and to shop at Japanese retail stores. As of Monday, Okinawa had 146 positive coronavirus cases, the prefectural website said. The prefecture has reported seven deaths, and no patients remain hospitalized. The last new positive case on Okinawa was reported April 30.
Okinawa Gov. Denny Tamaki earlier this month asked tourists from Tokyo, Kanagawa, Chiba, Hokkaido, Fukuoka and Saitama prefectures to "wait till June 19 to visit Okinawa," depending on the spread of the virus.
burke.matt@stripes.com Twitter: @MatthewMBurke1