US military contractor infected with coronavirus in South Korea in 10th USFK case, prompting new restrictions
---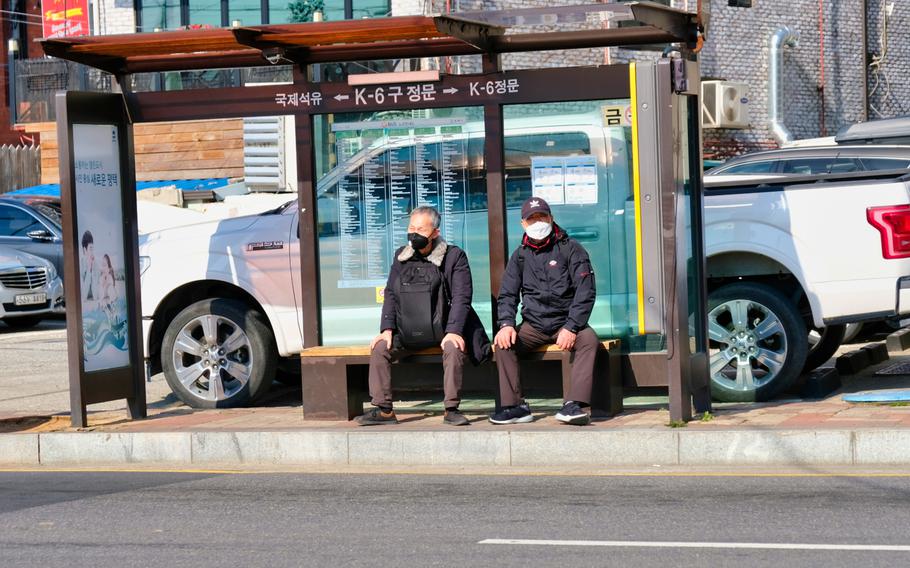 Stars and Stripes is making stories on the coronavirus pandemic available free of charge. See other free reports here. Sign up for our daily coronavirus newsletter here. Please support our journalism with a subscription.
SEOUL, South Korea — A U.S. military contractor working at Eighth Army headquarters on Camp Humphreys has tested positive for coronavirus, the 10th case linked to U.S. Forces Korea, prompting new on-base restrictions to prevent complacency after more than a month of near confinement.
The latest infection underscored the vulnerability of the military community despite strict limitations on access and movement aimed at forming what commanders call "protective bubbles" to try to stop the coronavirus pandemic from spreading on bases across the divided peninsula.
Officials further tightened restrictions in a bid to prevent people from letting their guard down too soon as the overall pace of infections in South Korea has started to slow. Only 76 new cases were logged Tuesday, down from a high of 909 on Feb. 29, for a total of 9,037.
The South Korean government also has launched a two-week campaign strongly urging people to stay home except for work and other essential needs, while restricting religious gatherings, indoor sports and other activities.
New restrictionsBeginning on Wednesday, on-post restaurants will be take-out only and chairs will be removed from the facilities to ensure compliance, Col. Michael Tremblay said, adding that no more group physical training will be allowed in the gyms.
"The complacency is very concerning because what happens to one affects us all so look for more measures in the upcoming days … to ensure the protection of our force," he said during a Facebook live update.
Only one U.S. soldier has been infected with coronavirus in South Korea. The others were his wife, three other military dependents and four South Korean employees.
The American patients are still under medical care but are doing well and undergoing testing to determine the next steps, USFK spokesman Col. Lee Peters said.
The contractor also was the second person at Camp Humphreys, the largest U.S. base in South Korea, to be infected. The other nine were on bases in the southeastern city of Daegu and surrounding areas that were at the center of the outbreak in South Korea.
Commanders noted most of the 37,000-plus community lives off-post and pleaded with civilians to follow the same rules as service members who are under orders to avoid off-post establishments.
"I realize that we have no authority over government employees, contractors, dependents in order to enforce that, but I want to let you know that everyone's actions have implications," Tremblay said.
The infected contractor last visited Camp Humphreys on Friday and is in isolation at his off-base residence as directed by the Korea Centers for Disease Control, according to a press release.
He became symptomatic on Saturday, was tested at a South Korean hospital on Monday and received the results Tuesday morning, Tremblay said.
Officials used closed-circuit TV and electronic records to retrace his movements on post through Thursday, while KCDC was doing the same outside the gates.
After weeks of relying on South Korea, USFK stood up its own testing laboratory on March 8 and has tested more than 300 people – all negative – through Monday.
But only Tricare beneficiaries are eligible, meaning service members and dependents, USFK spokesman Col. Lee Peters said in explaining why the contractor was tested at a South Korean hospital.
Retracing movementsTremblay outlined the contractor's movements in detail, urging anybody who may have been in his vicinity to go home and call the public health office (05033-372556) to help with the trace investigation and determine if they need to be quarantined.
On Thursday, the contractor entered the installation shortly before 9 a.m., went to work at the Eighth Army headquarters, had lunch at a chicken restaurant at a nearby food court, then went back to work until leaving for home.
On Friday, he went to work about the same time, then drove to the golf course for lunch at the pub. He went from there to two other administrative buildings and a coffee at the Starbucks in an area known as Sentry Village.
The contractor, who lives in an apartment building near Pyeongtaek University, also visited an off-post convenience store and a restaurant near the Dongchang-ri gate, Tremblay said.
All locations have been thoroughly cleaned and people who came in close contact with the individual were being sent home for self-quarantine, he added.
USFK, which commands some 28,500 service members in South Korea, has kept its number of infections relatively low compared with more than 9,000 confirmed cases elsewhere in South Korea as the virus spread rapidly from China late last year to become a global pandemic.
The Pentagon said Monday that nearly 250 people have been infected in the military community worldwide.
The military began largely limiting base entry to Americans and authorized South Korea employees and barring service members from nonessential travel and outside social activities after its first case was recorded in mid-February at U.S. Army Garrison Daegu.
Troops screen people and take temperatures upon entry to gauge potential exposure to the virus and signs of a fever, which is one of the known symptoms, and schools have been closed.
However, many activities inside the gates such as sporting activities, church services, shopping and restaurants have continued albeit with strict social distancing guidelines.
gamel.kim@stripes.com Twitter: @kimgamel
---
---
---
---