US military bases on Okinawa batten down ahead of powerful Typhoon Maysak
by
Aya Ichihashi Matthew M. Burke
August 31, 2020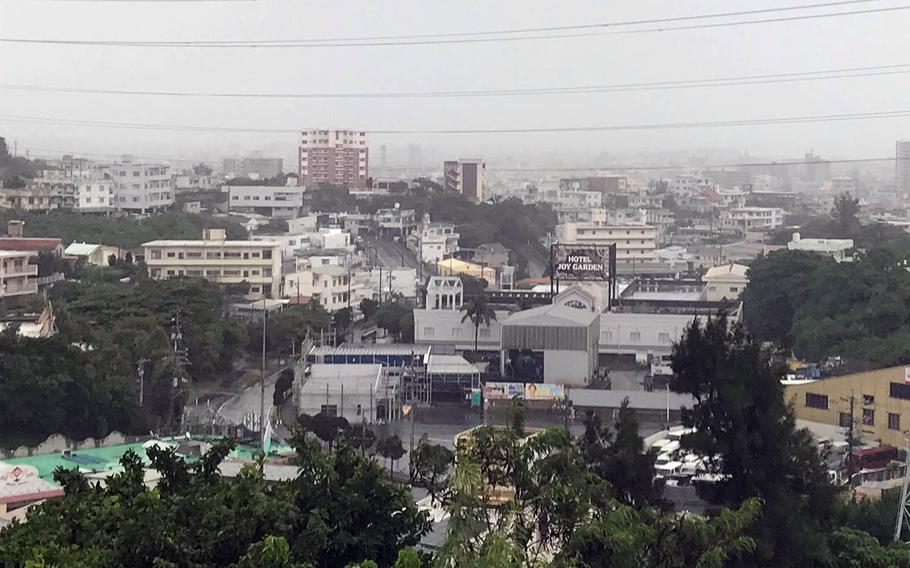 CAMP FOSTER, Okinawa — U.S. military bases on Okinawa completed preparations Monday for Typhoon Maysak, a Category 4 storm expected to pass within 70 miles of Kadena Air Base on Tuesday morning, according to military spokespeople.
Maintenance and service personnel finished policing base and unit facilities, boarded up buildings, tied down loose equipment and deployed sandbags to combat flooding, Marine Corps and Air Force officials said. Activities were postponed or canceled across the island.
Kadena Air Base declared Tropical Cyclone Condition of Readiness 1-Caution at 3:45 p.m. Monday, meaning winds of up to 45 mph were occurring. The 18th Wing Weather Flight's wind-forecast timeline indicated destructive winds of 58 mph or greater could occur by 8 p.m.
The typhoon is expected to pass 64 miles southwest of Kadena at 5 a.m. Tuesday, according to the 18th Wing Weather Flight. Sustained winds could exceed 138 mph by 9 a.m., with gusts higher than 167 mph.
To prepare for typhoons, the facility maintenance branch and camp services at Marine Corps Installations Pacific boards up certain facilities and essential services, spokesman 1st Lt. Tim Hayes wrote in an email to Stars and Stripes on Monday.
At readiness condition 1, "non-essential personnel are released and advised to begin implementing safety protocols in their prospective areas of shelter in order to prepare for the incoming typhoon," he wrote.
Hayes said service members, civilian employees and their families have been encouraged to follow posted typhoon readiness guidelines, such as stocking up on food, water and flashlights.
The 18th Wing said it has passed information to airmen through command channels, the AtHOC interactive warning system, the Kadena Connect application, the Shogun Weather webpage and the Kadena Air Base Facebook page and would continue to do so until Maysak passes.
"Across the base, units prepared their facilities to withstand high winds by securing loose equipment, policing areas around their buildings, and placing sandbags at entryways," spokeswoman Lt. Col. Christy Stravolo wrote in an email to Stars and Stripes. "Family housing members were also asked to tie down outdoor items that cannot be moved inside."
Hayes said the Marine Corps expected no complications arising from the coronavirus during the storm. The Marines, who have recorded more than 300 infections, have experienced the bulk of virus cases on the island, although most have recovered.
"There is no indication that the coronavirus has any impact" on the Marine Corps' typhoon protocols and procedures on Okinawa, Hayes wrote.
Stravolo wrote that any recent arrivals to Okinawa still in quarantine have necessary supplies to weather the storm and maintain contact with their units until the "all clear" is sounded.
Okinawa Gov. Denny Tamaki called Maysak the first "very strong" typhoon of the year to target Okinawa and cautioned residents in disaster areas and low-lying regions to beware of landslides from heavy rain, according to remarks posted Sunday on the prefecture's official website. He also called on people to stay away from the ocean and other waterways and to make adequate preparations.
"The ocean will stay very stormy until Tuesday and strong rain and high tides are expected," Tamaki said. "Please use caution when the strong rain warning gets declared and follow the guidance when an evacuation is necessary."
Tamaki said that if residents are instructed to evacuate, they should go to a friend or relative's house rather than a public shelter due to coronavirus concerns.
Approximately 180 flights have been canceled, impacting 9,200 people, Okinawa Times newspaper reported Monday.
burke.matt@stripes.com Twitter: @MatthewMBurke1
ichihashi.aya@stripes.com Twitter: @AyaIchihashi