US, Malaysia wrap up five days of training near Strait of Malacca
by
Christian Lopez
August 19, 2019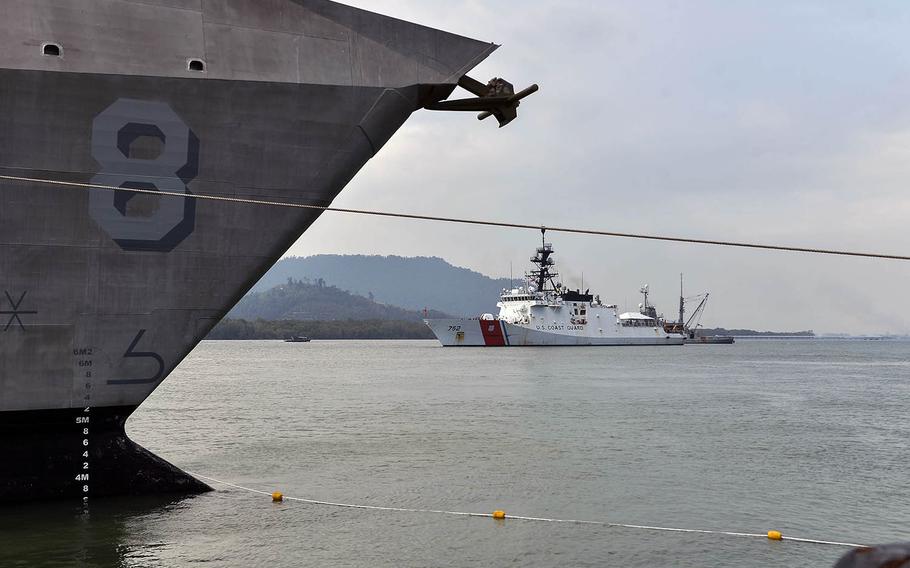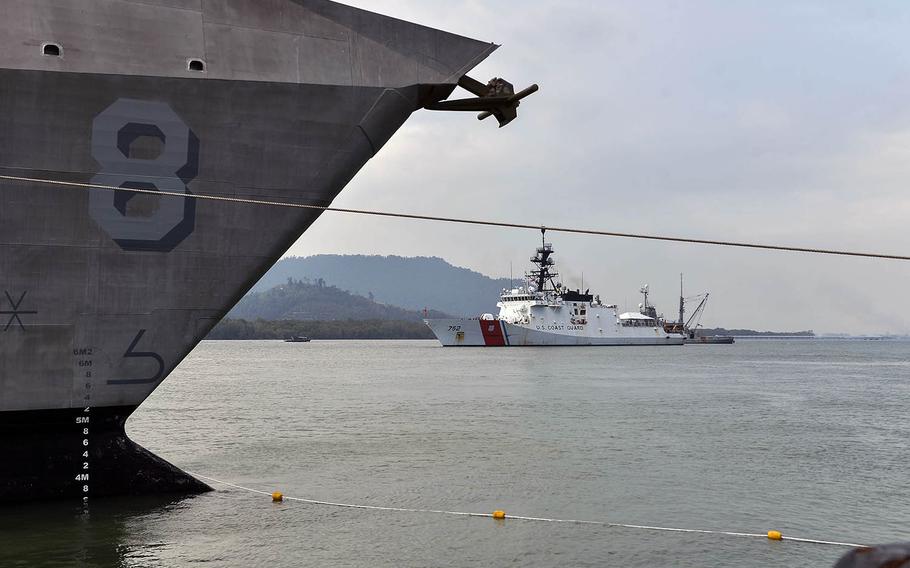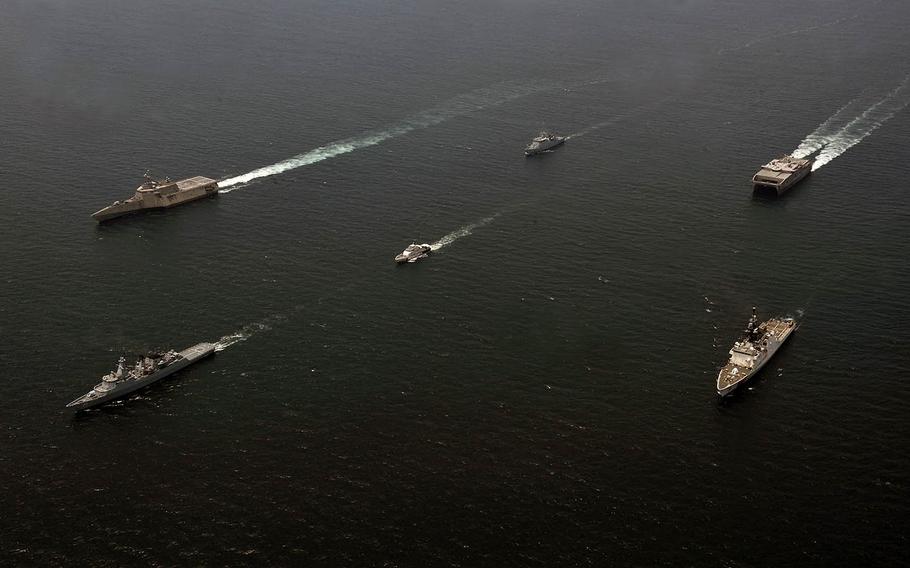 The U.S. Navy finished five days of training with its Malaysian counterparts on Sunday, the 25th year of a regular exercise and the first year the U.S. Coast Guard has taken part.
Maritime Training Activity Malaysia 2019 closed with a ceremony at the Royal Malaysian Naval Base at Lumut on the Strait of Malacca, the Navy said in a news release.
The exercise involves drills to improve maritime security and law enforcement skills, and includes training in counter-piracy, counter-smuggling, port security and maritime interceptions. More than 300 sailors and Coast Guardsmen from both countries took part, according to the Navy.
The Coast Guard contingent trained with its counterparts from the Malaysian Maritime Enforcement Agency.
The Strait of Malacca is an important commercial waterway that links the Bay of Bengal and the South China Sea. The United States has worked with friendly nations and allies in the area, from Sri Lanka to Indonesia and Australia, to improve "interoperability," the ability to work together in the event of a crisis, as well as tend to friendly relationships.
The U.S. Coast Guard commandant, Adm. Karl Schultz, in July told reporters that Malaysia is among several countries in the Indo-Pacific region whose coast guard the United States has helped train. Schulz at the time said partnering with western Pacific island nations will help the United States counter assertive action by China to expand its sphere of influence.
"We are collaborating, working very diligently with the Vietnamese," the admiral said at the time. "We've worked with the Malaysians, the Indonesians, helping them build out their capacity; with the Philippines, as I've mentioned."
During the Malaysian exercise last week, the two nations held naval exercises at sea, including tactical drills, replenishment at sea and visit, board, search and seizure drills. The expeditionary fast transport USNS Millinocket and the replenishment oiler USNS Rappahannock practiced with a frigate and corvette from the Malaysian navy and a vessel from the Malaysian coast guard, according to the Navy.
U.S. and Malaysian helicopter pilots practiced deck landings in the Navy's MH-60S Seahawk, the Coast Guard's MH-65 Dolphin and the Royal Malaysian Navy's Super Lynx.
Onshore portions of the exercise included classroom sessions on damage control, military operations and law, military medicine and aviation maintenance. Sailors from Task Force 73, Destroyer Squadron 7, the littoral combat ship USS Montgomery, the Coast Guard cutter Stratton and Helicopter Sea Combat Squadron 25 took part, according to the Navy. All the vessels and units are part of the U.S. 7th Fleet, which is headquartered at Yokosuka Naval Base, Japan.
"For 25 years we have worked together with our partners from the Royal Malaysian Armed Forces, and we share a comprehensive partnership built on trust and a continued commitment to train and engage in various maritime situations," Capt. Matthew Jerbi, commodore of Destroyer Squadron 7, said in the statement. "This speaks to the importance that both our navies and coast guards place on the sustained operability, and we look forward to working with our partners at every opportunity."
Lopez.christian@stripes.com Twitter: @CLopez_Stripes