US-led command approves South Korean border crossings into North Korea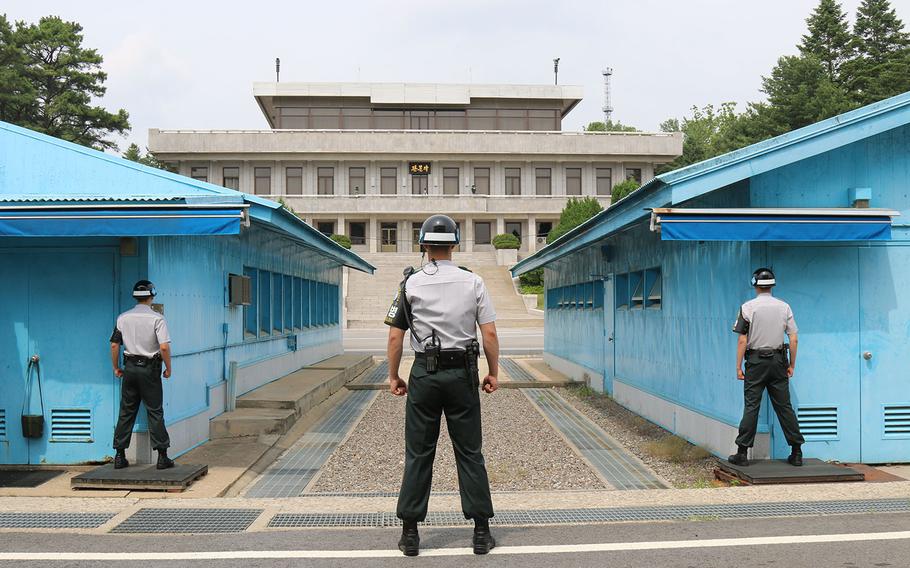 SEOUL, South Korea — The U.S.-led United Nations Command on Thursday approved planned border crossings for South Koreans and material to build a new communication building and to open a new liaison office in a North Korean border village.
The decisions came amid a flurry of activity as the two Koreas move to improve relations amid efforts to restart stalled nuclear talks between the North and the United States.
The UNC controls the southern part of the heavily fortified Demilitarized Zone, a 2.5-mile wide buffer zone that has divided the peninsula since the 1950-53 Korean War ended in an armistice instead of a peace treaty.
Gen. Vincent Brooks, who commands the UNC and U.S. Forces Korea, authorized the movement of South Korean vehicles and personnel across the so-called Military Demarcation Line in the eastern transportation corridor, the command said in a statement.
The move was to support construction of communication material to be used between the two Koreas, it said, adding that approval allows more material that is needed to repair communication lines and will result in the construction of a communication building.
"UNC has and continues to actively enable all of the engagements between North and South Korea that require crossing the military demarcation line and the demilitarized zone, which are under the authority of UN Command," Brooks said.
"While this request was unusual in the amount of construction material South Korea is carrying across, I am keen to ensure good communication infrastructure exists between the two sides as a way to prevent incidents or crises," he added.
Brooks stressed the construction was in the spirit of the armistice agreement.
More details about the communication initiative were not immediately available.
The South Korean government also coordinated the crossing of delegations for a planned opening ceremony on Friday of a new liaison office in Kaesong, which is just north of the DMZ and was the site of a defunct joint business venture.
The UNC approved a request for more than 100 South Korean government officials to visit the site on Friday, according to the statement.
South Korea's presidential office said separately that it will hold working-level talks with North Korea on Friday to prepare for next week's inter-Korean summit in Pyongyang. South Korean President Moon Jae-in and North Korean leader Kim Jong Un will meet for the third time since April 27.
Efforts to persuade North Korea to abandon its nuclear weapons will be high on the agenda for the three-day summit, which will begin on Tuesday.
gamel.kim@stripes.com Twitter: @kimgamel