US, Korean leaders revive summit hopes, but skepticism high
by
Kim Gamel
May 27, 2018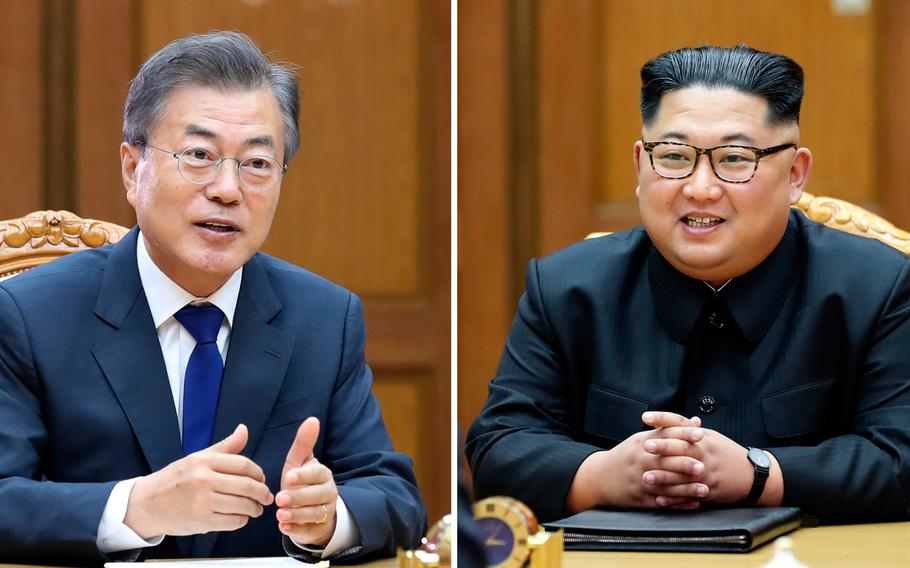 SEOUL, South Korea — President Donald Trump and the leaders of North and South Korea revived hopes this weekend that a U.S.-North Korean summit planned for next month in Singapore may be back on.
But experts said Trump's abrupt cancellation of the June 12 meeting may already have damaged the U.S. negotiating position as it seeks to force the North to abandon its hard-won nuclear weapons program.
The dizzying series of diplomatic twists and turns began Thursday when Trump announced he was canceling his summit with North Korean leader Kim Jong Un, citing hostility in recent comments from the communist state.
Trump quickly adopted a warmer tone Friday after the North Koreans published a conciliatory note that said they remained willing to meet "at any time."
He said Saturday that negotiations over resuming the summit were going well.
"It's moving along very nicely," Trump told reporters at the White House. "We're looking at June 12 in Singapore. It hasn't changed."
South Korean President Moon Jae-in, meanwhile, stepped up his role as mediator on Saturday, holding his second summit in a month with Kim.
Moon said Kim renewed his commitment to "completely denuclearize" the divided peninsula as well as peace efforts.
"We two leaders had a candid, heart-to-heart conversation ahead of the North Korea-United States summit," Moon said during a televised address on Sunday.
Kim "has concerns about whether his country can really trust the United States over its promise to end hostile relations and provide a security guarantee if they do denuclearization," Moon said.
Moon said he was able to reassure the North Korean leader about those issues after his separate summit with Trump in Washington on Tuesday.
The inter-Korean summit, which was held without the fanfare of the first one on April 27, underscored Moon's sense of urgency in getting the two adversaries to the table after months of heightened tensions that raised fears of a nuclear war last year.
The South Korean leader, who was caught off guard by Trump's announcement of the cancellation, stressed the need for Washington and Pyongyang to engage in direct talks and to hold preliminary, working-level negotiations to set the agenda for the summit.
The two Koreas agreed to have a senior-level official meeting on Friday to discuss efforts to improve bilateral relations.
North Korea canceled plans for a similar high-level meeting earlier this month to protest continued joint exercises by the South Korean and U.S. militaries.
China also urged North Korea and the U.S. to "meet each other halfway" and to "address mutual concerns through dialogue and consultation," according to the official Xinhua news agency.
Joel Wit, a senior fellow with the Washington-based Stimson Center, said the North already has succeeded in undermining the Trump administration's so-called maximum-pressure campaign with its recent outreach.
"If there is a summit … I don't think they're gonna be able to deal with any of the big issues that are facing both countries, particularly the denuclearization issue," Wit said Friday in a conference call organized by the 38 North website.
"Everyone has to lower their expectations for a summit," he added.
In addition to his summits with Moon, the North Korean leader has met twice with Chinese President Xi Jinping in recent weeks.
"Kim has created sort of a cushion for failure that if the U.S. backs away, the Chinese and Russians will be behind him," Wit said. "They're not gonna back new sanctions unless Kim does something really extreme. And the South Koreans are gonna be moving closer to the North Koreans in trying to salvage the process."
North Korea repeatedly has said it's committed to denuclearization, and Kim has suspended nuclear and intercontinental ballistic missile tests.
The North also invited foreign journalists to witness explosions it said were destroying the tunnels in its main nuclear-testing facility at Punggye-ri.
But U.S. officials and analysts have expressed skepticism that the North would be willing to destroy its arsenal after demonstrating rapid progress last year in developing nuclear weapons.
The Trump administration is seeking the complete, verifiable dismantling of the North's nuclear apparatus.
But the North is seeking a "phased-and-synchronous" approach that would include concessions such as the easing of economic sanctions.
Pyongyang also has said in past negotiations that denuclearization should include the withdrawal of 28,500 American servicemembers based in the South and an end to the so-called U.S. nuclear umbrella that is a cornerstone of the longstanding alliance between Seoul and Washington.
"The United States' moves have alienated key allies and eased the pressure Trump had been trying to put on Kim," Laura Rosenberger, who worked on North Korea policy for the Obama administration, said in a Washington Post commentary.
Rosenberger, a senior fellow at the German Marshall Fund of the United States, noted that Trump apparently pulled out of the summit without advance notice or coordination with Moon.
"Pyongyang has advanced its goal of driving a wedge between Washington and Seoul," she wrote. "The manner in which Trump pulled out of the summit … only increases that gulf."
gamel.kim@stripes.comTwitter: @kimgamel