US, Japan and Australia train with French aircraft carrier in Bay of Bengal
---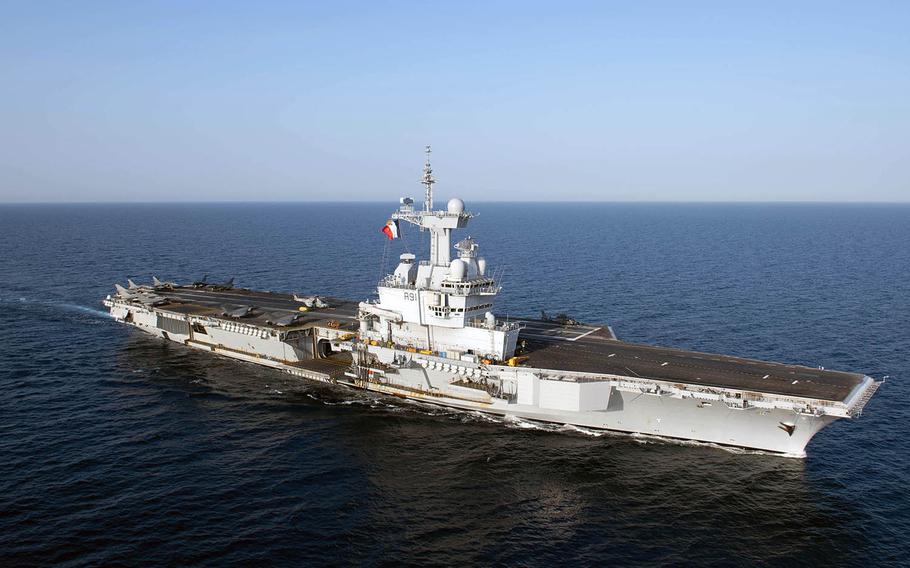 YOKOSUKA NAVAL BASE, Japan — A U.S. Navy guided-missile destroyer on Thursday maneuvered in the Indian Ocean with five other vessels from France, Japan and Australia, according to the 7th Fleet.
The USS William P. Lawrence joined the French aircraft carrier FS Charles de Gaulle in the Bay of Bengal for a series of drills with Japan's helicopter carrier JS Izumo and its destroyer JS Murasame, Australia's frigate HMAS Toowoomba and its submarine HMAS Collins, 7th Fleet officials said in a statement Thursday.
The exercise — named "La Perouse" after 18th century French naval officer and explorer Jean-Francois de Galaup, comte de La Pérouse — involved sailing in formation, live-fire drills, "communications, search and rescue, damage control and personnel transfers," according to the statement.
"La Perouse is an opportunity to develop strong links, work habits and mutual knowledge essential for best practices between our navies operating in the same regions of interest," Rear Adm. Olivier Lebas, commander of the French carrier strike group, said in the statement. "These exercises reflect our common involvement in maritime security in the Indian Ocean and Asia-Pacific area."
The de Gaulle set sail in March for an extended deployment to the Indo-Pacific to "reaffirm France's presence in these areas," the French Ministry of Defense said in February.
"La Perouse shows that our maritime forces can work together well anywhere in the Indo-Pacific," 7th Fleet commander Vice Adm. Phil Sawyer said in the statement. "It reflects our shared values, traditions and bonds as like-minded sea services."
U.S. Chief of Naval Operations Adm. John Richardson said during a press briefing from Manila on Thursday it's important to work with partner nations to preserve international access to the Indo-Pacific.
"Opportunities to work together, exercise together, be present together — those I think are things that we're constantly looking for," he said.
---
---
---
---