US increasing number of Marines on rotation to Australia
by
Seth Robson robson.seth@stripes.com
June 14, 2013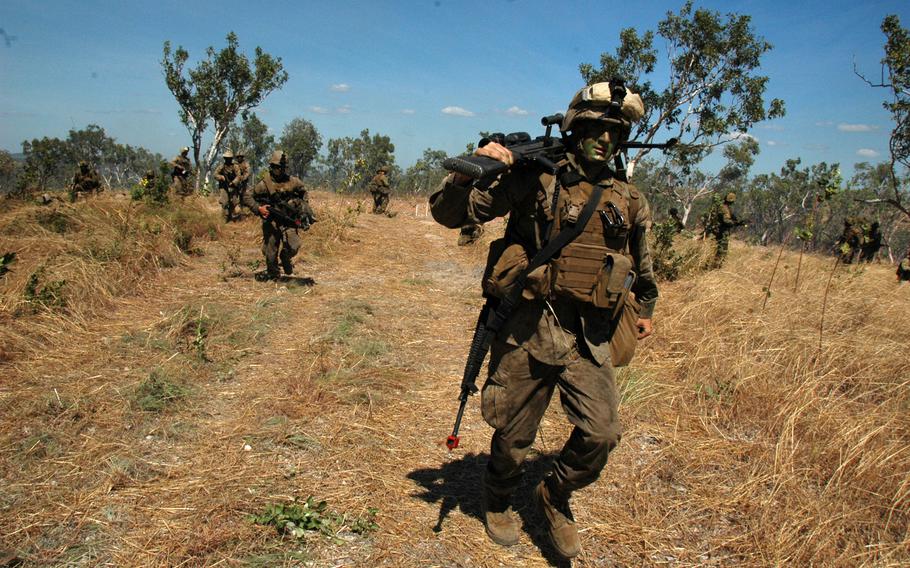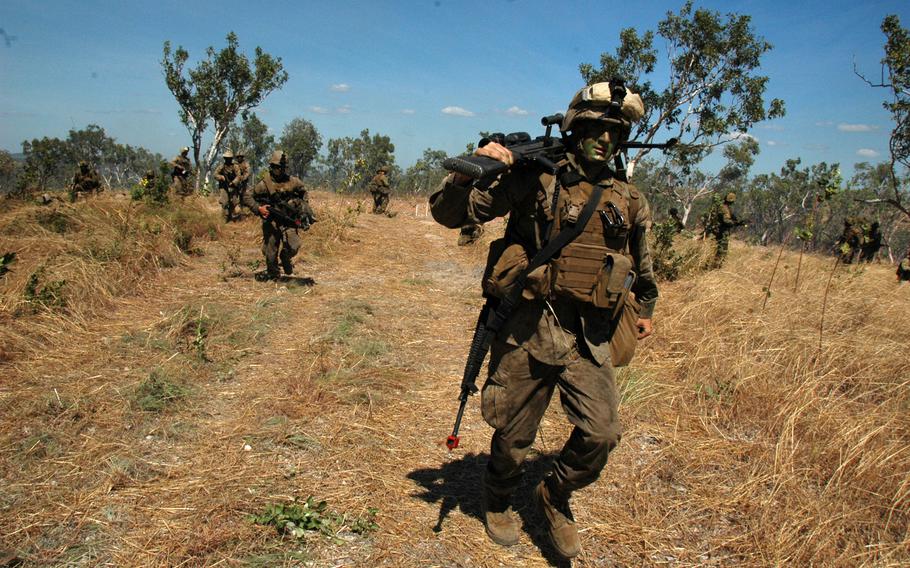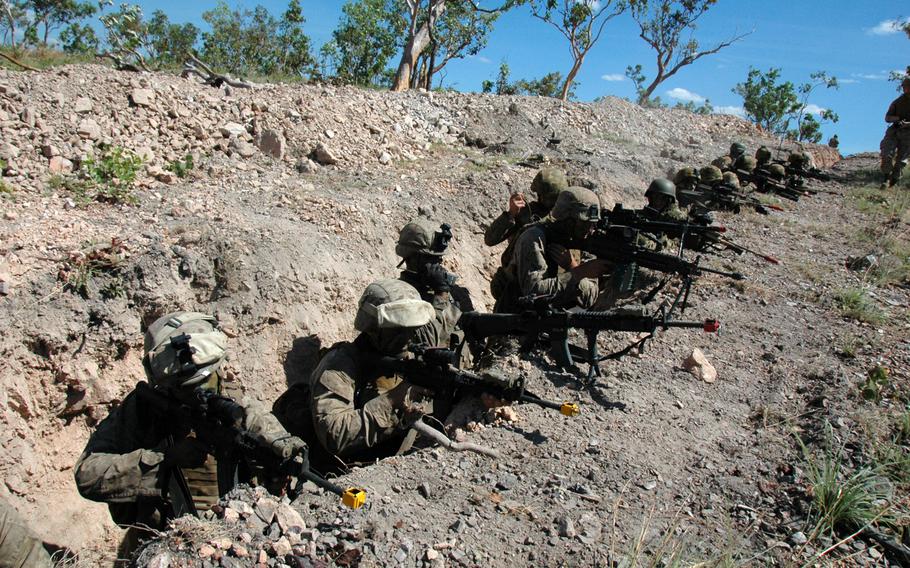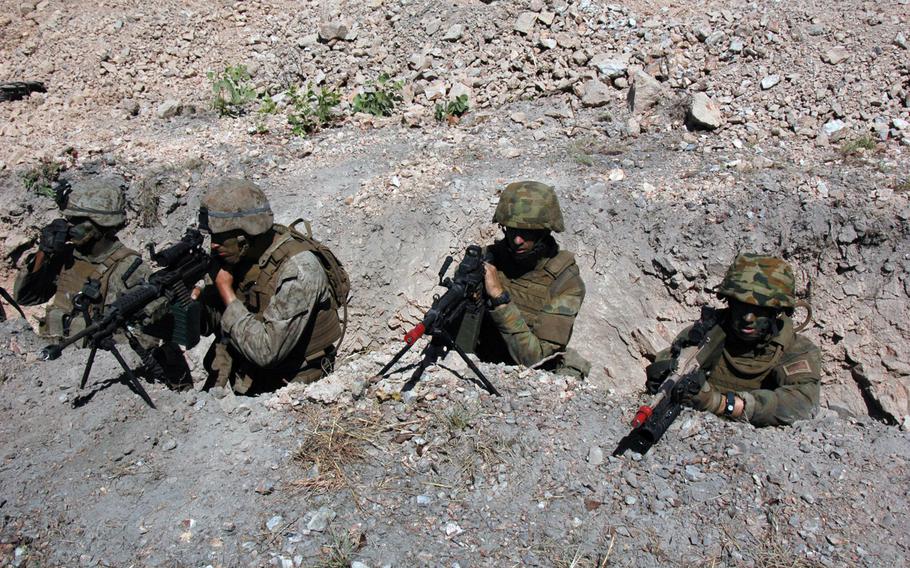 DARWIN, Australia — The U.S. will send a Marine battalion and support personnel to Australia next year, bringing the total number of Marines deployed there on rotation to 1,150, the Australian government announced Friday.
Defense Minister Stephen Smith said in emailed comments that his government has approved plans to increase the number of Marines in the northern city of Darwin — currently 200 to 250 who deployed there this year.
The U.S. military is building up its presence in Australia's Northern Territory in phases and plans to send a 2,500-strong Marine Air Ground Task Force to Darwin on six-month rotations each year starting in 2016.
Six month rotations of U.S. Marines were announced in 2011 by President Barack Obama and Australian Prime Minister Julia Gillard.
"These six month rotations will better position both nations to join with other regional partners to respond in a timely and effective manner to a range of contingencies in the Indo-Pacific, including humanitarian assistance and disaster relief," said a statement from the Australian Defence Department.
News of the increase follows assessments of the economic and social impacts that more Marines are likely to have on Darwin and the Northern Territory. The assessments found that the impact of adding 1,100 Marines was expected to be "positive or neutral" and would likely have economic benefits as well, the statement said.
After next year, more assessments will be made before officials decide whether to add more Marines, Smith said in his comments.
"Our ambition remains, to sometime around 2016/2017, to step up to the full 2,500 Marine task group," he said. "But our agreement with the United States is that we will examine every rotation and we'll make that advised governmental decision step by step as we go."
The Australian government is not looking at increasing the number of Marines in Darwin to 2,500 before 2016, he added.
Government leaders also announced Friday that about 1,000 Marines would undertake a 13-day exercise starting Aug. 15, following the joint U.S.-Australian biennial exercise Talisman Saber, which takes place from July 15-Aug. 5. About 20,000 U.S. personnel are to participate, the statement said.
Marine Rotational Force-Darwin lives and works out of prefabricated buildings at Robertson Barracks, an Australian base on the outskirts of Darwin that is home to the Australian army's 1st Brigade.
Australian officials said a smaller aviation support contingent of around 130 personnel will be based at a Royal Australian Air Force base - RAAF Darwin, along with four heavy lift helicopters, next year.
The Marines share many facilities with the Australians, such as a gymnasium, sports fields, Olympic swimming pool and dining halls. But the base was a hive of activity this week with an army of construction workers expanding living and work space in preparation for the new arrivals.
The current senior U.S. officer there, Marine Maj. Maurice Brown, said the gradual end of the war in Afghanistan means Marines are going back to traditional roles as ambassadors and coming into the Pacific to take advantage of training opportunities.
"There are great training opportunities in Australia, and even some of the countries outside of Australia," Brown said. "We are offered space here to exercise all our capabilities within the Marine Air Ground Task Force."
Lt. Col. Richard Barrett, commander of 5th Battalion, The Royal Australian Regiment, said his unit is partnered with the Marines in Darwin and will establish a relationship with the U.S. battalion that's headed there next year.
"We are taking all the opportunities we can to maximize training with each other and … maximize cultural exchanges," said Barrett, who deployed with the U.S. 2nd Marine Expeditionary Brigade to Helmand province, Afghanistan, in 2009.
"I speak Marine," he said, adding that he's eager to pay back the Marines for the hospitality they showed him in the past.
One of the Marines deployed to Darwin, Lance Cpl. Chance Voth, 23, of McKinney, Texas, said Australia is a nice change from Afghanistan, where he deployed last year.
"It was cold in Afghanistan, but it's hot here," he said. "The locals here are more friendly and they aren't asking for chocolate."
---
---
---
---