US Forces Korea warns of fake evacuation messages
by
Kim Gamel
September 21, 2017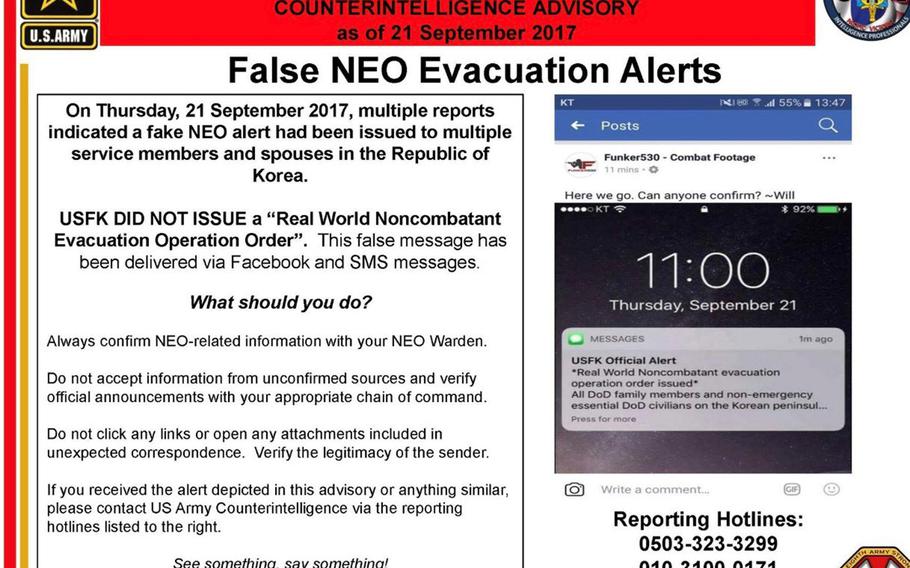 SEOUL, South Korea – Several U.S. servicemembers or their family members received fake messages saying an evacuation order had been issued for the Korean Peninsula, but the hoax was reported within an hour of when people started to receive them, a military spokesman said.
The command stressed the claim was false, saying "USFK did NOT issue this message" and warning recipients not to click on any links or open attachments included in them.
The false alarms were delivered Thursday via text message and Facebook, the military said in notices distributed on social media.
The report comes at a sensitive time on the divided peninsula as jitters are high as North Korea has shown rapid progress in its nuclear weapons program.
The false messages referred to what is known as a noncombatant evacuation operation, or NEO, which would affect family members of the 28,500 U.S. servicemembers stationed in South Korea and non-emergency essential Defense Department civilian employees.
The military conducts biannual NEO exercises to rehearse a possible evacuation, but none has ever been ordered since the 1950-53 Korean War ended.
USFK said it received "multiple reports of a fake text-to-cell and social media message regarding a 'real world noncombatant evacuation operation (NEO) order issued'" on Thursday, USFK said in a message posted on its Facebook page.
The fake messages instructed Defense Department family members and non-emergency civilians on the divided peninsula that an evacuation order had been issued, it added.
"USFK did NOT issue this message," it said, adding that all those who may be affected should confirm any evacuation-related communications with servicemembers or NEO representatives.
The statement also called on anybody affected to report the messages to U.S. Army counterintelligence on these hotlines: 0503-323-3299 or 010-3100-0171.
The messages were received by "a handful of servicemembers and families," said USFK spokesman Col. Chad Carroll.
Cyber personnel were investigating the incident, which was reported quickly via the chain of command and social media, he said.
"We have no accurate way to know how many people received it," Carroll said Friday in an email. "Incidents were 'self-reported' and many people claimed the message disappeared as soon as they unlocked their phone."
News of the fake messages spread quickly through the chain of command and social media within an hour after people started to receive them, he said.
"The good news here is: informed, savvy family members plus an engaged chain of command means no panic or over-reaction," he added. "We had no reports of anyone acting on message other than notifying the appropriate authorities."
North Korea has conducted three nuclear tests since last year, most recently on Sept. 3, despite tough economic sanctions and diplomatic pressure aimed at persuading it to stop. It also has test-fired dozens of missiles, including two intercontinental ballistic missiles in July.
Ratcheting up tensions, President Donald Trump vowed in his U.N. General Assembly speech on Tuesday to "totally destroy" the North if forced to defend the United States or its allies.
North Korea's leader Kim Jong Un called Trump "deranged" and said the president will "pay dearly" for his threats, the state-run Korean Central News Agency reported on Friday.
gamel.kim@stripes.com Twitter: @kimgamel