US Forces Korea to maintain current anti-coronavirus restrictions
by
Kim Gamel
May 15, 2020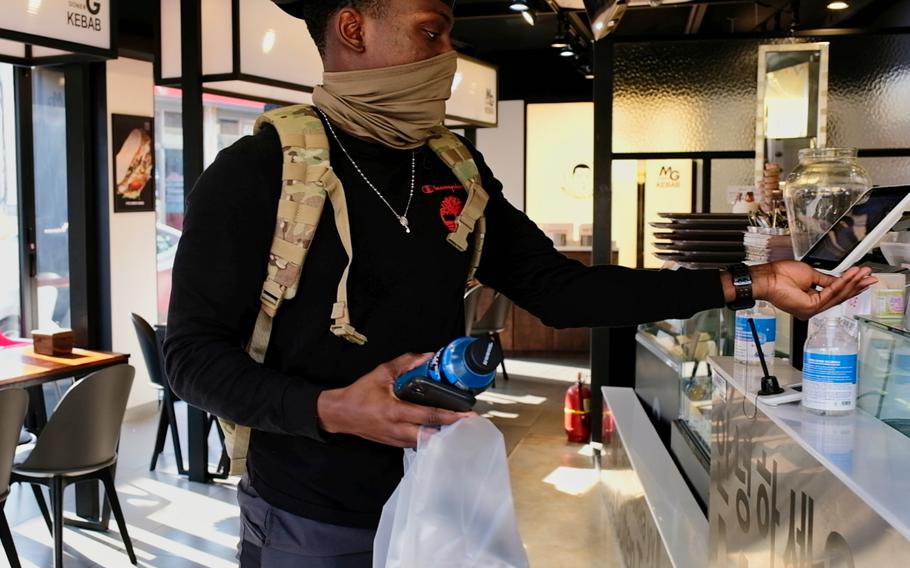 Stars and Stripes is making stories on the coronavirus pandemic available free of charge. See other free reports here. Sign up for our daily coronavirus newsletter here. Please support our journalism with a subscription.
SEOUL, South Korea — The U.S. military in South Korea will maintain its current level of protective measures aimed at preventing the spread of the coronavirus, officials said Friday, rebutting rumors that restrictions might be relaxed over the weekend.
U.S. Forces Korea, which commands some 28,500 American troops on the divided peninsula, implemented its second-highest alert level — Health Protection Condition Charlie — in late February as the respiratory virus began to spread rapidly in South Korea.
Service members and civilians who live and work on U.S. installations have been banned from nonessential travel and off-base social activities including dining at local restaurants and bars.
"Based on USFK's assessment of the current COVID-19 conditions in South Korea and the potential associated risk to the force, USFK will remain at Health Protection Condition Charlie until further notice," spokesman Col. Lee Peters said in a video message.
He said the command would continue to monitor conditions until it determines it's safe to lower its heath protection level.
"USFK's No. 1 priority is the protection of the force. We must balance health, safety and protection of the force with mission accomplishment," he said.
With the number of confirmed cases on the decline, the South Korean government began to relax restrictions on May 6.
However, it had to backtrack after an outbreak of the virus was linked to nightclubs and bars in Seoul's popular Itaewon neighborhood, which is outside U.S. Army Garrison Yongsan.
Questions about USFK's status arose after somebody posted on social media what appeared to be an official announcement that the military would return to HPCON Bravo, meaning most restrictions would be lifted, for all but installations in Seoul and surrounding areas this weekend.
Military officials denied that, saying no changes were imminent.
"We're staying at HPCON Charlie. All previous guidance is in effect," Col. Michael Tremblay, the garrison commander at Camp Humphreys, said Friday in a Facebook live community update.
"If you've seen something out there that said we're going to Bravo tomorrow, I would implore you to only get your info from official sources," he added. "We're going to continue to evaluate it … and make sure that we're moving deliberately and with an abundance of caution."
gamel.kim@stripes.com Twitter: @kimgamel