US Forces Korea to lift most anti-coronavirus restrictions for bases except for Seoul area
by
Kim Gamel
May 18, 2020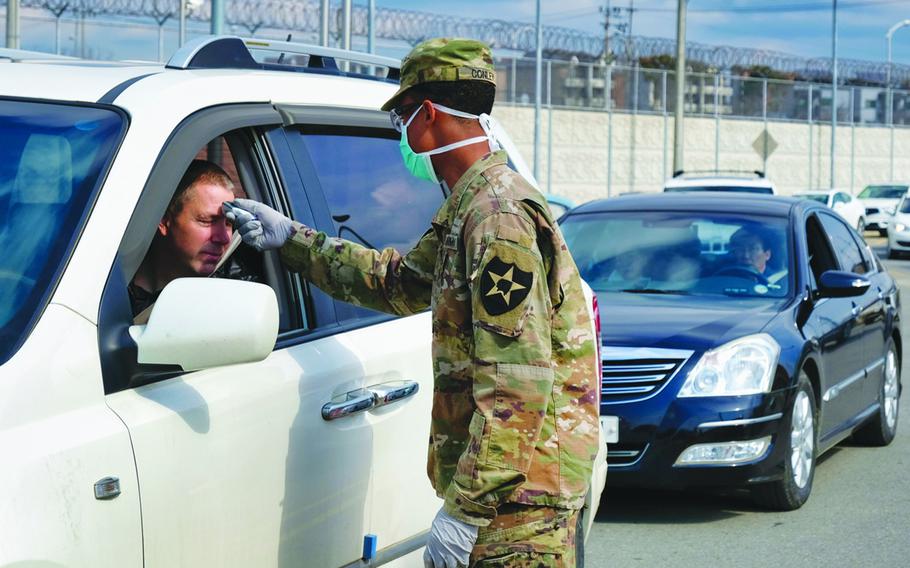 Stars and Stripes is making stories on the coronavirus pandemic available free of charge. See other free reports here. Sign up for our daily coronavirus newsletter here. Please support our journalism with a subscription.
SEOUL, South Korea – The U.S. military said Monday it will lower its health risk level to moderate and lift most anti-coronavirus restrictions for bases except those in the Seoul area beginning Wednesday, citing "favorable" conditions in South Korea.
However, U.S. Forces Korea said bars, clubs and other adults-only establishments will remain off-limits on the peninsula following a recent outbreak in the popular Itaewon district.
USFK implemented the higher alert level, known as HPCON-Charlie, in late February as the coronavirus began to ravage South Korea, which for weeks had the highest number of cases outside China, where the virus first appeared late last year.
South Korea reported 15 new coronavirus cases on Monday and the Itaewon outbreak appeared to ebb following a massive testing and tracing campaign. USFK has reported 28 cases of the virus, including four active-duty service members, but most have recovered.
"Based on South Korea's current COVID-19 conditions remaining favorable to their newly implemented social distancing and preventive measures, USFK decided to lower its current health protection condition from 'Charlie' to 'Bravo' effective Wednesday, May 20 at 6 a.m. for areas except Area II (+)," USFK said in a press release.
USFK spokesman Col. Lee Peters said that means Yongsan Garrison in Seoul and the nearby K-16 base remain under HPCON Charlie.
Yongsan, which is in the process of being permanently closed but still has a population of about 2,000, sits on the edge of Itaewon.
Nonessential travel to bases in the Seoul area was banned until further notice, but personnel from Yongsan and K-16 were authorized to go to other bases for approved activities, USFK said.
The public health emergency, which gives USFK commander Gen. Robert Abrams expanded authorities to enforce the anti-coronavirus regulations, also was to remain in effect through Saturday when it is due to expire.
Abrams will decide whether to let it lapse, renew it or terminate it before then, Peters said.
The decision will allow people in approved areas to dine out at restaurants, shop and conduct outdoor activities in local communities "while maintaining social awareness and wearing a mask when 1-2 meters (3-7 feet) separation cannot be achieved," USFK said.
It added that "all bars, clubs and establishments that restrict entrance to adults only are off-limits pen-wide to all USFK-affiliated personnel until further notice."
USFK said that despite the recent outbreak it had assessed that South Korea's current conditions favorable enough to lower its HPCON status to "moderate."
South Korean officials "have done an exceptional job in effectively suppressing the spread of COVID-19," Abrams said. "I have complete confidence that the recent outbreak will be quickly contained and suppressed due to their proactive and aggressive measures taken so far. Our combined efforts to effectively combat this virus have been outstanding and the time is right to lower our HPCON level."
The command, which oversees some 28,500 service members on the divided peninsula, warned "it will immediately snap back to a heightened HPCON posture without hesitation if a resurgence of the threat appears outside our installation or within our formations."
gamel.kim@stripes.com Twitter: @kimgame
---
---
---