US Forces Korea commander debuts 'pinks and greens'-inspired uniform at Korean War ceremony
by
Kim Gamel
June 25, 2020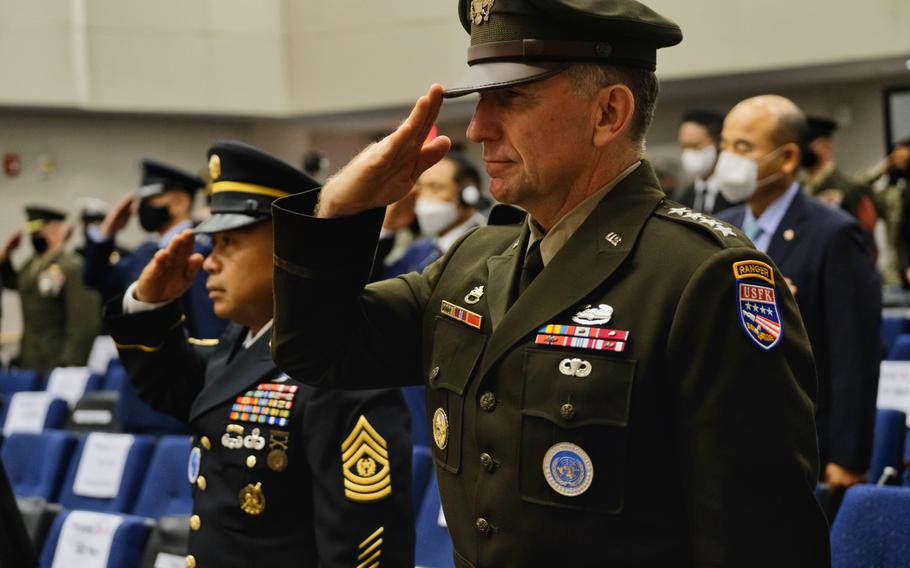 Read more stories from Stars and Stripes marking the 70th anniversary of the start of the Korean War.
CAMP HUMPHREYS, South Korea — Gen. Robert Abrams, commander of U.S. Forces Korea, donned a new look Thursday as he spoke during a ceremony marking the 70th anniversary of the start of the Korean War.
Or, rather, it was an old look.
Wearing a dark olive jacket and pinkish-brown trousers, he joked that his uniform looked similar to those worn during the 1950-53 conflict on the divided peninsula.
"Some of you are already inquiring what uniform is General Abrams wearing. Some have accused me already of being a Korean War re-enactor," he said as the audience laughed. "This is the newly approved Army Green Service Uniform, and it will be required for service members in the next few years."
The retro-style uniform, which is made of a polyester and wool-blend fabric, was modeled on the iconic World II-era "pinks and greens." It will be phased in to replace the blue Army Service Uniform, or ASU, as the official wear for the service.
"I've been waiting for the right opportunity for it to make its debut and here it is," Abrams said Thursday during the ceremony in an auditorium at the U.S. military's headquarters on Camp Humphreys. "So, I'm not in a re-enactor's uniform."
Soldiers will have until Oct. 1, 2027, to make the switch, although hundreds already have been issued to senior leaders, drill sergeants, recruiters and other troops for feedback. The current version will return to a formal dress role.
The Army, which officially adopted the new uniform in November 2018, has said it will be cost-neutral for enlisted soldiers and promised the quality of the garment will increase the length it lasts to six years. Women will have the option of wearing a skirt or pants and will have additional shoe options.
gamel.kim@stripes.com Twitter: @kimgamel