US Forces Japan extends public health emergency; coronavirus restrictions tightened on Okinawa after on-base outbreaks
by
Aya Ichihashi Dave Ornauer
July 10, 2020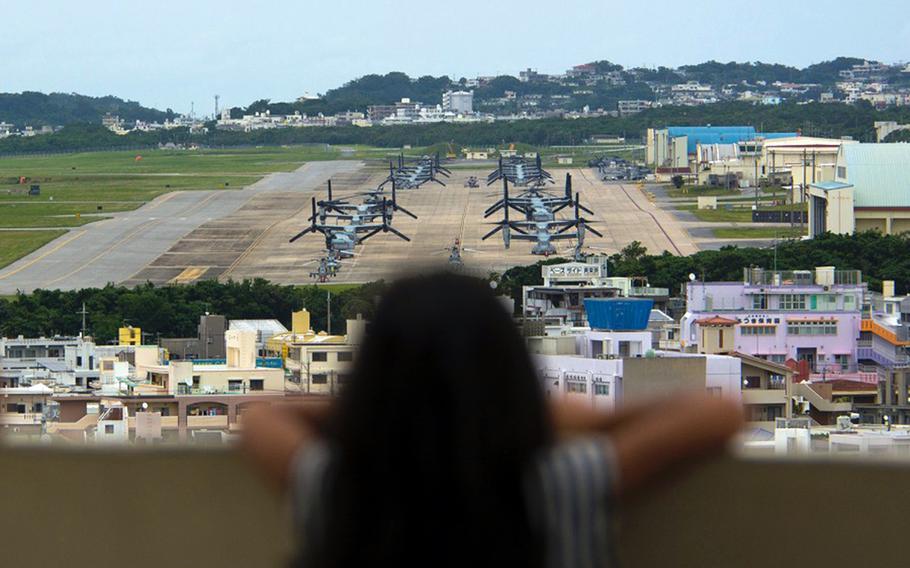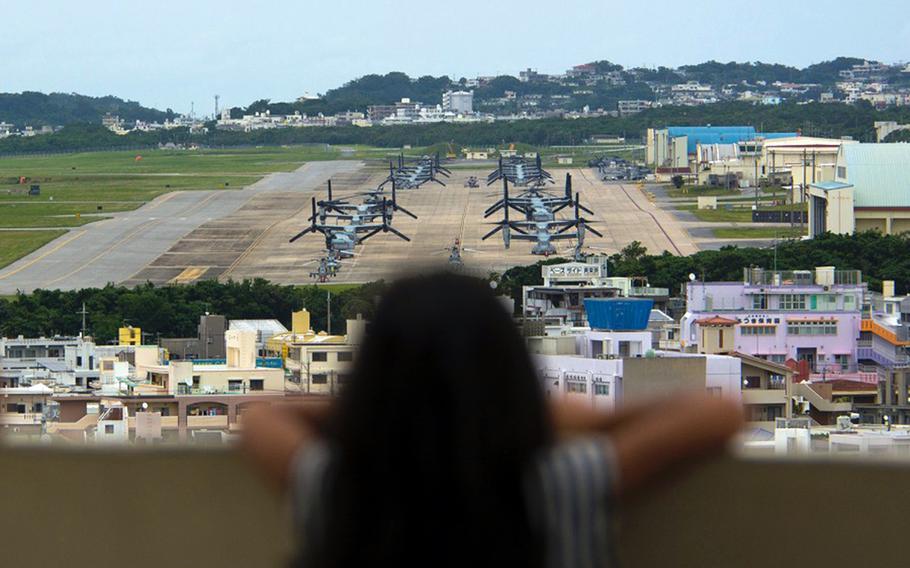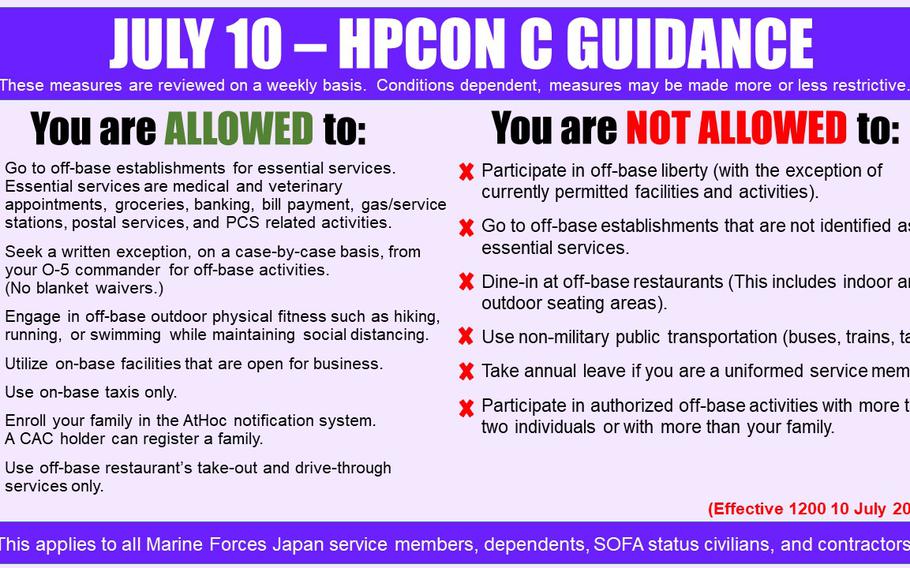 Stars and Stripes is making stories on the coronavirus pandemic available free of charge. See other free reports here. Sign up for our daily coronavirus newsletter here. Please support our journalism with a subscription.
CAMP FOSTER, Okinawa — The Marine Corps and Air Force on Okinawa have re-imposed strict limits on personnel movements and activities after a spate of new coronavirus cases appeared on Marine bases there this week.
Meanwhile, U.S. Forces Japan extended a public health emergency through Aug. 13 that had been slated to expire after the weekend.
Marine Forces Japan on Friday heightened its health protection condition from a moderate to a substantial risk of the virus' spread, according to a III Marine Expeditionary Force statement. In military terms, the level moved from Bravo to Charlie.
Marines, civilian employees and their families may no longer dine inside restaurants or patronize "non-essential" business in town, but can still pay bills, keep doctor appointments or shop for groceries, among other activities, the statement said.
The same conditions apply to airmen, employees and families at Kadena Air Base, home of the 18th Wing, according to an order from wing commander Brig. Gen. Joel Carey.
"The intent of these measures is to further reduce the potential spread of the coronavirus among our personnel and our Japanese neighbors by limiting movements and limiting in-person interactions," the Marine statement said.
Marines and airmen enjoyed three weeks under eased restrictions until two Marine bases on Okinawa went on separate lockdowns to corral the virus.
An undisclosed number of personnel within the widespread Marine Corps Base Camp Smedley D. Butler, which comprises several camps and an air station, tested positive.
Troops at Marine Corps Air Station Futenma were ordered to shelter in place for four hours Tuesday afternoon; Camp Hansen did likewise overnight Wednesday into Thursday morning.
The Marine Corps declined to specify how many people tested on Okinawa or whether they were active-duty Marines, civilians or family members.
Defense Secretary Mark Esper in March ordered commanders to refrain from reporting precise numbers of new cases at their facilities, though some commands continue to do so.
Carey, in a video message posted to Kadena's Facebook page Friday evening, said most of the cases are Marines and are "a mix of both travel related and those of origins we have yet to be able to identify, indicating a potential of a re-emergence of community spread."
The U.S. military reported "several" more Camp Hansen cases to Okinawa prefecture on Friday, a government spokesman told Stars and Stripes. It's customary for some Japanese government officials to speak on condition of anonymity.
The new restrictions apply to all Marine Forces Japan, according to the announcement. However, the less-restrictive leave and liberty policy at Marine Corps Air Station Iwakuni, on the island of Honshu, will remain unchanged, according to a post on the base's official Facebook page.
Public transit, including buses, ferries and trains are off limits to airmen, according to Carey's order. Marines are also barred from public transit, including taxis, with the exception of taxis on base, the release said. Drive-thru and take-out services at restaurants are permitted, but not dining in.
Marines, employees and their families may take part in off-base physical fitness activities such as hiking, running and swimming provided they adhere to social distancing requirements.
Bars, nightclubs, gambling parlors, karaoke halls and similar establishments known for crowds or tight quarters have been off-limits to service members from both branches even under the lesser restrictions.
The 18th Wing order also specified flea markets, concerts, festivals and other events with "high-density crowds" or mass gatherings as off-limits.Stars and Stripes reporter James Bolinger contributed to this report.
ornauer.dave@stripes.com Twitter: @DaveOrnauer
ichihashi.aya@stripes.com Twitter: @AyaIchihashi