US, Filipino troops storm beach during ramped-up Balikatan drills
by
Seth Robson
May 10, 2018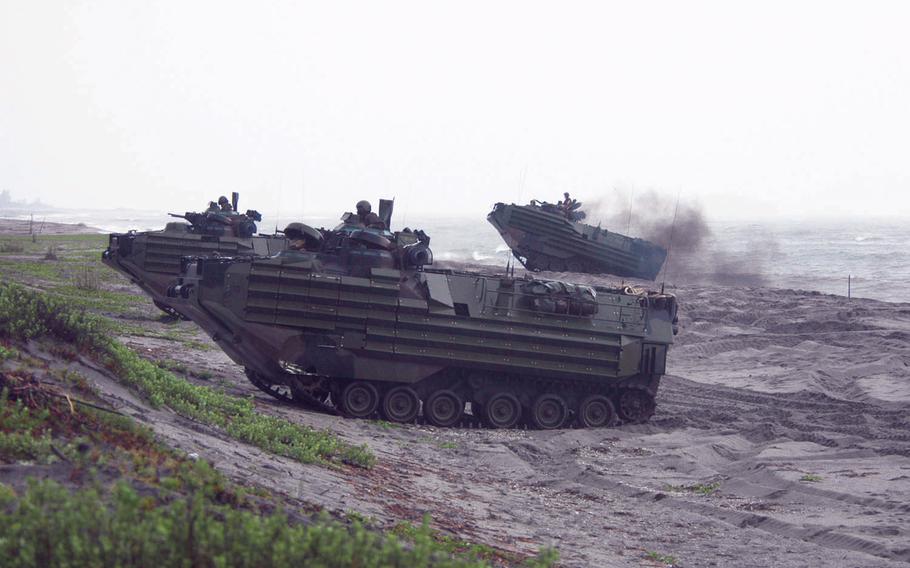 American and Filipino troops stormed a beach on the western shore of Luzon island Wednesday during the allies' largest joint drills since President Rodrigo Duterte assumed power nearly two years ago.
About 8,000 are from both countries participating in the 34th iteration of the annual Balikatan exercise, which means "shoulder to shoulder" in Tagalog and runs through May 18 in the Philippines.
Before the beach landing, four Marine Corps amphibious-assault vehicles from the Hawaii-based 3rd Combat Support Company launched from Zambales Province carrying a platoon of American and Filipino Marines, according to a statement issued Thursday by forces involved in Balikatan.
The floating troop-carriers maneuvered around the Philippine navy's landing platform dock ship BRP Davao Del Sur before heading back to shore where the Marines stormed onto the beach, the statement said.
The beach assault took place in the same area where the allies' conducted similar training during annual PHIBLEX amphibious landing exercises before they were canceled by Duterte shortly after he took office. The maverick strongman had clashed with U.S. officials over his war on drugs and was looking for closer ties with China and Russia.
However, U.S.-Philippines relations improved last year with American troops supporting Filipino soldiers battling Islamic militants in the south and China continuing to militarize outposts on disputed sea territory.
The goal of the Luzon landings was to improve the rapid deployment of forces during military operations on a hostile shore, exercise director Lt. Gen. Emmanuel Salamat said in the statement.
"Amphibious training is an important part of Balikatan Exercise as it enhances the capabilities of both [militaries] during operations from sea to land," he said.
Troops landing on a beach could face dangerous weather or even an aggressive enemy, the statement said.
"Bilateral training increases our ability to respond quickly and work together effectively as a combined unit," Lt. Col. Daniel Gaskell, commander of the Camp Lejeune-based 2nd Battalion, 8th Marine Regiment said in the statement.
"By doing this [amphibious] landing as one team we are able learn from our partners and function as a cohesive unit when responding to a real-world crisis," he said. "By training together now, we don't lose time when our nations need us the most."
robson.seth@stripes.com Twitter: @SethRobson1