US fighter jet jettisons fuel tanks into S. Korean lake
by
Kim Gamel
March 24, 2017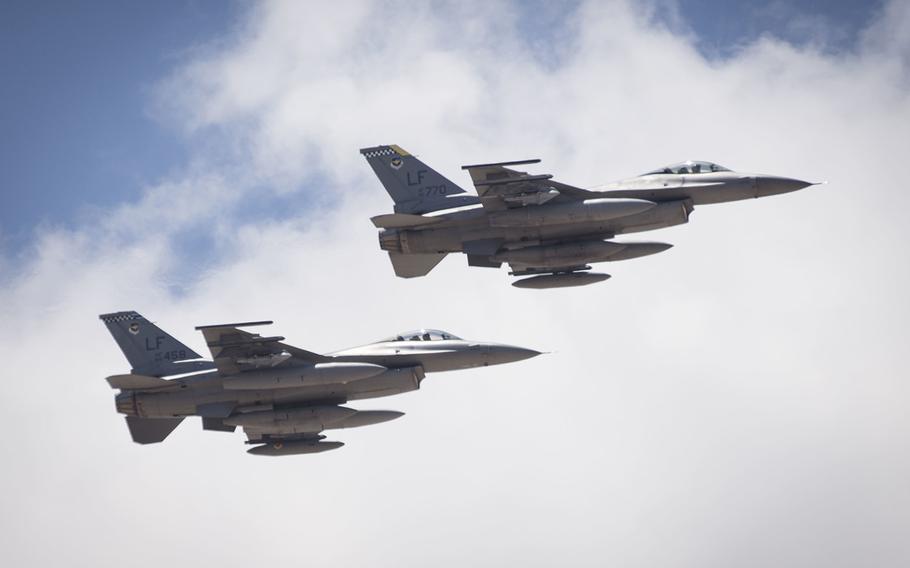 SEOUL, South Korea – A U.S. fighter jet jettisoned its auxilliary fuel tanks into a lake near Kunsan Air Base after suffering an in-flight emergency during a training mission.
The pilot of the F-16, which was assigned to the 8th Fighter Wing, released the drop tanks Wednesday after receiving an indication of an oil system malfunction, a spokeswoman said
"The pilot safely executed the established emergency procedures, which included releasing the fuel tanks before landing unharmed," Lt. Col. Michal Kloeffler-Howard said Friday in an email.
The tanks fell into a lake in an area owned by the Saemangeum Regional Environmental Office under the Ministry of Environment, about two miles west of Kunsan Air Base, the 7th Air Force public affairs officer said.
Saemangeum, on the peninsula's southwestern coast, is the site of a controversial South Korean land reclamation project that involved building a 21-mile dyke to separate the Yellow Sea from a former estuary.
Search crews from the 8th Fighter Wing and local agencies tried but failed to find the tanks.
"The recovery efforts have been halted due to the low likelihood of finding the tanks, as many areas within this body of water exceed 60 foot depths," Kloeffler-Howard said.
Addressing environmental concerns, she said the tanks contained an estimated 600 gallons of fuel, but it was impossible to accurately determine how much may have been spilled.
But she added that an analysis by environmental experts from the 8th Fighter Wing and the Air Force Civil Engineering Center suggested any impact would be minimal.
"Considering the large area of water and the naturally occurring bacteria that will break down the [fuel] in a matter of days, there is no further action being taken at this time," she said.
She added that the 8th Fighter Wing would continue to work with local agencies to ensure that environmental procedures were being followed.
The U.S. has about 28,500 servicemembers in South Korea, which remains technically at war with the North since their 1950-53 conflict ended in an armistice instead of a peace treaty.
gamel.kim@stripes.com Twitter: @kimgamel