US bases on Okinawa escape powerful Typhoon Maysak with no serious damage or injuries
by
Aya Ichihashi Matthew M. Burke
September 2, 2020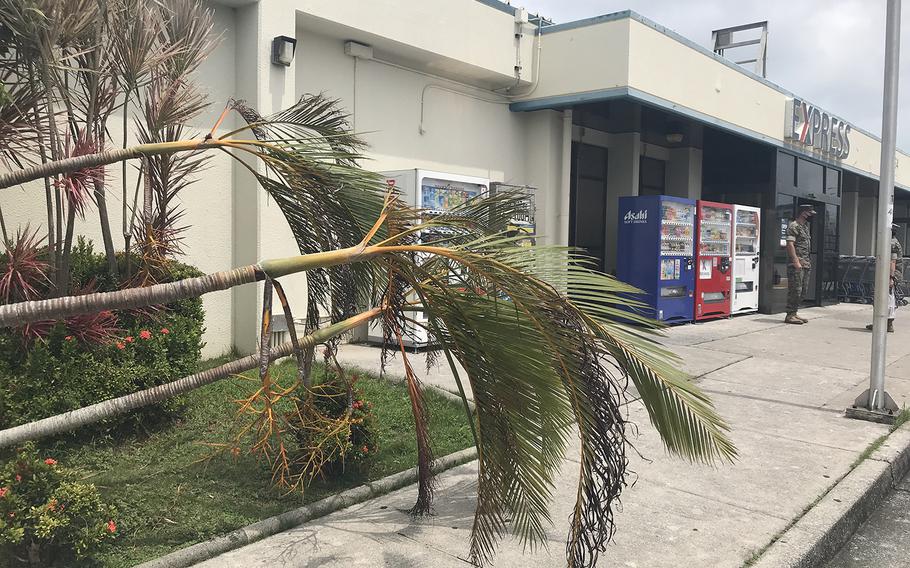 CAMP FOSTER, Okinawa — Typhoon Maysak came and went this week, punching Okinawa with gusts as high as 101 mph, but leaving only minor damage to U.S. bases and no injuries behind.
Maysak approached the island with the power of a Category 4 hurricane but passed as a Category 2, with sustained winds of 63 mph and gusts of 101 mph recorded at Nanjo in southern Okinawa just before midnight.
The eye of the storm came within 77 miles of Kadena Air Base at 4 a.m. Tuesday, its closest approach. Maysak was forecast to make landfall on the Korean Peninsula around midnight Wednesday, packing 104 mph sustained winds and 127 mph gusts.
The storm knocked down trees on U.S. bases on Okinawa, inflicted minor damage to facilities and left some Marines on Camps Schwab, Hansen and Foster without power into Tuesday evening, Marine and Air Force officials said Wednesday. They reported no injuries.
Maysak was well past when military installations on Okinawa entered the recovery phase, or "Tropical Cyclone Condition of Readiness 1-R," at 4:45 p.m. Tuesday.
The Marines and the Air Force on Okinawa said it was too early to place a dollar value on the storm damages.
"Marine Corps Installations Pacific identified minor facility damage to include some downed trees during our initial installation inspections following Typhoon Maysak," Marine spokesman 1st Lt. Tim Hayes told Stars and Stripes via email Wednesday. "Facility maintenance crews continue their assessments today."
Kadena Air Base reported minor damage at residential housing, office buildings and hangars, and downed trees, according to an email Wednesday from the 18th Wing.
"Kadena Air Base did not sustain any significant damage due to Typhoon Maysak," the email said. "Kadena Air Base remains fully operational and steps are being taken to mitigate the damage. No aircraft were damaged during the storm."
A spokesman for the III Marine Expeditionary Force, 1st Lt. Ryan Bruce, said advanced preparation and good communication down the ranks resulted in no injuries and little storm damage at Marine bases.
Marines identified and took care of susceptible equipment and infrastructure ahead of the storm and sheltered as many aircraft as they could in hangars at Marine Corps Air Station Futenma, Bruce wrote in an email Wednesday.
Aircraft that could not be safely sheltered were moved to suitable, alternate locations, he said.
Bruce said all III MEF personnel are accounted for since returning to the lowest level of typhoon readiness.
"We attribute the success of our typhoon preparation efforts to the careful planning and swift action" of III MEF and Marine Corps Installations Pacific, he wrote.
In local communities, more than 37,000 Okinawa households lost power Tuesday as Maysak pushed north, Okinawa Times newspaper reported.
Eight local residents were injured due to wind gusts and 580 people were evacuated from their homes due to concerns over flooding and landslides.
Airlines canceled 266 flights Monday and another 244 Tuesday, impacting 18,900 people, the Times reported. At least 10 flights were canceled Wednesday due to lingering high winds.
burke.matt@stripes.com Twitter: @MatthewMBurke1
ichihashi.aya@stripes.com Twitter: @AyaIchihashi