US base in coronavirus-hit city publishes whereabouts of military widow who tested positive
by
Kim Gamel
February 25, 2020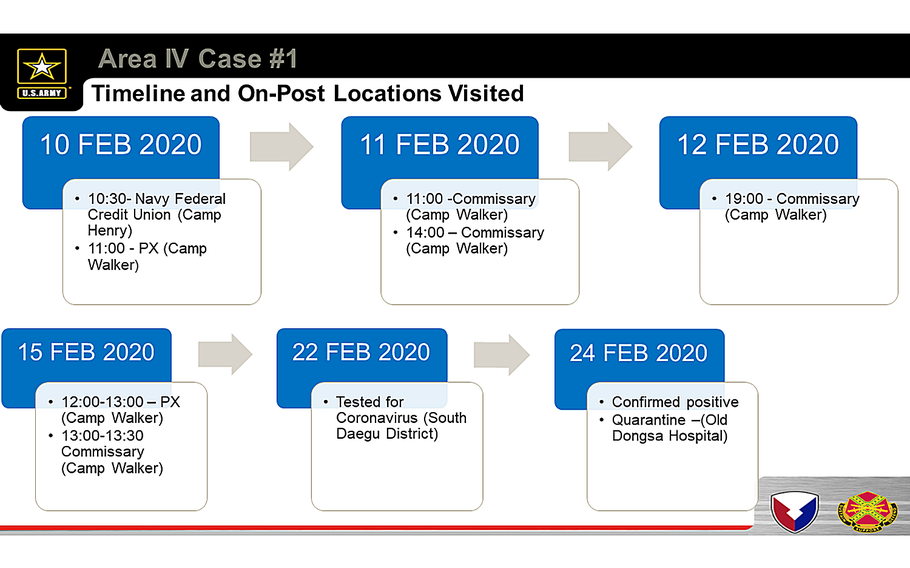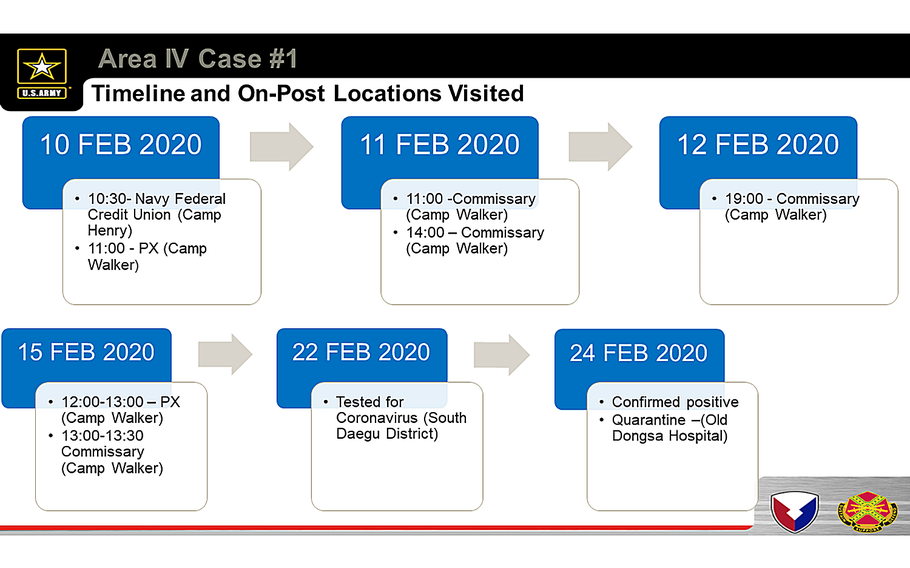 SEOUL, South Korea — U.S. military officials published the on-base sites visited by a woman who tested positive for the new coronavirus, and said Tuesday that more than 50 people in her apartment complex had been quarantined.
The locations were published to enable other residents to check if they had any reason to be worried.
The details about the first confirmed case linked to U.S. Forces Korea emerged as the Atlanta-based Centers for Disease Control and Prevention urged travelers to avoid nonessential travel to South Korea by issuing its highest warning at level 3.
That put the U.S. allied nation on a similar footing as China, where COVID-19 first appeared in December, then killed more than 2,600 people on the mainland and spread to dozens of countries. However, the State Department did not ban travel to the divided peninsula as it has done for China.
South Korea, a nation of 50 million people, has seen the number of infections spike over the past week from about 30 on Feb. 17 to 977 cases and 11 deaths on Tuesday, according to the Yonhap News Agency.
USFK said Monday that it had been informed by South Korean health authorities that the widow of a retired soldier living in the southeastern city of Daegu had tested positive for the virus, prompting it to raise an internal alert level from moderate to high.
Military bases across the divided peninsula, including the main headquarters base Camp Humphreys, reduced the number of access gates open on Tuesday to facilitate health screening measures including questions about possible exposure to the virus and temperature checks.
Officials also urged service members, their families and civilian employees to avoid nonessential travel off base.
Most of South Korea's nearly 1,000 confirmed cases have been in Daegu and surrounding areas due to an outbreak that is believed to have spread from a church last week. The local U.S. military community of about 9,000 people has been essentially locked down in a bid to keep the virus at bay.
The woman who was infected was the 61-year-old widow of a retired soldier who had base access, garrison commander Col. Edward Ballanco said.
The garrison tracked her movements with electrical records and closed circuit TV footage after South Korea's Center for Disease Control and Prevention alerted U.S. Forces Korea that she had been tested for the virus on Feb. 22 and was confirmed to have it two days later.
A detailed timeline assembled from electronic records and closed circuit video footage showed she had visited a credit union on Camp Henry; and the post exchange and the commissary on Camp Walker over a period of four days - Feb. 10, 11, 12 and 15.
"You can look and see if you were there at the same time," Ballanco told the community Tuesday in a live update on Facebook. "Keep in mind that was 10 days ago when she was last on post and so if you're not feeling sick right now, you're doing just fine."
Anybody who feels sick was encouraged to contact the U.S. or South Korean hotlines set up to deal with rising concern about the spread of the virus.
"We watched her movements on camera and saw the people she came in contact with," Ballanco said, adding they had been sent home. "The risk is very low that the disease was spread during those short interactions."
"None of those people have exhibited any symptoms, so we think we're safe," he said.
Ballanco said 53 people in the apartment complex where she lived near Camp George had been self-quarantined and arrangements had been made to get them mail and supplies.
The garrison also was able to do COVID-19 tests on post for the first time on Monday, although the kits had to be processed at South Korean facilities, Ballanco said. All came back negative, including somebody who lived at the woman's apartment complex and had been sick, he added.
Meanwhile, the military stepped up efforts to prevent any further contamination of the community by reducing gate access and closing schools and other activities.
Service members based at Camp Humphreys also were banned from off-base social activities such as restaurants and clubs as the command implemented its second-highest alert status to health protection condition Charlie.
They also were told to avoid designated hot spots, since three South Koreans were confirmed to have the virus in the surrounding area of Pyeongtaek, about 55 miles south of Seoul.
"We will not and we can't impose the same things on dependents and family members," Humphreys garrison commander Col. Michael Tremblay said Tuesday. "We highly recommend that they follow along with the same guidelines in order to mitigate any potential risk, but we certainly can't direct that in any way, shape or form."
gamel.kim@stripes.com Twitter: @kimgamel