US Army Pacific expects to complete Pathways 2020 exercises, commander says
by
Wyatt Olson
May 28, 2020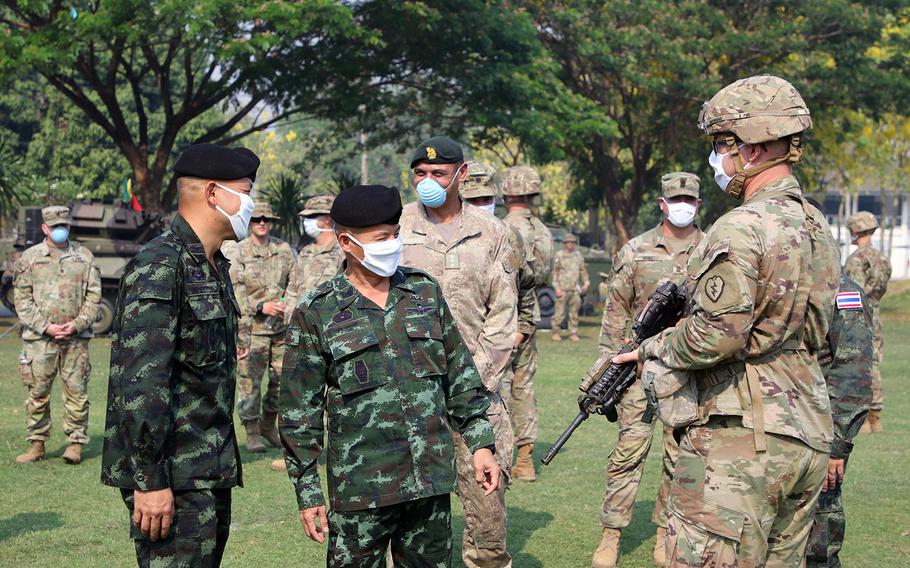 Stars and Stripes is making stories on the coronavirus pandemic available free of charge. See other free reports here. Sign up for our daily coronavirus newsletter here. Please support our journalism with a subscription.
FORT SHAFTER, Hawaii — U.S. Army Pacific expects to complete all Pacific Pathways exercises scheduled for this year, despite the coronavirus pandemic that has curtailed most multilateral training until the end of June, according to its commander.
"Things will normalize," Gen. Paul LaCamera said during a virtual conference last week that included military commanders from allies and partner nations in the region.
"We will either return to a normal or adapt to a new normal, but either way we will figure it out as a team of allies and partners," LaCamera told listeners, according to a news release published by the Army on Wednesday.
Pacific Pathways is a series of exercises in which Army units link up with foreign militaries at various locations in an expeditionary-style deployment. Plans had called for Pacific Pathways exercises in Timor-Leste, Papua New Guinea, Tonga, Fiji, Palau and Yap in the second half of 2020.
The Defense Department issued a stop-movement order for service members in mid-March due to the pandemic that had been expected to remain in place until June 30. Last week, the Pentagon issued a memo that, while making the stop-movement order indefinite, gives installations more leeway in relaxing travel restrictions based on improving conditions.
About 1,400 soldiers with the Hawaii-based 25th Infantry Division were in Thailand for the first leg of Pathways when the order was instituted. They returned home in early April and were placed in mandatory 14-day quarantine.
Soldiers with the 25th ID only recently began small-unit arms training after a total month-long hiatus for such drills.
The service's top officer also promised a resumption of multilateral Army exercises in the Pacific.
"Our intent is to get back with these exercises as soon as the conditions allow," Gen. James McConville, the Army's chief of staff, said in the news release. "We have to stay ready."
The Army's plan to resume collective training is based upon the experience with recruits at basic training sites, where the use of masks, physical distancing and virus testing proved successful in limiting spread of the contagion, the news release said.
"We're putting procedures in place for our troops so they can still operate in this environment and make sure that we continue our relationships," McConville said.
The coronavirus outbreak struck as the Army was set to launch Defender Pacific this year. The exercise would bring to the Pacific a division headquarters and several brigades from the continental United States for 30- to 45-day training stints in countries such as the Philippines and Thailand.
Defense News reported earlier this year that the Army had requested $364 million for Defender Pacific for the fiscal year beginning Oct. 1.
Army officials did not mention Defender Pacific in the Wednesday news release.
It will likely be another month before a timeframe for resumption of exercises is within reach, U.S. Army Pacific spokesman Col. Derrick Cheng told Stars and Stripes on Tuesday.
The teleconference last week was an opportunity for regional military leaders to share thoughts about "what are the mil-to-mil activities that are still viable and available" as nations cope with the pandemic, he said.
"There was discussion that everybody wanted to continue the virtual engagement to maintain the connections, but everybody was looking forward to the physical engagements, looking at the earliest opportunity to get back to the business at hand," he said. "There wasn't a clear picture and set dates of when we could do that."
olson.wyatt@stripes.com Twitter: @WyattWOlson
---
---
---