US Army Japan increases its coronavirus risk level as Tokyo reports record 367 cases
by
Caitlin Doornbos Joseph Ditzler
July 30, 2020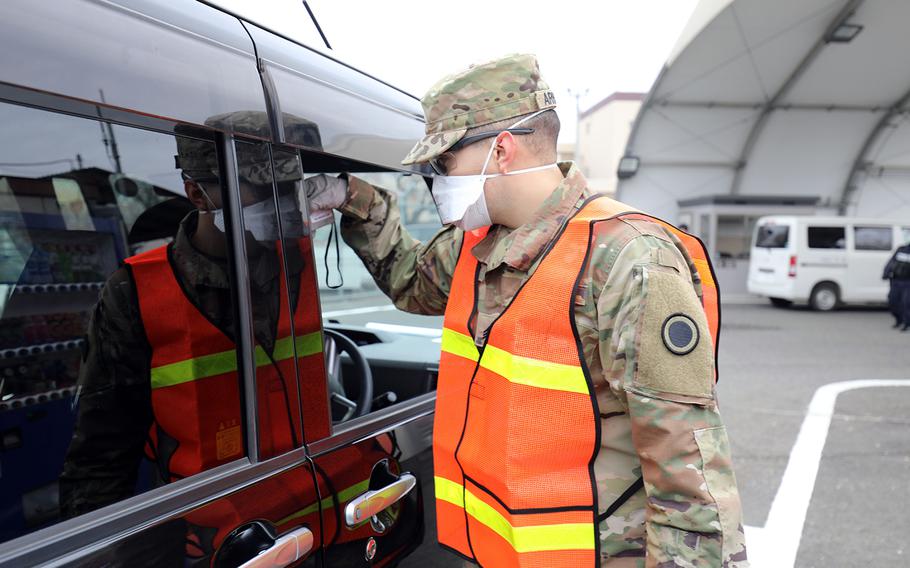 Stars and Stripes is making stories on the coronavirus pandemic available free of charge. See other free reports here. Sign up for our daily coronavirus newsletter here. Please support our journalism with a subscription.
TOKYO — U.S. Army Japan increased its coronavirus risk level to "substantial" on Thursday after discovering three new cases in its community and nearby Tokyo recorded a new daily high.
Maj. Gen. Viet X. Luong, commander of U.S. Army Japan at Camp Zama, in a video posted to the command's official Facebook page, said he'd seen a "recent spike" in violations of restrictions aimed at curbing the virus, despite "the great effort by 99% of the command."
Luong in his statement did not specify what violations had occurred, and command spokesman Maj. Elias Chelala declined to do so later in a phone interview.
"We've also witnessed growing complacency across the units and within the community," Luong said in his video address. "We all need to do our part to take care of the mission and the entire team here in Japan."
As a result, and because of surging cases in Tokyo, Luong said, he raised the risk level to, in military terms, Health Protection Condition-Charlie from condition Bravo.
U.S. Army Japan on Thursday reported two new coronavirus cases in western Japan and one at Camp Zama. The infected individuals are isolated and must pass two coronavirus tests before they are released, the Army said.
The service had already reported five cases earlier this week: four on Wednesday and one on Monday.
Increasing the health protection level will permit the Army in Japan "time to refocus support, conduct retraining and hold leaders, soldiers and civilians accountable in upholding the standards," Luong said in Thursday's video.
Since mid-June U.S. Forces Japan, the overarching military authority, has been in the lower protection level of Bravo, which represents a moderate risk of coronavirus infection and gives commands leeway to lower restrictions.
In nearby metro Tokyo, which is still off limits to U.S. military personnel, the number of new coronavirus cases reported Thursday reached a new high of 367, one more than the previous high set July 23, according to public broadcaster NHK and the Tokyo Metropolitan Government.
Also Thursday, two other area installations announced one new case each via their Facebook pages.
Yokosuka Naval Base, in Kanagawa prefecture southeast of central Tokyo, said an individual came up positive in a test administered Wednesday by Japanese airport authorities after arriving in Japan.
The base the same day released from quarantine two other people who had recovered, according to the post.
In western Tokyo, Yokota Air Base reported one individual tested positive on Tuesday.
Yokosuka and Yokota each have six active cases of the virus, according to their Facebook posts. The U.S. military in Japan does not specify whether coronavirus cases are service members, civilian employees, contractors or family members.
For the Army, Luong announced no immediate changes in the restrictions already imposed on all its personnel, including civilian employees and family members. In a phone interview, spokesman Chelala said updated orders would be posted to social media.
Condition Charlie typically means in-person gatherings such as school, day care and community activities are prohibited and the ability to travel is further restricted, according to Pentagon guidelines. Access to nonessential services in the local community are also typically restricted.
If Luong's order holds until Aug. 24, the start of a new school year, then all students at Defense Department schools at Camp Zama will be taught online, including those that opted for classroom learning, a spokeswoman for Department of Defense Education Activity-Pacific said Thursday.
Where bases in Japan are in the lower Bravo condition, DODEA-Pacific plans to open its schools, spokeswoman Miranda Ferguson said, but allow parents to opt for virtual instruction for their children.
All students at Zama will receive virtual instruction until the risk level falls to Bravo, Ferguson said.
However, Zama students who already opted to return to the classroom will receive instruction at home from their classroom teachers, she said. Those who chose the online option will be enrolled in DODEA's formal virtual program with a different set of teachers, she said.
Stars and Stripes reporter Seth Robson contributed to this report.
ditzler.joseph@stripes.com Twitter: @JosephDitzler
doornbos.caitlin@stripes.com Twitter: @CaitlinDoornbos