US and China report progress on new North Korea sanctions
---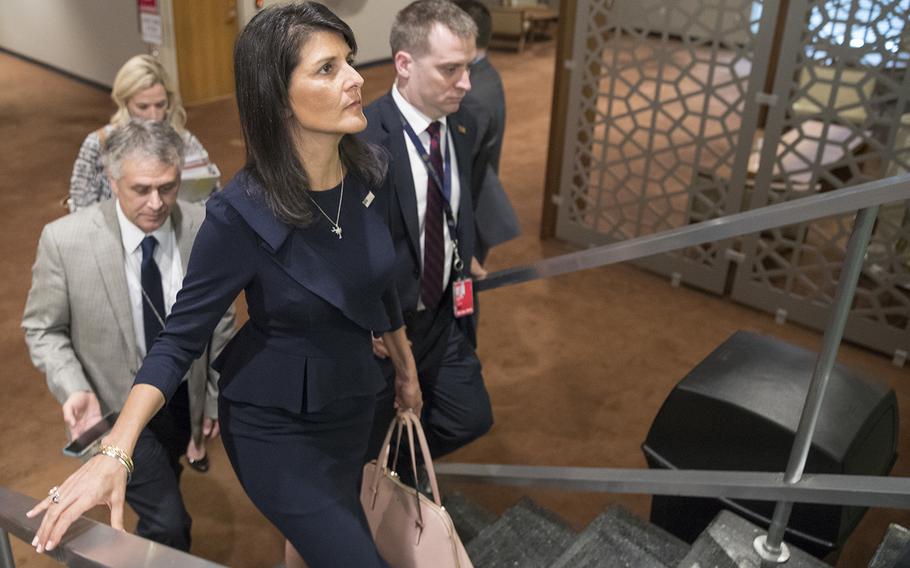 UNITED NATIONS — The United States and China said Tuesday they are making progress on a new U.N. resolution that would impose additional sanctions against North Korea following its test of an intercontinental ballistic missile.
The U.S. gave China a proposed resolution several weeks ago, and U.S. Ambassador Nikki Haley told reporters that China has been negotiating with its close ally Russia on possible new sanctions.
"The true test will be what they've worked out with Russia," she said. China's U.N. Ambassador Liu Jieyi told two journalists that "we are making progress" and "we are working as hard as we can."
But neither Haley nor Liu would estimate how long it will take before they agree on a draft that can be circulated to the rest of the 15-member Security Council and then put to a vote.
"There is certainly light at the end of the tunnel and we are working towards that light, and I can't really tell how much time we would need," Liu said.
He wouldn't confirm that China is working with Russia on the text, saying "there is always a process of working out the resolution, and in due course I think the resolution will be discussed at a wider circle."
Haley said "I think we are moving. It's not as fast as I would like but these are pretty serious sanctions and so I think that there is a lot of thought going into this."
The Security Council has already imposed six rounds of progressively tougher sanctions against North Korea, but so far that has failed to halt the country's rapidly advancing nuclear and ballistic missile programs.
The most recent sanctions resolution to be adopted, on June 2, added to the U.N. blacklist 15 individuals and four entities linked to the North's nuclear and missile programs.
At the time, China was blocking tougher measures pushed by the United States.
But North Korea raised the stakes with its launch of an intercontinental ballistic missile as Americans celebrated Independence Day on July 4.
The test marked a significant step toward young North Korean leader Kim Jong Un's goal of developing a missile with a nuclear warhead capable of reaching the United States — and it changed the reality for the Trump administration, which moved quickly to give China a new draft resolution with tougher sanctions.
Haley stressed that the United States wants to ensure that a new resolution is "a strong resolution, because that's what we think we need to have."
"I think we are making progress, so we are actually talking about different sanctions," she said.
Haley refused to say what measures were being discussed. But earlier this month she told the Security Council that if it is united, the international community can cut off major sources of hard currency to North Korea, restrict oil to its military and weapons programs, increase air and maritime restrictions and hold senior officials accountable.
Liu said "there is going to be more than the last resolution."
But he stressed that for China, a resolution must serve to promote denuclearization and peace and security on the Korean Peninsula, and a negotiated solution to North Korea's nuclear and missile programs.
Therefore, Liu said, the specific measures in a new resolution need to be measured against achieving those three objectives.
Haley said she was pleased with China's response to the initial draft the U.S. proposed.
"We were waiting to see if it was going to be weak or strong, and I think they're showing some seriousness with it," Haley said. "We are constantly in touch with China and I can say that things are moving, but it is still too early to tell how far they'll move."
Liu said "the most important thing is to have ... a draft resolution that everybody can support."
One possible stumbling block is whether the new resolution will refer to North Korea's test of an intercontinental ballistic missile.
Russia has questioned whether the missile actually was an ICBM, though China did not.
"I think that everyone that we have dealt with acknowledges it's an ICBM," Haley said. "Whether they're willing to put it in writing or not is going to be the real question."
Liu noted that previous resolutions referred to ballistic missiles "without going into further categorization of the missiles."
"And I do not think that for the purpose of working out a resolution you need really to go to the technical nitty gritties of things," he said.
Liu said China is still working to convince other governments to support its suspension-for-suspension proposal in which North Korea would suspend nuclear and missile tests in exchange for the U.S. and South Korea suspending their joint military exercises.
The package proposed by China and supported by Russia also includes denuclearization of the Korean Peninsula and "a peace and security mechanism" in place for both North Korea and South Korea, Liu said.
"We just hope that the other relevant parties will be forthcoming because we don't see any alternative," he said.
---
---
---
---