US ambassador to South Korea stable after knife attack
by
Erik Slavin
March 5, 2015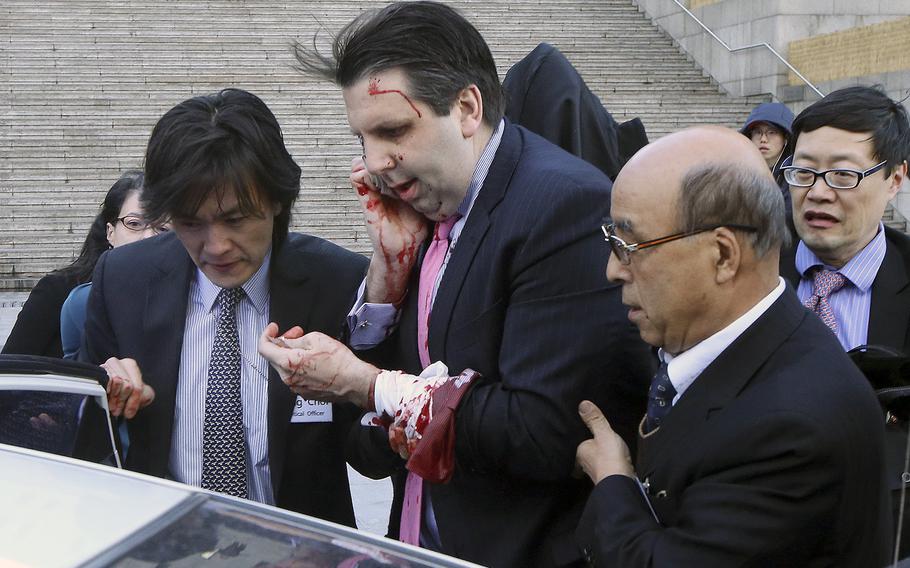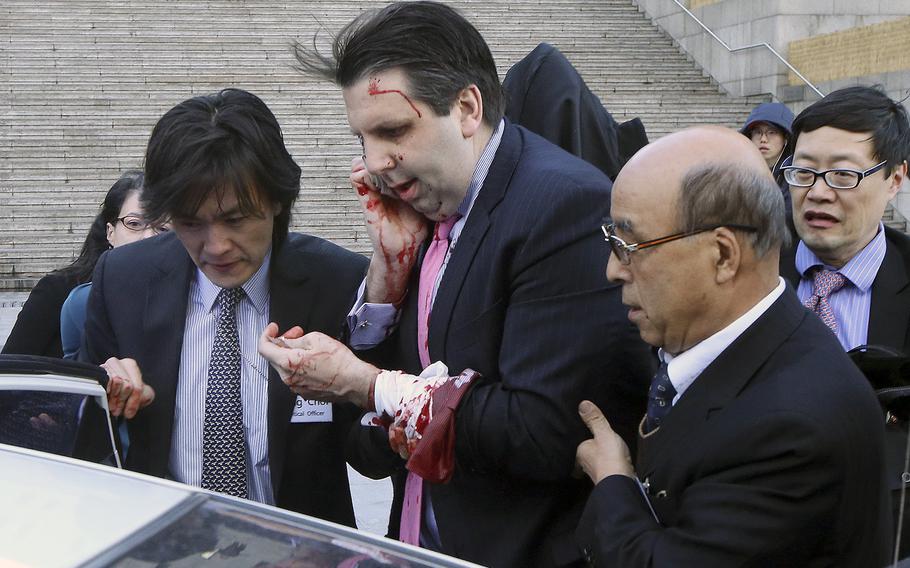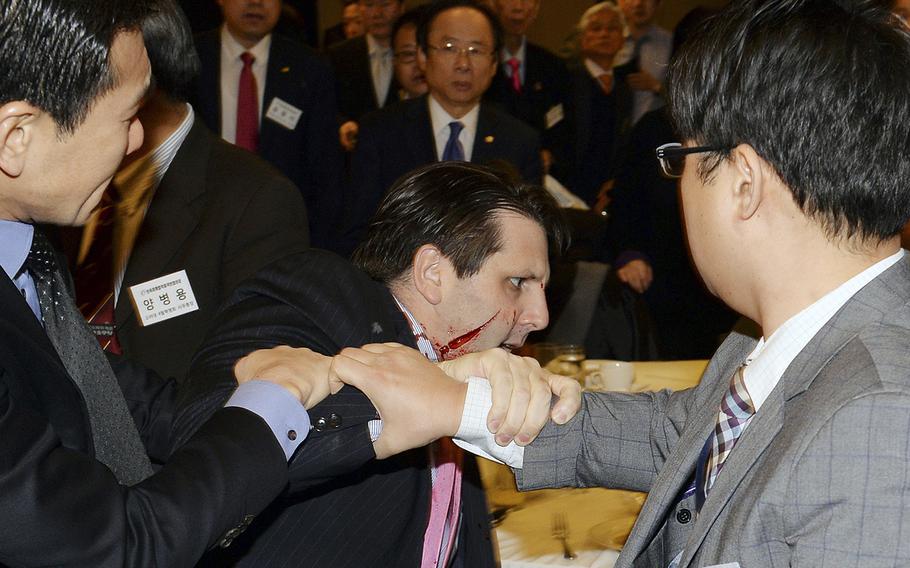 A man suspected of North Korean sympathies slashed the face and wrist of the U.S. ambassador to South Korea on Thursday, according to South Korean police and media reports.
Mark Lippert was reported to be in stable condition. He had been ready to give a speech to the Korean Council for Reconciliation and Cooperation in downtown Seoul when the assailant attacked with a 10-inch knife at about 7:40 a.m., according to police.
South Korean police have arrested and identified the suspect as Kim Ki-jong, 55, according to a Yonhap News report.
South Korean intelligence sources said Kim had visited North Korea six times in 2006-07, and later tried to erect a memorial to late North Korean premier Kim Jong Il in Seoul, according to Yonhap.
An unidentified witness told YTN TV that as Lippert stood up for a handshake, the suspect wrestled the ambassador to the ground. YTN also reported that the suspect screamed during the attack, "South and North Korea should be reunified."
Yonhap TV showed men piling on the attacker, who was dressed in a traditional Korean hanbok garment.
Photos following the attack showed Lippert with blood spattered on his clothing and dripping from his face.
Later that morning, Lippert was filmed by Yonhap TV telling onlookers "I'm OK, I'm OK," as he exited a car and walked into a Seoul hospital.
The Associated Press reported that North Korea's state-controlled media said Kim's "knife slashes of justice" were "a deserved punishment on war maniac U.S." and that the attack reflected the South Koreans' protests against the U.S. for driving the Korean Peninsula to the brink of war because of the joint military drills.
Lippert sustained five cuts, including one about four inches long and an inch deep on his face, Jung Nam-shik, head of Yonsei University hospital, told reporters Thursday.
The wound could have been fatal if the knife had gone slightly deeper and nicked an artery, doctors said. Lippert received 80 stitches and will remain hospitalized for a few days, Jung said.
Kim was interrogated for three hours on a stretcher before being transported to a hospital, according to Yonhap's account of a news conference at Seoul's Jogno police station.
U.S. and South Korean officials immediately condemned the attack and expressed support for Lippert and his family.
President Barack Obama called Lippert wished him a speedy recovery, according to The Associated Press. Lippert was a foreign policy aide to the president when Obama was a senator.
South Korea's foreign ministry vowed to "conduct a thorough investigation into the case and take stern measures based on its outcome," according to a statement.
The ministry also said it would make "more all-out effort" to ensure the safety of diplomats.
Thursday's incident marks the second time Kim stands accused of assailing a foreign ambassador.
In July 2010, Kim received a suspended two-year prison term for throwing two pieces of concrete at a Japanese ambassador to Seoul, and he published a book last year about the event according to Yonhap.
Kim's blog has long railed against Japan's territorial claims over the South Korean-administered islets of Dokdo, according to media reports. However, in recent days, Kim had been railing against the joint U.S.-South Korea annual military exercises Key Resolve and Foal Eagle.
Pyongyang has also issued threats toward the U.S. and South Korea over the exercises. North Korea launched two ballistic missiles into the ocean as the exercises began Monday.
South Korea has taken a tough stance against pro-North Korean activism since the country's founding.
The National Security Act severely restricts and criminalizes pro-North Korean speech. Internet users who attempt to visit official North Korean media websites, such as the Korean Central News Agency, are blocked and warned.
In December, South Korea's constitutional court broke up the Unified Progressive Party, a small left-wing group accused of pro-North Korea views. Five lawmakers lost their seats in the nation's legislature.
Leftist groups have arranged legal protests against the U.S.-South Korea military alliance for decades. Anti-U.S. rhetoric peaked most recently in 2002, when a U.S. Army armored vehicle ran over two 13-year-old girls on a country road, setting off national protests.
Relations have dramatically improved since the incident.
"Since late 2008, relations between the United States and South Korea arguably have been at their best state since the formation of the U.S.-[Republic of Korea] alliance in 1953," a Congressional Research Service report stated in June.
A Pew Research Center global attitudes poll showed 82 percent of South Koreans viewed the U.S. favorably in 2014; only the Philippines and Israel ranked higher in the 44-nation poll.
The U.S. currently bases about 28,500 troops in the country as part of its pledge to uphold the 1953 armistice between North Korea and South Korea.
slavin.erik@stripes.com Twitter: @eslavin_stripes