US air power is growing alongside Marine Corps in Australia's Northern Territory
by
Seth Robson
November 4, 2019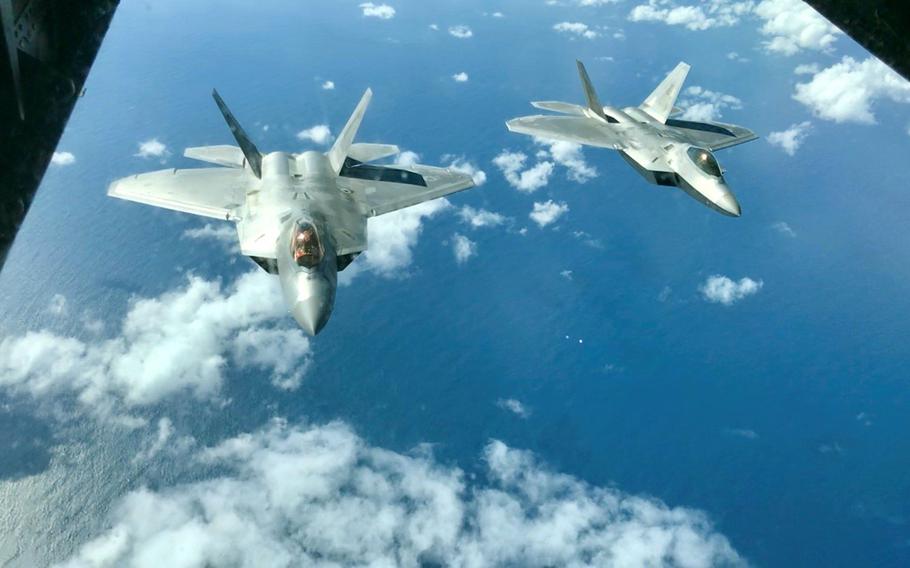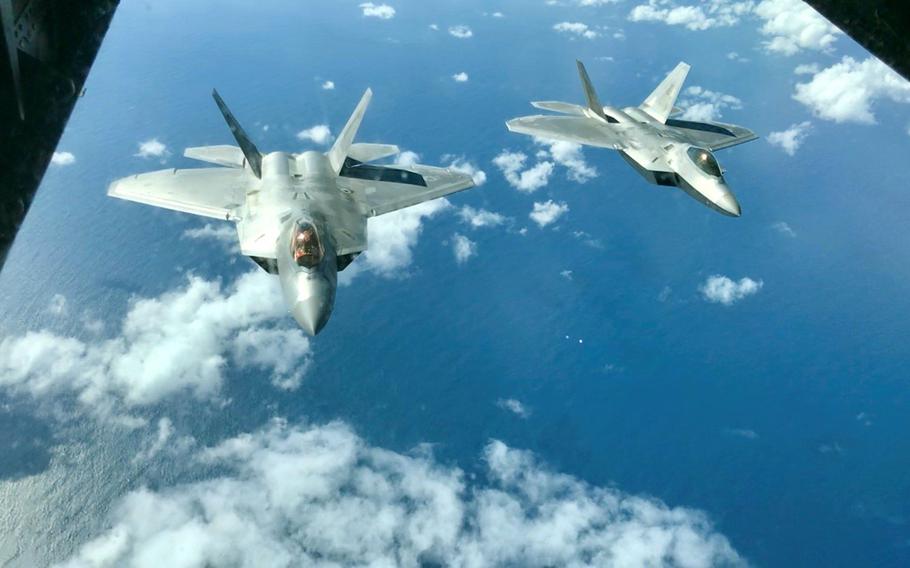 Thousands of U.S. Marines on an Australian Army base this summer might be the most visible example of America's growing military presence Down Under. But the nations' air forces are growing equally close under a lesser-known program known as Enhanced Air Cooperation, or EAC.
The initiative, which kicked off in 2017, focused this year on fifth-generation fighter integration, aero-medical evacuation and aircraft maintenance. It involved U.S. F-22 Raptor, F-35B Lightning II, F-16 Fighting Falcon and F-15 Eagle fighters, B-52 strategic bombers and C-130J Super Hercules transports, according to the Australian Defence Force's website.
Airman involved in the program practiced joint and combined warfighting, maneuver, resiliency and logistics, the website said.
"The major motivator for U.S. force restructure and redeployment on the western Pacific rim is China. It's as simple as that," said Paul Buchanan, an American security analyst in Auckland, New Zealand.
EAC is about two air forces developing how they maneuver together and remain resilient, said Group Capt. David Banham, who has served as the Royal Australian Air Force liaison officer at Pacific Air Forces in Hawaii since January.
It's notable that PACAF was formed in Brisbane, Australia, in 1944, he added.
This year's EAC encompassed a range of activities, including the air component of the Talisman Saber exercise involving 34,000 U.S. and Australian personnel in July. That exercise included a dozen U.S. Air Force F-22 Raptor stealth fighters that flew to Australia from Alaska, Banham said.
Most EAC activities have been held at RAAF Darwin and RAAF Tindal in Australia's Northern Territory, but during Talisman Sabre they took place at RAAF Amberly in the east coast state of Queensland, he said.
Synergy with MarinesThere are some links between the air force activities and the Marines based at Darwin's Robertson Barracks, Banham said.
"Both the [U.S. Air Force] and RAAF and the Marine Corps will fly the F-35" stealth fighter, he said. "There will be opportunities to exercise that capability not just for flying but through things such as maintenance," when Marine Rotational Force — Darwin is deployed, he said.
The Marines have been deploying to Darwin on summer rotations since 2012, and they sent an Air Ground Task Force of 2,500 Marines there this year.
Capt. Victoria Hight, a PACAF public affairs officer, declined to provide the number of aircraft involved in the EAC program this year but said it was supported by several hundred personnel from the Air Force, Marine Corps, Navy and RAAF.
"The ability to generate a Combined, Joint force package with these assets further deepens" the ability to work together using each other's equipment, she said in an email.
The Air Force's activities in the Northern Territory, along with those of the Marines, are being supported with $2 billion worth of new military infrastructure funded by the U.S. and Australia, according to the Australian Defence Force.
At RAAF Darwin, for example, $88.65 million worth of projects have been awarded to build fuel tanks, expand the airfield and erect maintenance facilities, Hight said in her email.
"These and other projects at RAAF Darwin are scheduled to be accomplished by 2023," she said.
Pitch Black, which runs every other year at RAAF Darwin, is Australia's biggest air force exercise, Banham said. Australia is planning to host a dozen nations from the region there next year.
In 2018, 12 foreign air forces participated in Pitch Black, according to the RAAF website.
Last year the U.S. Air Force sent 12 F-16s and two B-52s to participate in Pitch Black alongside Australian planes.
Construction projects at RAAF Tindal, also in the Northern Territory, haven't been awarded but will likely be completed by 2025, she said. "These projects will increase airfield capacity for exercises … and operations like Humanitarian Assistance and Disaster Response."
Training rangesThe RAAF is continuing to develop advanced and expansive ranges that allow for large-scale, multilateral exercises, Hight said.
"U.S. training ranges are heavily utilized and can be difficult to access," she said in her email. "As the US and our Allies stand up F-35 fleets in the Indo-Pacific, it will be important to have accessible, high-end training ranges to expand" the ability to work together.
The two nations' air forces have a long history of cooperation, said Lt. Col. Nicholas Amato, who oversees EAC for Pacific Air Forces from Hawaii.
"This program is to take the fact we are working together and push it faster," he said.
The program was set up to bring U.S. aircraft to northern Australia because of the benefits of operating there.
The Northern Territory is a vast, sparsely populated region with the sort of massive military ranges that aren't available in some of the places where U.S. forces are stationed in the western Pacific, such as Japan and South Korea.
But with no funding specifically allocated to the program in a region where distance makes movement time-consuming and expensive, officials decided to focus it on units already heading Down Under for exercises, Amato said.
"We look for opportunities where we are already working together and then expand on that," he said. "We will come in [for an exercise] and stay for additional training."
Globemaster agreementOne of the program's successes this year was an agreement signed in May that allows for U.S. or Australian mechanics to work on C-17 Globemaster III transport planes belonging to either air force, Amato said.
The system was used for the first time in September when a RAAF C-17 that broke down at Joint Base Lewis-McChord, Wash., was repaired by U.S. maintainers, he said.
"We have shown that having one of these agreements makes sense and it is useful," he said, adding that the system should apply to other aircraft flown by both air forces such as the C-130J and the F-35A.
What started with maintenance can be applied to other areas of operations. For example, an Australian medical team could fly on a U.S. plane to conduct an aeromedical evacuation or a U.S. security team could provide force protection for an Australian aircraft, Amato said.
"The U.S. has a lot of capacity and can solve a lot of problems on our own but with Australia we get a better answer sooner … that is not just good for the U.S. but good for the region," he said.
Things that work under the program could work with other U.S. allies and partners, he said. "We are setting the stage for how the U.S. and Australia will interact with other countries."
robson.seth@stripes.com Twitter: @SethRobson1