US air crews must do live-fire training outside South Korea due to local complaints, Abrams says
by
Kim Gamel
September 10, 2020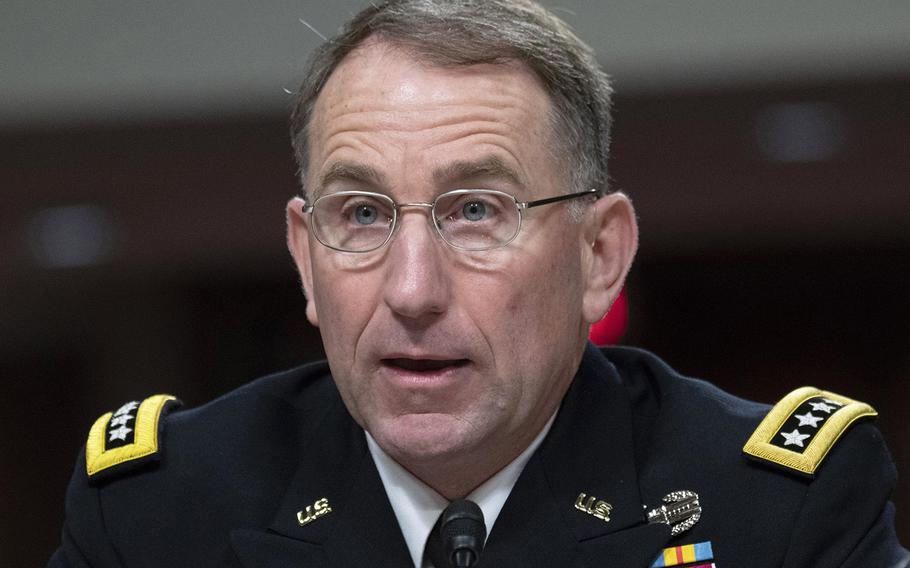 SEOUL, South Korea — The U.S. military has had to send air crews off the peninsula for live-fire training due to local disputes with South Koreans over noise and other complaints, Gen. Robert Abrams said Thursday.
Meanwhile, North Korea is preoccupied with internal problems and has shown no sign indicating it plans to roll out a new strategic weapons next month as many have predicted, according to Abrams, the commander of U.S. Forces Korea.
Abrams insisted that the allies maintain strong military readiness overall, and declared a recent computer-simulated command post training drill a success despite the coronavirus pandemic.
But he acknowledged that complaints by South Koreans who live near training facilities have caused a setback in live-fire training needed to maintain troop qualifications.
USFK recently suspended training at the Rodriguez Live Fire Training Complex near the mountainous border with North Korea, after four South Koreans were killed when their vehicle rear-ended a U.S. armored personnel carrier in the area.
"I reassure everyone. Our theater level command post training is as rigorous if not much more rigorous than it's been in the history of the alliance, and that's fundamentally because we brought our training scenarios into the 21st century," Abrams said, citing cyber and other non-traditional threats. "We're in good shape."
"Many militaries because of COVID have had to hit the pause button on large-scale training and training in general. We have not," Abrams said in an online session with experts from the Center for Strategic and International Studies.
USFK was working closely with South Korea's Defense Ministry to resolve longstanding complaints by local residents about noise and other problems associated with military training areas, Abrams said.
The Aug. 31 crash has prompted small protests near U.S. bases, although the cause remains under investigation.
At the time, USFK expressed deep condolences to the families and announced it was temporarily suspending training in the area "out of respect to those killed and their families."
Abrams didn't mention the incident, but noted the longstanding tensions with the local populace.
"The bottom line is that forces stationed here to maintain the high level of readiness have to have reliable, accessible training areas, specifically for company-level live fire, which is the gold standard for war fighting readiness with aviation," Abrams said. "We're not there right now."
"As a result we're actually having to send air crews (including Air Force and 2nd Infantry Division combat helicopter crews) off-pen to maintain their live-fire qualifications," he added. "I'm hopeful that we're going to be able to find some solutions."
The military has had to cancel or reduce in scope many joint exercises with South Korea since President Donald Trump met with North Korean leader Kim Jong Un and began diplomatic efforts to persuade the North to give up its nuclear weapons that have since stalled.
Abrams also cast doubt on recent speculation that North Korea may be planning to introduce a new weapons system in connection with the 75th anniversary of the founding of its ruling Workers' Party next month.
The Center for Strategic and International Studies, a Washington, D.C.-based think tank, reported recently that satellite images suggest the North may be preparing to launch a submarine-launched ballistic missile from waters off its eastern coast.
Abrams said the North Korean regime appears focused on internal issues, including the fight against the coronavirus and devastating damage from a trio of recent typhoons.
"We're not seeing any signs of rising instability," he said. "The regime and their leader is focused inwardly to help inspire the people and get back on their feet."
"There are people suggesting that perhaps there will be a rollout of a new weapon system. Maybe, but we're not seeing any indications right now of any sort of lashing out," he said.
One of the experts on the panel cautioned that North Korea may return to a pattern of brinkmanship and provocations after the U.S. presidential election in November.
"I do think we have to brace ourselves that as conditions worsen in North Korea they will have to dial up pressure at some point," said Sue Mi Terry, a senior fellow for Korea at CSIS.
"After fire and fury, and diplomacy and summitry, what we still have … is a North Korea that retains its nuclear arsenal in its full capacity," she said.
gamel.kim@stripes.com Twitter: @kimgamel
---
---
---