Unprecedented situation: Navy nurse offers inside look at massive care operation for Roosevelt crew
by
Matthew M. Burke
May 15, 2020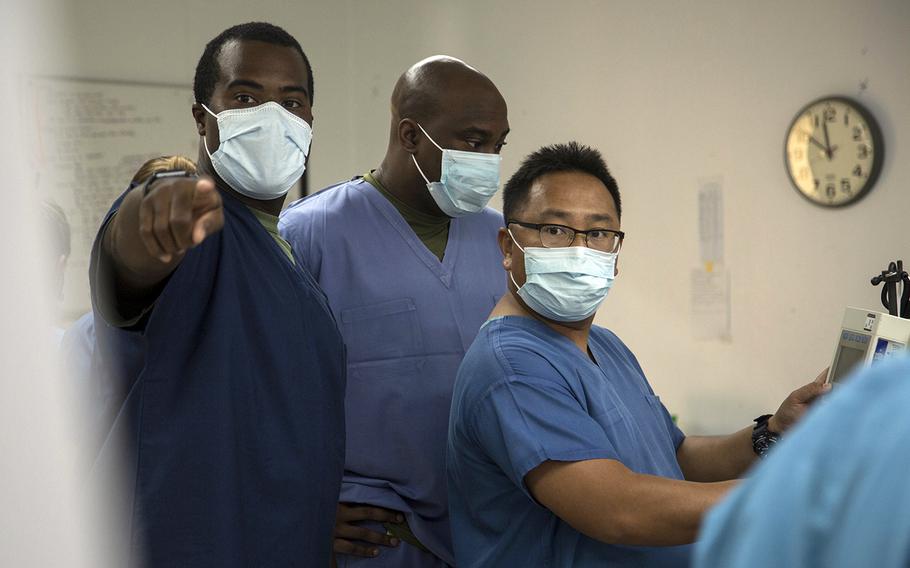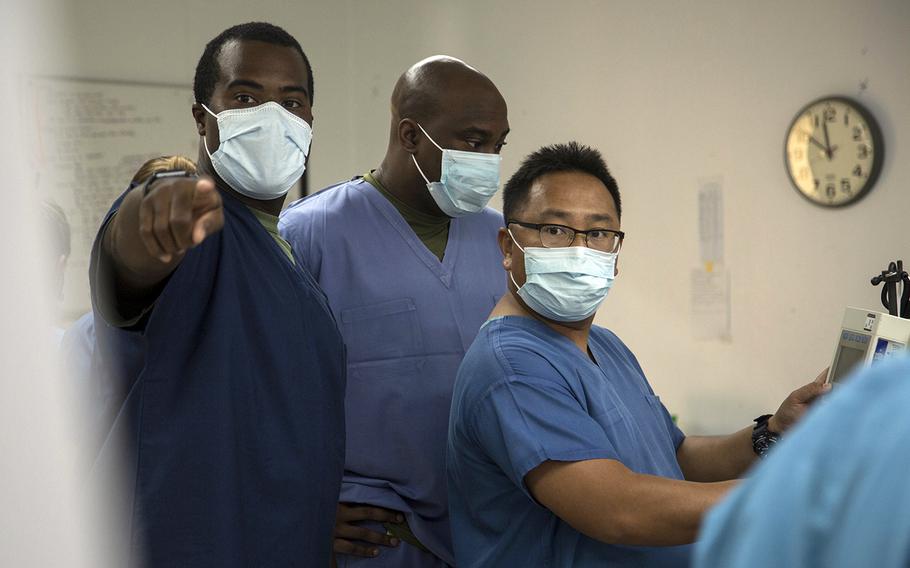 Stars and Stripes is making stories on the coronavirus pandemic available free of charge. See other free reports here. Sign up for our daily coronavirus newsletter here. Please support our journalism with a subscription.
CAMP FOSTER, Okinawa — In late March, the coronavirus-stricken aircraft carrier USS Theodore Roosevelt stopped its patrol of the Western Pacific to steam toward Guam and the promise of medical attention for the outbreak sweeping its decks.
Thousands of miles away, an anxious Navy Lt. Rodney Posley and about 100 of his colleagues from the 3rd Medical Battalion at Camp Foster, Okinawa, also departed for the U.S. island territory. They arrived April 1, and with staff from U.S. Naval Hospital Guam, formed Task Force Medical to test and treat the nearly 5,000 sailors assigned to the carrier.
"We walked in to [Roosevelt] sailors that were already known COVID positive," Posley, an intensive care unit nurse, said in a May 13 phone interview from Guam, where he was still caring for patients from the carrier. COVID-19 is the disease caused by the coronavirus.
"We knew there was testing being done so we immediately came in and started treating COVID-related signs and symptoms," he said. "Also doing isolation criteria to people who were COVID negative and those who were COVID positive so that they wouldn't spread the virus."
It was an unprecedented situation, said Navy Lt. Cmdr. Jennifer Knapp, officer in charge of the medical side of the Okinawa-based detachment.
"This is honestly the most complex and dynamic operation I've ever been in charge of," she said by phone on May 13. "Since we've been here, we've been essentially writing the book on how to respond to a COVID outbreak on a U.S. naval vessel as large as the one we're dealing with."
Within a day of their arrival, Posley and his colleagues constructed a six-bed, pop-up, field ICU and observation center at Naval Base Guam, where the Roosevelt was docked. They also manned an isolation site where they could check sailors' temperatures and vitals, looking for coronavirus symptoms.
Nearly 5,000 sailors were moved off the carrier at various times and all were checked out by the task force.
The team from Okinawa brought medical expertise but also extra beds and ventilators, Roosevelt spokeswoman Lt. Cmdr. Julie Holland wrote Thursday in an email to Stars and Stripes.
Roosevelt crew members who tested positive were moved to isolation on base, under medical care, Holland said. Those who tested negative went into quarantine in off-base hotels. Their movements were restricted, and they were evaluated daily.
Roosevelt sailors were tasked with reporting any signs or symptoms and they did so swiftly, Posley said. The task force's job was to intervene early, before coronavirus symptoms got serious, following Centers for Disease Control and Prevention and World Health Organization guidelines.
They monitored oxygen levels and fevers, Knapp said. If something dipped out of a healthy range, they brought the patients to an observation center for around-the-clock treatment.
Navy officials declined to say how many patients from the Roosevelt became critical, but more than 1,150 sailors ultimately tested positive for the coronavirus. One, Chief Petty Officer Charles Robert Thacker Jr., 41, of Fort Smith, Ark., died on April 13.
By April 23, the entire Roosevelt crew had been tested, Holland said. On April 29, sailors who had tested negative for the coronavirus three times began moving back on board.
More than half of the crew was back aboard as of May 4, according to a CBS News report.
However, five of those sailors tested positive again, the Navy said May 14. They were immediately removed from the Roosevelt and returned to quarantine.
Knapp said having experienced sailors like Posley boosts task force members' confidence that they will succeed. She called Posley a "fantastic" ICU nurse.
"We know this will possibly make history because this is a new disease process as far as the COVID-19," Posley said. "The big thing for us is trying to get the T.R. sailors back to sea."
Crew from the Roosevelt made signs and notes thanking the sailors and Marines that were posted on Facebook by the Navy.
"We greatly appreciate the continued support of the team from 3rd Medical Battalion, 3rd Marine Logistics Group, for all our shipmates residing off ship," Holland said. "Third Medical Battalion, 3rd Marine Logistics Group, alongside Naval Hospital Guam, has provided incredible care as we go through this unprecedented time together."
burke.matt@stripes.com Twitter: @MatthewMBurke1