GALLERY
'Unknown' no more: USS Oklahoma sailor laid to rest with full honors in Hawaii
---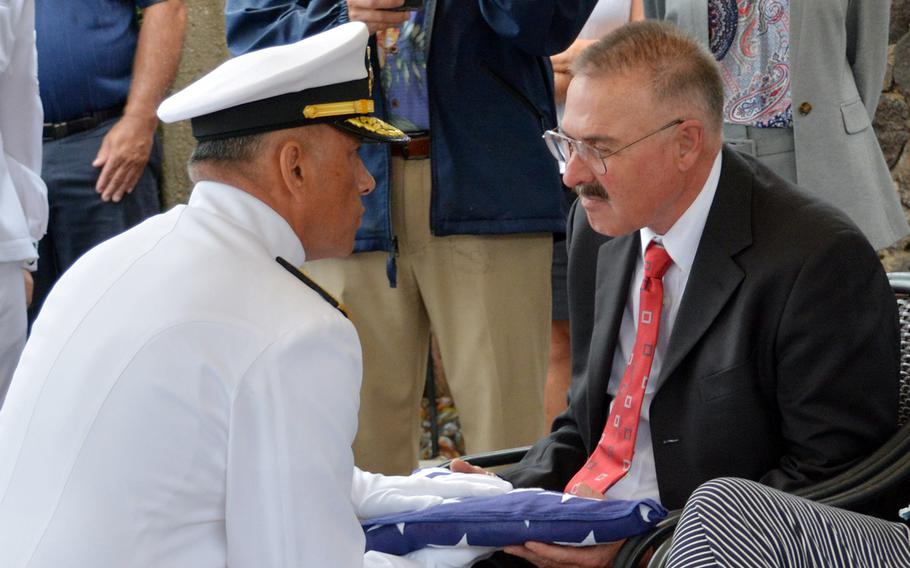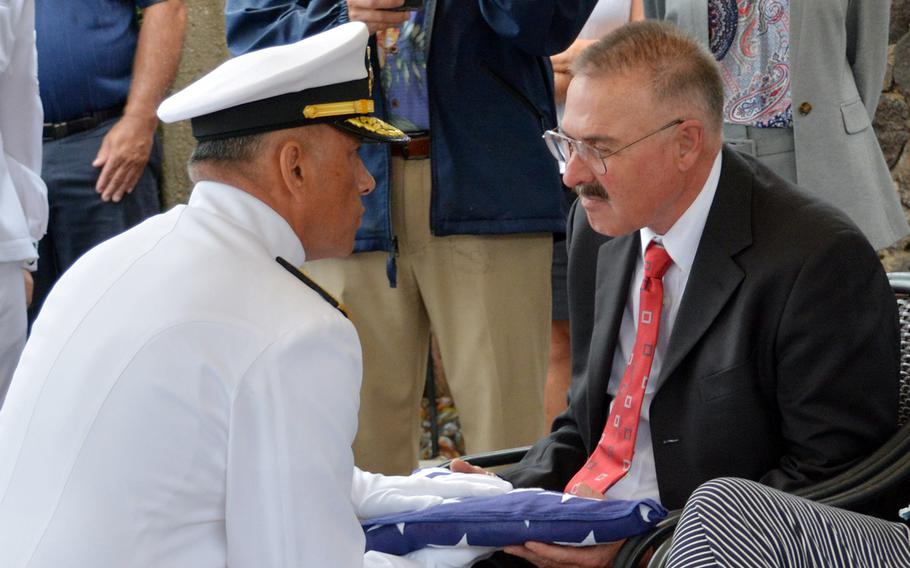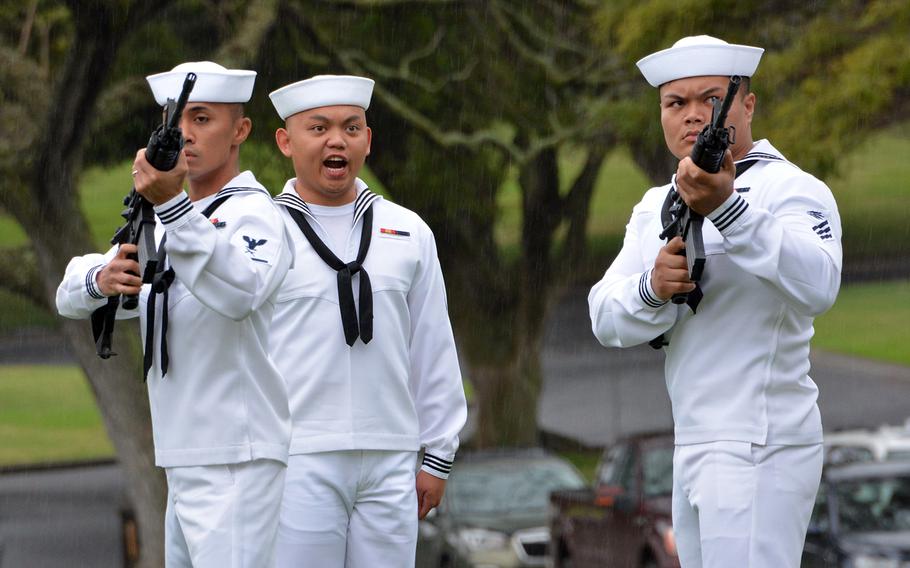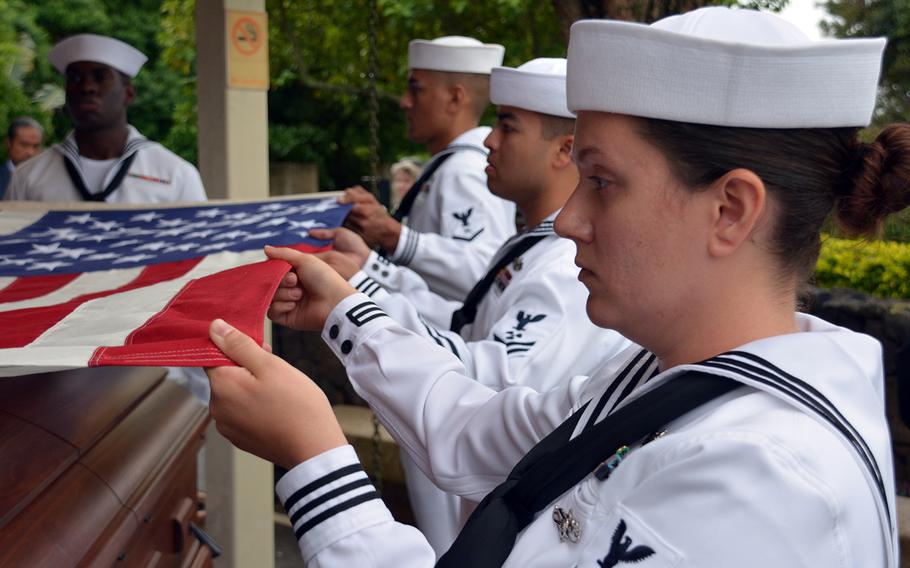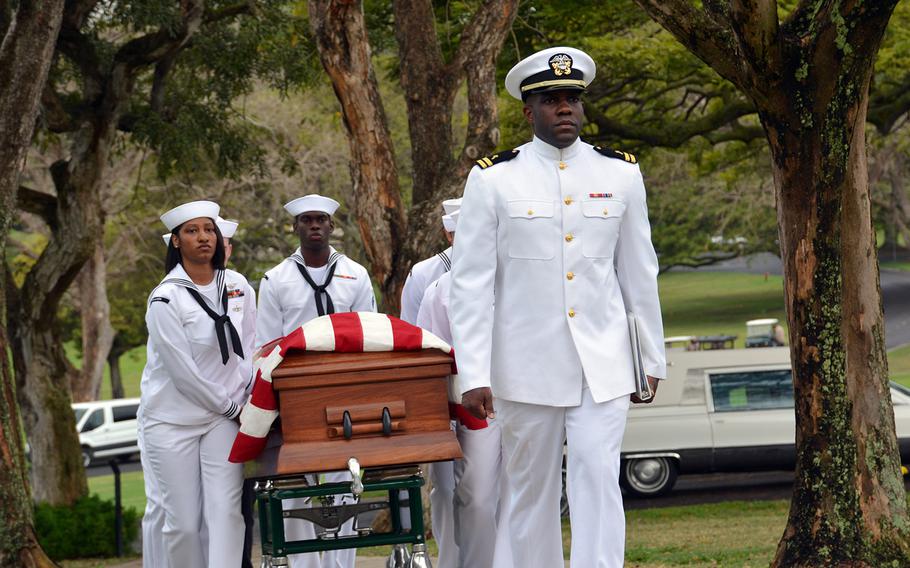 NATIONAL MEMORIAL CEMETERY OF THE PACIFIC, Hawaii — A 20-year-old sailor who died Dec. 7, 1941, during the attack on the USS Oklahoma and then lay a half-century in a grave for unknown dead, was buried with full military honors Tuesday in Hawaii.
Seaman 2nd Class Hubert P. Hall was laid to rest in the National Memorial Cemetery of the Pacific, or Punchbowl, in Honolulu under overcast skies and steady rain. A Navy honor guard fired a rifle salute, followed by the somber sound of taps.
His remains had once been among the estimated 388 individuals buried in 46 graves of the unknown at Punchbowl — all taken from the Oklahoma after it was destroyed and sunk by Japanese torpedo bombers during the surprise attack on Battleship Row in Pearl Harbor. They were too badly burned, scarred or decomposed to be identified.
Hall's marked grave is near the previous sites of those unknown plots, which were disinterred over the past decade for DNA identification work by the Defense POW/MIA Accounting Agency.
Scientists from DPAA and the Armed Forces Medical Examiner System completed the identification using mitochondrial DNA analysis, dental and anthropological analysis and circumstantial evidence, DPAA said in a statement.
DPAA identified Hall's remains in August. He was a native of Floyd County, Ky., and had been assigned to the Oklahoma only days before the attack.
A total of 429 crewmen who had been aboard the Oklahoma — 415 sailors and 14 Marines — were missing after the attack and were presumed to have been killed in action.
The ship was placed in dry dock, but it was scrapped as too far gone for repair.
With the end of World War II in 1945, the Army's American Graves Registration Service disinterred the unidentified Oklahoma remains from two local Oahu cemeteries. They were transferred to the Central Identification Laboratory at Schofield Barracks, Oahu.
That lab identified 32 sailors and three Marines, but the science of DNA identification did not exist. No more identifications could be made.
In 1950, the Oklahoma remains were placed in 62 caskets and buried in the 46 plots at the Punchbowl.
Through research in the early 2000s, Pearl Harbor attack veteran Ray Emory found records he believed could lead to the immediate identification of certain remains if disinterred. It was his urging of federal officials to exhume the unknown graves that led to the Oklahoma accounting effort still underway.
olson.wyatt@stripes.com Twitter: @WyattWOlson
---
---
---
---