Undisclosed fuel spills at Yokota did not meet reporting criteria, US military says
By
Hana Kusumoto Seth Robson
June 28, 2019
---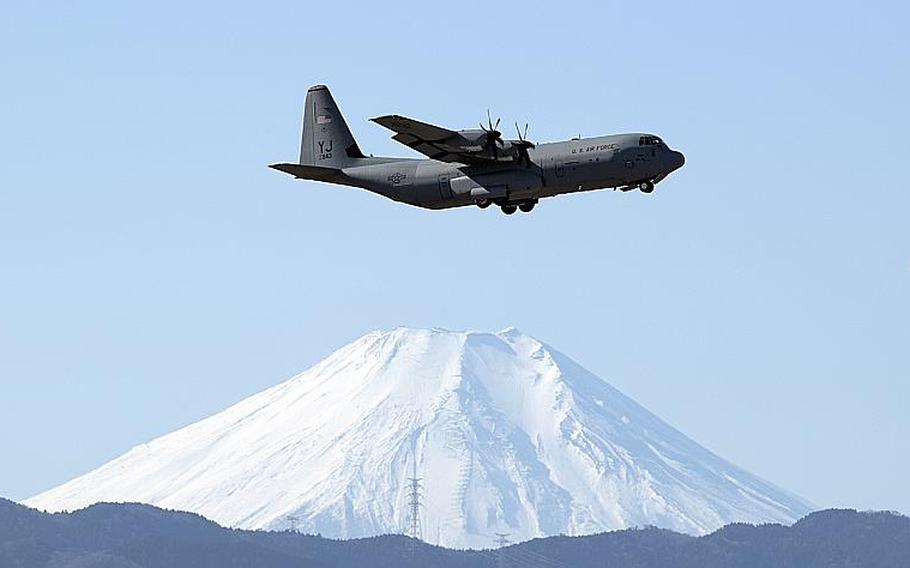 YOKOTA AIR BASE, Japan — Dozens of undisclosed accidents at this U.S. air base in western Tokyo that were exposed by a local media report didn't meet the threshold for reporting to Japanese authorities, U.S. military officials said.
A list of the accidents, including the fuel spills, at Yokota between 2010 and 2017 was highlighted Wednesday by Japan's Mainichi Shimbun following a freedom of information request.
The newspaper noted 134 accidents, including 42 spills involving 10 gallons or more of fuel, a spill of 734 gallons of diesel fuel from a tank in February 2012 and a midflight leakage of 2,790 gallons of jet fuel from a C-130 Hercules in September 2016.
The report said Japanese authorities were informed of only three accidents — a spill of about 10 gallons of jet fuel from a hose during the refueling of a KC-10 in July 2010; a leak of roughly 100 gallons of fuel from a C-130 in March 2017; and a spill of about 50 gallons of hydraulic fluid from a C-5 in July 2017.
U.S. Forces Japan told Stars and Stripes in a statement Wednesday that most spills at Yokota are low volume, never leave the paved surface of the flight line and are quickly and easily cleaned up.
"Others may be more significant, and we deal with them appropriately," the statement said. "In reality, virtually all spills, both reportable and non-reportable, are quickly and easily cleaned up, do not result in permanent damage to the environment or hazards to humans, and do not go beyond the confines of the base."
The U.S. government maintains responsibility for responding to fuel leaks within facilities and areas granted to it within Japan and has consistently fulfilled those responsibilities, the statement said.
Bilateral agreements set out guidelines for reporting spills to the Japanese government, USFJ said.
"The primary criteria we use is whether or not the spill has the potential for significant impact to the off-base environment and community," the statement said. "The overwhelming majority of the spills that were highlighted in the Mainichi reporting did not meet the established bilateral criteria for reporting."
An official from Japan's Ministry of Foreign Affairs said the U.S. military is supposed to notify the Japanese government of unusual accidents, such as toxic spills, falling aircraft parts and aircraft landing outside of U.S. facilities. The rules of his job do not allow him to be named.
However, the agreement doesn't provide specifics on which accidents are worthy of notification, so it's decided on a case by case basis, the official said.
The Tokyo Metropolitan Government and the communities surrounding Yokota want the Japanese government and the U.S. military to provide detailed information as early as possible when there is an accident on base, said Jun Sakurai, the Tokyo Metropolitan Government's base affairs official.
"We are not asking for every accident but we would like to have a wide range of detailed information as much as possible," he said.
The information will allow local officials to pay close attention to any impact accidents might have on the environment, Sakurai said.
An annual water survey of areas surrounding Yokota conducted by the Tokyo Metropolitan Government has not detected abnormalities, he added.
robson.seth@stripes.com Twitter: @SethRobson1
kusumoto.hana@stripes.com Twitter: @HanaKusumoto
---
---
---
---