Two Navy warships sail near South China Sea hot spot off Malaysia
by
Wyatt Olson
April 22, 2020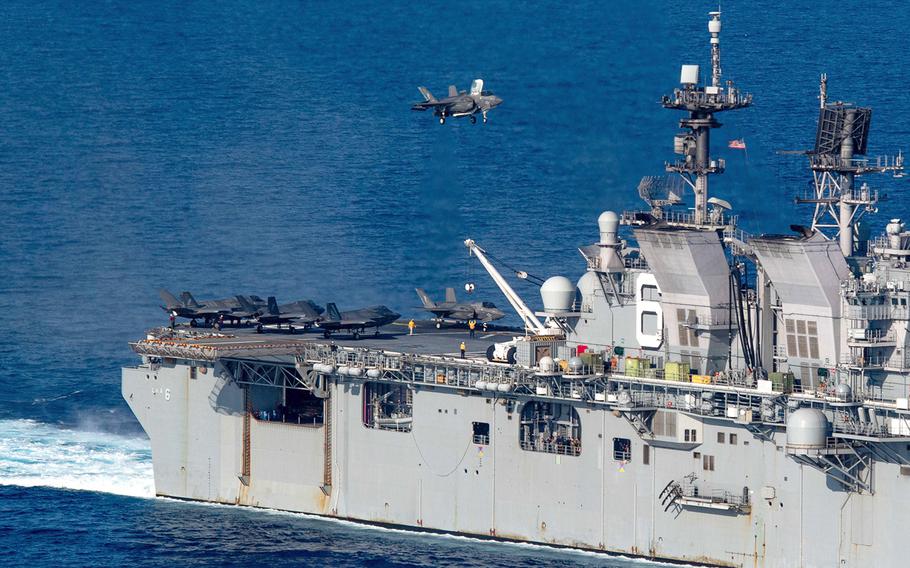 A U.S. Navy amphibious assault ship and guided-missile cruiser sailed through the contested South China Sea on Tuesday, continuing the U.S. pushback on China's broad claims of sovereignty over those waters.
Satellite images provided by the European Union through the EO Browser service indicated that the amphibious ship USS America was within 60 nautical miles of the West Capella, a vessel exploring for underwater oil reserves for Malaysia, Radio Free Asia reported Tuesday.
Chinese ships are also surveying near and within Malaysia's exclusive economic zone, according to recent media reports.
A U.S. Indo-Pacific Command spokeswoman confirmed that the America and cruiser USS Bunker Hill were in the South China Sea on Tuesday.
"Through our continued operational presence in the South China Sea, we are working with our allies and partners to promote freedom of navigation and overflight, and the international principles that underpin security and prosperity for the Indo-Pacific," Lt. Cmdr. Nicole Schwegman said in a statement.
China claims sovereignty over much of the South China Sea, an assertion disputed by other Southeast Asian nations, such as Vietnam, Philippines, Brunei and Malaysia.
China has sought to bolster its claim by building up and militarizing tiny land features and by blanketing the sea with military, militia and commercial vessels.
Earlier this month, Beijing named two new administrative districts encompassing the disputed Spratly and Paracel islands, issuing a map that christened all islands and reefs within the districts with Chinese names. Vietnam, which has ongoing claims in the Paracels, responded with a stern rebuke.
The Navy's freedom-of-navigation operations have been the Defense Department's primary means of countering China's claims of exclusive right of access to disputed archipelagos.
Compared to other claimant nations, China carries out by far the most surveys throughout the South China Sea, including forays into the exclusive economic zones of other countries, according to the Asia Maritime Transparency Initiative, maintained by the Center for Strategic and International Studies, a District of Columbia think tank.
Under the United Nations Convention on the Law of the Sea, nations are required to seek permission to conduct marine scientific search within another nation's exclusive economic zone, which extends roughly 200 nautical miles from its coast.
In many cases, however, China has not requested such permission.
"The most likely explanation is that the surveys were military in nature and therefore not governed by [the convention]," the initiative said in an online post Thursday. "If so, this suggests a double standard in which Beijing demands that other states seek permission for military surveys in its [exclusive economic zone] while not requiring its vessels to do the same abroad."
olson.wyatt@stripes.com Twitter: @WyattWOlson